Daycations: Adventure Like a Cowboy…Rockin 'R Ranch
By: Anne Helmstadter
The dark skies rumbled low overhead as Sadie, my sturdy Quarter Horse mount, paused at the crest of a steep incline. Bolts of lightning lit up the mountains all around and cool rain pattered on my cowboy hat. I felt my nerves tingling as I looked down the rugged drop off.  Ahead our cowgirl trail guide, Nikita, turned around and balanced on her saddle as her mare descended into the gully.
"Imagine the cowboys who worked this land 100 years ago," she shouted back. "Riding out, pushing cows in a storm. Don't you feel just like them?"
For a few days at the Rockin' R Ranch in Antimony (pronounced AN-tuh-moh-nee), Utah, I did feel just like them. Unplugged, with no phone or television, horses carried my family back to a simpler time where we adventured like authentic cowboys.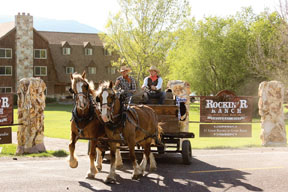 Taming The Wild West
The Rockin' R Ranch, a scenic four-and-a-half hour drive from Las Vegas, sits on the edge of The Dixie National Forest, in the heart of The Grand Circle, with easy access to five national parks: Bryce Canyon, Zion, Capitol Reef, Arches, and Canyonlands. The Black family tamed this 1500-acre ranch when they started running cattle and planting crops more than 130 years ago.  Burns and Mona Black launched the dude ranch operation in the 1970s, offering a variety of supervised activities, horse and non-horse, designed to give guests a true cowboy experience. Today, Brandon Hanks and his wife, Brandi, manage the ranch. The couple takes great pride in the ranch's ability to entertain all ages – toddlers to teenagers and middle-aged couples to grandparents – keeping them all busy, cowboy-style.
Mountain lions, coyotes and foxes roam the juniper and pinyon pine-dotted mountains surrounding the ranch, while jackrabbits, chipmunks and squirrels make their home in the sagebrush meadows and hayfields of the valley. Here, in this small ranching community, with the sounds of cows lowing and horses stamping, city slickers from across the globe can wrangle their inner cowboy in a perfectly western weekend getaway.
Cowboys and Horses
When my husband, two girls and I arrived at the ranch a tall young man in the requisite cowboy attire, Colt, greeted us. He showed us the large whiteboard in the main lobby listing our activity schedule based on my family's interests and previous horse experience.  Every guest's activity schedule is tailor-made, and all activities are optional.
Our first scheduled adventure, was a trail ride through irrigation ditches and flood channels with water so deep my nine-year-old had to hold her feet up to avoid filling her boots.  A late afternoon arena ride had us racing around barrels and pole bending.  Even my husband, not an equestrian, embraced the cowboy moment and trotted his horse through the poles.  Before dinner my girls launched themselves into the swimming hole with the rope swing and, after a few leaps into the cool water, they convinced me to climb into a canoe with them to paddle around the water under the shade of old cottonwoods.  From our canoe we watched as members of a family reunion tried to ride a bucking calf. After several of them, including a grandfather, were pitched to the arena floor we decided we didn't need to master a bucking calf on this trip.
On our second day, Cowboy Mike (sporting a handlebar mustache) brought four Black Angus cows into the arena for team penning. He gave us a few directions on how to "center the cows" and we were off, steering our horses around the bucking cattle, and pushing rebellious strays back into place with cowboy-esque whoops and hollers. After numerous attempts (and some assistance from Cowboy Mike) we centered our cows and raised our hands in victory with a newfound respect for the cowboys who accomplish in mere seconds what took us twenty minutes.
More than Horses
Eighty percent of the guests who visit Rockin' R are not horseback riders and many have never even sat on a horse. While horses and cows are everywhere you turn at the Rockin' R, the ranch provides plenty of other activities to occupy those who would rather keep their rumps out of the saddle. Kid crafts, ATVing on the Paiute trail, skeet shooting, archery, hiking, swimming, canoeing, fishing, hay wagon rides, rock climbing, and river tubing are just a few options.
Our second night, one of the worst storms of the summer slammed the ranch. This didn't stop Cody, our cowboy-tube-guide, from leading us down to the river the next afternoon for our scheduled tube run.  I knew I was in for more than I had planned when Cody's eyes widened at the sight of the rushing river. "Wow, that storm really raised the water level."
My first attempt to sit in the tube flipped me head over heels into the river and sent my tube shooting downstream, but after several curves, the initial white water calmed into a gentler river. Enjoying the ride, I imagined what the cowboys of yesteryear would say about this modern activity. I like to think they'd admire its adventurous spirit.
Hiking is also a popular activity. Ranch guides will gladly regale guests with stories about Butch Cassidy who, myth has it, used to hole up in a 150-year old ranch cabin that still exists on the Rockin' R property. Stories say he even hid a stash of gold in a rocky hideaway in the foothills that a local rancher discovered some years ago. Today, guests can walk in Cassidy's footsteps on The Butch Cassidy Hideout Hike, enjoying spring-green colors, beautiful geological formations, and clean air.
Cowboy themed evening activities complete the ranch experience: campfires and smores, cowboy songs, line dance lessons and Saturday band nights.
Cowboy Beds and Eats
The Rockin' R is ranch living, not a spa resort.  They offer 41 TV-free rooms in a rustic lodge all outfitted with comfortable beds and clean, private bathrooms with hot water. There is no cell service at the ranch but an old-fashioned landline phone is available for guests. The ranch recently added WiFi, allowing guests to feel unplugged without completely disconnecting from the 21st century. A buck head above a large fireplace in the lodge's main public room oversees log tables and sink-into sofas. A game room, dining room, gift shop and lobby ensure the lodge is ready for its guests.
Ranch cookin' serves up hearty cowboy fare at each meal: pancakes, waffles, eggs, and bacon for breakfast; sandwich fixings and fruit for lunch; steak, chicken, salmon, scalloped potatoes, cooked vegetables, and freshly baked cakes for dinner.  The ranch will accommodate special diets, whipping up something for my husband, a vegetarian, whenever needed. A fresh salad bar at lunch and dinner also offers an alternative to the meat and potatoes. Saturday night the cook serves a classic Dutch oven dinner: ribs, corn bread, mashed potatoes, and cherry cobbler. Not sophisticated eats, but filling and satisfying after a day spent outside.
The Cowboy Code
While your weekend of cowboy adventuring at the Rockin' R may not transform you into a rodeo-riding cowboy, sitting astride a horse (or an ATV) under the big western sky will leave a yearning for the simpler life where the Cowboy Code of courage, loyalty, honesty and optimism ruled the West.
As we left on our last morning, we stopped for a few minutes to gaze at the horses and cattle grazing on the open range. Our weekend of cowboy adventuring behind left our legs sore, but our souls restored.
If you go: The Rockin' R Ranch is open year round, but some activities are seasonal. The reasonable rates ($135/night per person for quad occupancy) are offered as full amenity packages: room, three meals, and most activities included. For reservations contact: (801) 733-9538 or visit www.RockinRRanch.com.