A Step Above: A Step Above – Miriam Krause
Cimarron-Memorial High School
Class of 2014
Las Vegas has always been a melting pot of different backgrounds and cultures, which makes Cimarron-Memorial High School Miriam Krause a perfect fit. Hailing from a small town in Germany called Oschersleben, Miriam has spent her most recent year of school in Las Vegas as part of a foreign exchange program. Poised, outgoing and dedicated to helping others, Miriam has made the most of her time abroad, involving herself in school activities and community service, participating in everything from helping the sick to diving into politics. Despite being far from home, she's made a big impression here, and for that Miriam Krause is – A Step Above.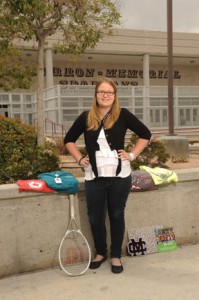 G.P.A.: 3.8
Sports/Activities/Community Service
Tennis, 2012-13
Tennis Regionals, 2012-13
Choir, 2012-13
Three Square Food Bank, 2012-13
Las Vegas Legends Charity Event, 2012-13
City of the World Gallery "Artz to Go" Bus Program, 2012-13
Volunteer at Summerlin Hospital, 2012-13
Volunteer at Atria Seville Nursing Home, 2012-13
Volunteer for Obama Campaign, 2012-13
Goals & Aspirations: "I would like to graduate from high school, and then I would like to study medicine. I would like to have my own house, children, a dog and a lovely husband. I see myself becoming a pathologist, but I still want to have time for traveling and diving with sharks."
Accomplishments Most Proud Of: "I am most proud that I accomplished my high school year in the U.S.A. I can be proud of that because I lived a year without my family and friends in a country whose language I didn't speak."
Miriam is Stronger and Wiser Because: "I went to a meeting with a motivational trainer two years ago. He talked about how easy it is to accomplish things if you really want to. I never thought about it like that. He showed me new ways to think about things and how to handle situations. My year abroad made me stronger. I am more independent now."
Part of the Solution: "The two big issues facing young adults are drugs and alcohol. I would never take drugs or drink a lot of alcohol. I would try to be an example to other young people and show them that there is a better way of life."
EF Foundation for Foreign Study is always looking for good families to host students for the upcoming high school year. If you are interested in serving as a host family, please contact Katie Hughes-Appel at (702) 292-4341 or kblmconsult@hotmail.com for more information.