Magazines
Haute Spot: A Bargain for the Carnivore – Brazilian Grill
The concept of a traditional Brazilian Steakhouse, also known as a churrascaria, is a straightforward one. Here, tasty cuts of filet mignon, turkey blanketed in bacon, various types of sausage, leg of lamb, pork loin, chicken thighs, top sirloin, tri tip…the list goes on and on…are carved off their roasting spit right at the table, then served in endless quantities to happy go lucky diners willing to throw heart health and calorie consumption to the proverbial wind, at least for one succulent, meatfest of an evening.  Sure, they may offer vegetarian entrees and side dishes. Of course they'll have a fish dish or two. But if meat is your meal made in heaven, the churrascaria is paradise here on earth.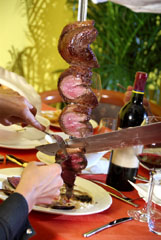 Located at 9460 So. Eastern, Brazilian Grill, formerly Steele's Restaurant, is the newest churrascaria to open in the neighborhood, offering comfy décor and lively atmosphere that's perfect for a night out with friends or family. The thoughtfully upscale dark wood and earthy color palette of the previous establishment remains, yet the new owners have added South American flair via colorful, Leroy Neiman-esque paintings depicting Carmen Miranda period dancehall girls and carnival scenes you'd expect to see in Rio de Janeiro.  In another shrewd move, the restaurant offers perhaps the best deal in town for this carnivorous feast of Brazilian persuasion, charging just $29.95 for 12 varieties of all-you-can eat meat, soup or salad, several side dishes and Brazilian cheese bread. Ala carte selections that include a vegetarian spread, a fabulous Chilean sea bass in a roasted red pepper sauce and other meat and fish selections, as well as cocktails de Brazil and several affordable wines and beers round out the menu. While not the most authentic Brazilian food I've ever eaten, it's still quite tasty for the price.
Unlike most Brazilian steakhouses, Brazilian Grill doesn't send you to a gargantuan salad bar filled with tempting morsels designed to fill you up before the meat arrives.  In fact, they don't even have a salad bar.  You do get a small salad of your choice or soup of the day, mine being a creamy carrot and ginger version that, while certainly not traditional, was truly outstanding. Customary cheese bread was different than most as well; the buttons of dough were stuffed with melted Parmesan cheese in the center, as opposed to grated cheese dispersed throughout the entire little biscuit.  No matter. They were equally addictive. Still, like most traditional churrascarias, a number of side dishes and garnishes were placed at the table prior to the arrival of the meat. Some, like jasmine rice, black beans, outstanding fried bananas, garlic mashed potatoes and the time honored condiment farofa, were quite predictable, while others–carrots layered in a tart, passion fruit sauce, and a diddy they called beef casserole that suspiciously resembled beef stroganoff–were an unusual, yet tasty departure from the norm.
The meat, of course, is what you should be saving your appetite for. It is, after all, the main draw here.  As is traditional, most was of excellent quality (with the exception of the sausage, which seemed underdone and somewhat bland), seasoned simply with sea salt, skewered on a spit and slowly roasted over an open flame. This allowed for a somewhat crunchy and caramelized crust, with varying degrees of doneness throughout each piece.  We simply told our carver (also known as a gaucho) how rare we wanted our slices to be, and it was cut to our liking. They didn't skimp on portion sizes either. The gaucho circled the restaurant in a timely fashion, changed varieties of meat with each passing and offered a little or a lot, depending on when we said "when"–certainly a license for gluttonous behavior.
The Brazilian Grill has an area suitable for larger groups and presents live Brazilian guitar music on Friday and Saturday after 6:30 p.m.  Priced right and close to home, it's a meat lover's dream.   For reservations, call them at 888-6888.