"Alexa: Find Rover!" The App for Lost Pets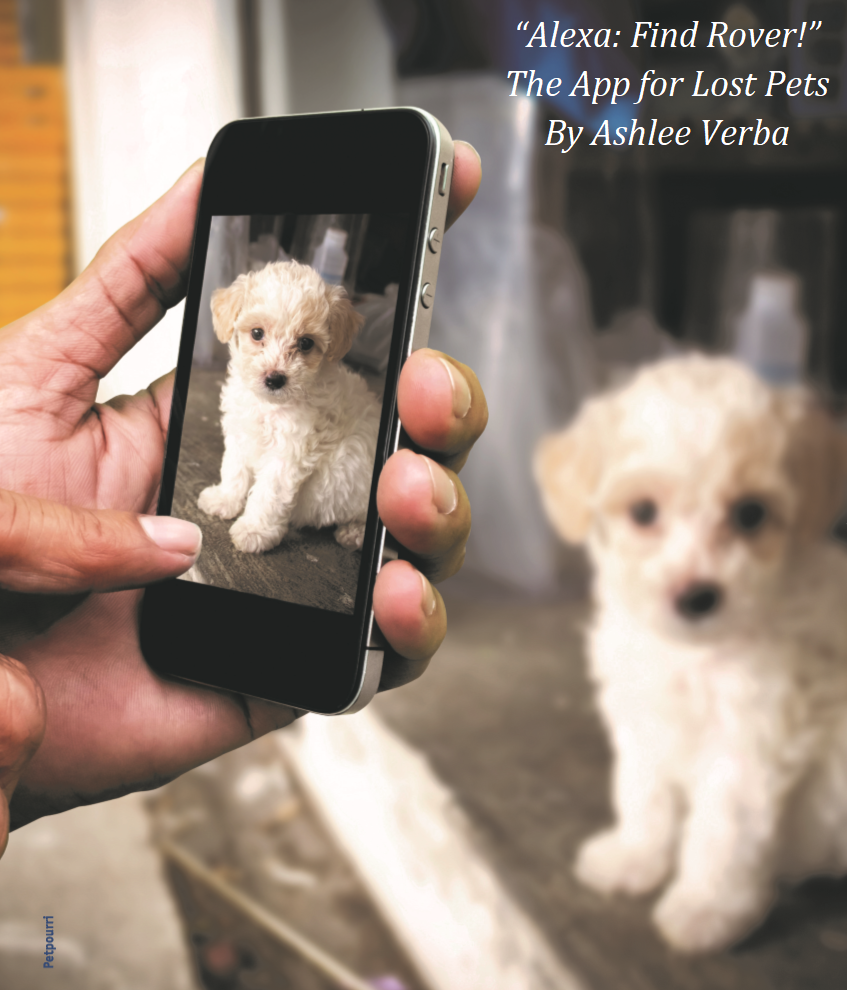 "Alexa: Find Rover!"   
The App for Lost Pets
By Ashlee Verba
Technology these days is truly incredible. With just the sound of your voice, Alexa can provide the perfect playlist, Siri will give turn-by-turn directions from here to New York City, and the mere shape of your face can unlock your phone and authorize online purchases. Imagine if a small fraction of that technology was dedicated to finding lost animals instantly. Well, the app Finding Rover did just that, and the Animal Foundation is bringing it to the valley to aide in their life-saving mission.
Finding Rover is the first and only facial recognition technology developed to find lost pets in real time. As an owner, all you have to do is create a free profile for your pet and save it to their database of over two million animals. In the event your pet gets lost, whoever finds them can upload an image to the app or website and the facial recognition software immediately brings up the contact information saved to your pet's profile—getting them back home where they belong. With over 15,000 success stories and a live demonstration on Good Morning America, Finding Rover's technology is unprecedented, and will inevitably help Las Vegas's high-volume shelter.
According to Kelly Leahy, Communications Manager of the Animal Foundation, the shelter receives an average of 80 animals a day, with the majority of them being lost pets. She says their hope with the technology is to bring the community together to get lost animals home faster; this is one of many improvements the shelter is making for their Mission Possible 2020 campaign—an initiative to save and rehome every viable animal they can by the year 2020. Leahy also mentioned that the biggest hang-up with the technology is simply getting the word out so people actually use and trust it. So, how does it work? What can owners do to optimize their pet's chances of being brought home? How can other shelters get involved? What's the catch? Not to worry, we sniffed out all the need-to-know details on this amazing software so that you can get your paws on it without worry.
How It Works
Mark Marrello, Chief Operating Officer of Finding Rover, recognizes people's wariness of the technology, which is constantly being updated and improved. When the first app-only version launched in 2014, the pet's image needed to meet certain requirements, such as a blank background and front angle to ensure optimal results. The company quickly realized it was difficult for shelters and individuals who found lost pets to provide such images, so the software was updated to filter only the necessary parts of the image, such as the geometry of the face and any respective markings.
Just like human facial recognition, the software uses the shape of the face, eyes and ears, as well as any distinct markings of the fur, to find your pet in their database. The app will also use your location to find lost pets (or their owners) in real-time within a 200-mile radius. The best part is that as long as your pet has a profile, and whoever intercepts them knows about Finding Rover, their chances of coming home just got a whole lot higher.
Making a Profile
Whether you download the app or go to FindingRover.com on your computer, making your pet a profile is completely free and takes less than 20 minutes. According to Marrello, young dogs' pictures should be updated at least annually, as their face changes so much in the first few years. Owners should also update their pet's profile picture if the geometry of their face changes, such as a fluffy Chow Chow being shaved down, making it significantly smaller. As far as weight gain or signs of aging, Marrello says as long as their markings and face shape remain similar, the technology is advanced enough to recognize them. That being said, it certainly doesn't hurt to keep the picture, and your contact information as recent as possible for your peace of mind.
Local Shelters: You'll Want to Hear This
Technology aside, the most incredible part of Finding Rover is that it is completely free for both pet owners and shelters. Shelters interested in integrating facial recognition technology into their mission can simply contact the company and consent to a one-time setup for the software to be installed (also free of charge). There's no contract, and most importantly, it does not duplicate any efforts on behalf of the shelter staff. By uploading pets' images to the shelter's website, they automatically get uploaded to Finding Rover's, too. Marrello says that any shelters who remain skeptical of the price can reach out to him or one of the shelters using the technology and ask how much they've spent on their partnership with Finding Rover: Nothing. Seriously, it's completely free.
Individuals with an affinity for helping animals can also integrate a Finding Rover widget on their social media or blog pages, because the more people creating profiles for their pets means both the database and the number of successful matches increases, too.
What's the Catch?
There is no catch. For owners, it's truly as simple as creating a free profile, uploading a picture, and keeping the information current. For shelters or individuals who find a lost pet, it's as simple as downloading the app (or going to the website) and uploading a picture under the "Lost" or "Found" section of the website. The results are immediate, meaning there's no lag time in providing the pet's profile; as long as the information exists on both ends, that sweet fur baby's going to sleep at home after a long and worrisome day.
Thanks to the Animal Foundation (655 N. Mojave Rd. 89101), Las Vegas pet owners will be reunited with their lost pets faster, which is a win for both parties. But you have to help them help you! Hop online, go to FindingRover.com (or download the app), and create your pet's profile today and don't forget the website if you come across a wandering pet while out and about. It may just find their owner and save you both a trip to the shelter.
To learn more about the Animal Foundation and their Mission Possible 2020 initiative, go to animalfoundation.com. To integrate Finding Rover on your shelter or personal website, go to www.findingrover.com/partners.