Bob Tibolt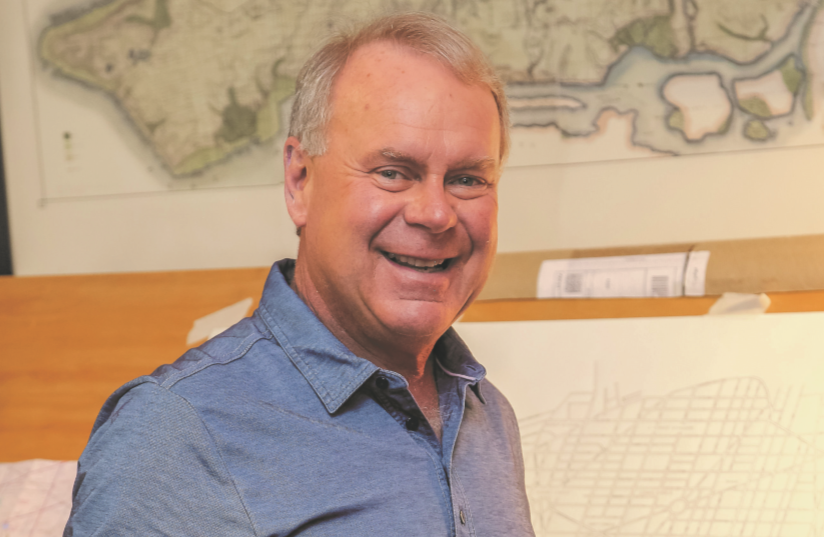 Website:  artmapmaker.com
"I am a cartographer who learned his craft from a master. Having loved maps for as long as I can remember, I've been making them for over forty years. I enjoy the design process and the application of fine motor skills needed for their execution, and use traditional techniques of pen-and-ink, mechanical lettering and coloring with colored charcoal to create my pieces. I enjoy working with clients to come up with a map that makes them happy and exceeds their expectations."
In a world that relies on digital directions to get us to our destinations, we often miss out on the road we traveled to get there. Specific landmarks, geography, streets and even political boundaries all but vanish from the journey, allowing for an arrival that, while ultimately efficient, sometimes lacks memorability.  This is the beauty of maps.  Placing visual emphasis on the particulars that lie along the way, maps allow us to consume the details that make getting to our end point an unforgettable experience.  Cartographer Bob Tibolt brings his love and appreciation for the art of mapmaking to Las Vegas. With a skilled hand and artistic flair, he creates maps that are not only beautiful to look at, but remind us of where we've been and where we've yet to go.
Map making isn't exactly common. How did you begin this unusual artform?
 I spent the first eleven years of my life growing up in Massachusetts then moved to Nevada. I returned to New England for college where I took a senior seminar in cartography at Dartmouth College from Geography Professor Van English. He was a renowned cartographer; of his many credentials he served as the personal cartographer for General George Marshall, Army Chief of Staff, in World War II. It was from him that I learned the meticulous attention necessary to make a map. He also put an artistic flair to his maps, and I have tried to emulate this in my own designs. For my final project of the class, I made a map of my travels in Europe and the Middle East, based from my experiences my junior year studying abroad.  From then on, I have made maps.
You haven't always made maps as a business. How did that begin?
I was a physician in Oregon for thirty years, during which time I made maps as a hobby. I bought my first drafting set in a pawn shop in Reno. I started with rudimentary tools and built up my studio so that I now have a professional environment in which to work. My wife and I moved to Las Vegas last year when I retired, and I have set up my studio and showroom here. I've started a small business, ArtMapMaker, to market and sell my maps. I've "retired" into cartography so now my passion is my new career.
Where do you draw inspiration and what kinds of maps have you created?
I have a sizable map collection that provides me with many basic forms, but also get ideas from people, travel and customer assignments.  I recently made a map of a Windward Island Cruise sponsored by the Friends of Dartmouth Football and the Alumni Travel office. I had received a brochure announcing this cruise, and I made a map that was distributed to the tour leader and travelers. I also recently made a map of a vineyard in Paso Robles, the winemaker of which is a friend of a friend. I am always on the lookout for mapping ideas. Because of the infinite body of geography that the world represents I have no limits on availability of subject matter. I incorporate different mapping styles related to each projection, the way the area of interest is put to paper, and in using submaps within the main map to show detail of particular places, such as neighborhoods or cities. My favorite pieces are the custom maps that I create for people, usually their travels, including honeymoons, and the large format maps of my "Great American Cities" series.
 What does the future hold now that you're in Las Vegas?
Las Vegas is a unique city of the world. The creative expression that exists here is unparalleled, as are the resources. My wife Susan and I are thankful to be back in Nevada. I am still in the building phase for my new business, so that's my main focus. I hope to have regular receptions at my showroom to show people what I do. I also hope to make travelers, travel agents and wedding planners aware of my custom travel mapping services, providing a way for my clients to have lasting memories of the events and destinations that make up their lives.