Magazines
For the Love of Food: Burgers with a Twist
By Aly Wagonseller
Burgers have certainly come a long way, with gourmet restaurants and celebrity chefs elevating this humble American staple to something much grander than just seasoned ground meat on a Wonder Bread bun. And we certainly can't ignore the efforts of the home cook. Especially those grilling pioneers who annually stuff, top and dress their burgers with concoctions worthy of winning the $100,000 grand prize offered at such contests as Sutter Home Winery's Build a Better Burger Contest. Let's face it–bland burgers are, well, bland. Summer's the perfect time to give your backyard burgers some much needed bling.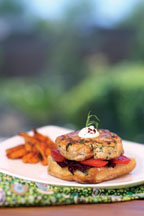 Stepping outside of the hamburger box is easier than you might think; it starts with the meat–or lack thereof.  While ground beef with a higher, 80/20 fat content makes a tasty patty, having your butcher freshly grind a gorgeous sirloin or rib eye steak, or a tasty hunk of brisket, makes for something extraordinary.  Lighten your caloric intake by choosing a mixture of dark and white ground turkey or chicken meat, fresh or canned salmon or even tuna. Better yet, go the vegetarian route, chocking your burger full of healthy produce and grains that add up to exceptional flavor, without all the fat.
But don't stop there. Keep those creative, burger juices flowing by switching up toppings and bun options.  Slather on chipotle tarter sauce, mint riata, sweet and spicy barbecue sauce or tarragon spiked mayonnaise. Ditch iceberg lettuce and raw onion, adding sophisticated crunch via organic microgreens, arugula and caramelized onions instead.  Break the white bread trend and surround your burger with interesting textures and flavors found in focaccia rolls, pita bread, Tandoori naan or brioche.  The possibilities are endless, and one thing's for sure…boring burgers will become a thing of the past.
Veggie Burgers with Mint Riata Dressing
Serves 6
1 (7 oz) container plain Greek yogurt
2 Tbsp. fresh mint, finely chopped
2 Tbsp. fresh cilantro, finely chopped
1 1/4 tsp. grated lime peel
6 large cremini mushrooms 
2 scallions 
1/2 red bell pepper
1/2 cup chopped fresh spinach 
1 carrot, peeled and grated
1 small sweet potato, peeled and grated
3 Tbsp. olive oil
3/4 cup fresh corn kernels   
2 cloves garlic
1½ tsp. cumin
¼ tsp. cayenne pepper
1 egg white
Salt and pepper
1 cup brown rice, cooked
1/2-1 cup panko bread crumbs
Pita bread or Tandoori Naan
Coarse kosher salt
Mix together yogurt, mint, cilantro and lime peel.  Refrigerate.
In a food processor, pulse together mushrooms, scallions and red pepper until finely chopped, but not liquified.  Separately pulse the spinach, carrot and sweet potato until finely chopped; set each aside.
In a large skillet, heat 1 Tbsp. oil over medium high heat. Stir in corn, along with the mushroom mixture, cooking for 3-4 minutes. Add garlic, cumin and cayenne and cook for 30 seconds. Remove from heat and stir in spinach. Add carrot and potato and stir to combine. Add egg white and season with salt and pepper. Stir in rice and enough bread crumbs so that the mixture holds together. Shape mixture into 6 disks and place on a plate lined with parchment or wax paper. Chill for at least 1 hour.
Heat remaining olive oil in a non-stick skillet and cook veggie burgers until golden on each side. Serve with mint riata in pita or naan, garnishing with grilled vegetables or shredded lettuce if desired.
Fresh Salmon Burgers with Tarragon Aioli
Serves 4 
1 cup + 3 Tbsp. mayonnaise
1/4 cup sour cream
8 green onions, chopped and divided
2 Tbsp. small capers, drained
2 Tbsp. fresh lemon juice
2 Tbsp. fresh tarragon, chopped 
2 tsp. Dijon mustard
2 tsp. prepared white horseradish
1 pound skinless salmon fillet
1/2 tsp. salt
1/2 tsp. pepper
½ cup panko breadcrumbs
1-2 Tbsp. butter
Focaccia rolls, split and toasted
Tomato
Combine 1 cup mayonnaise, sour cream, 4 green onions, 1 Tbsp. each of the capers, lemon juice and tarragon, and 1 tsp. each of the mustard and horseradish. Chill.
In a food processor, gently pulse the salmon until finely chopped, making sure not to over process. Place salmon in a large bowl and mix with the remaining green onions, capers, lemon juice, tarragon, mustard and horseradish.  Add the remaining 3 Tbsp mayonnaise and season with salt and pepper. Mix breadcrumbs into salmon mixture. Form into four 1-inch thick patties.
Melt butter in large, non-stick skillet over medium-high heat. Add salmon patties; cook until just firm to touch and brown and crusty, about 3 minutes per side. Serve on toasted rolls, dressed with the mayonnaise mixture, tomato and radicchio.  
Coffee Rubbed Texas Cheeseburgers
Serves 8
1 Tbsp. freshly ground coffee
2 tsp. brown sugar, packed
2 tsp. freshly ground black pepper
1/2 tsp. ground coriander
1/2 tsp. dried oregano
1/2 tsp. fine sea salt
8 slices applewood-smoked bacon
1 pound ground chuck 
1 pound ground sirloin 
8 slices smoked Gouda or Provolone cheese 
8 potato or brioche hamburger buns, buttered and toasted
8 slices red onion
8 slices tomato
Bottled spicy barbecue sauce
Mix coffee, sugar, pepper, coriander, oregano and salt in a small bowl.  Set aside.
Cook bacon in large skillet until crisp. Transfer to paper towels to drain. Break in half. Gently mix chuck and sirloin in large bowl. Form meat into 8 patties, each 3 1/2 to 4 inches in diameter and 1/3 to 1/2 inch thick. Using thumb, make slight indentation in center of each burger.
Prepare barbecue (medium-high heat). Sprinkle 1 tsp. coffee rub on top side of each burger. Place burgers on grill rack rub side down. Grill until slightly charred, about 4 minutes; turn. Place 2 bacon slice halves atop each burger. Cook 3 minutes. Top each with 1 cheese slice. Cover and cook until cheese melts, about 1 minute longer. Serve on toasted buns with onion, tomato and barbecue sauce.   
Southwestern Turkey Burgers with Chipotle-Chili Tartar Sauce  
3/4 cup mayonnaise
2 Tbsp. extra-virgin olive oil
2 Tbsp. minced red onion
2 Tbps. chopped fresh dill
1 Tbps. canned chipotle chilies 
1 Tbsp. capers, drained
1 1/2 pounds ground turkey
1/2 cup finely crushed tortilla chips (crushed in re-sealable plastic bag with mallet)
6 Tbsp. chopped cilantro
1 egg
2 tsp. chili powder
1 tsp. ground cumin
1/2 tsp. ground black pepper
Whole wheat hamburger buns, toasted
Red onion slices
Tomato slices
Arugula or shredded lettuce
Pepper Jack cheese (optional) 
Whisk first 6 ingredients in small bowl. Season with salt and pepper. Cover and chill.
Prepare barbecue (medium heat).Combine turkey, tortilla chips, cilantro, egg and spices. Form into 1/2-inch thick patties. Grill burgers until cooked through, about 5 minutes per side, adding cheese about 3 minutes prior to end of cooking. Spread 1 Tbsp. sauce on bottom half of each bun. Top each with 1 burger, then 1 more Tbsp. sauce. Serve with onion, tomatoes and arugula or shredded lettuce.