Magazines
Haute Spot: Mundo….A Latin Chic Restaurant
By Aly Wagonseller
The old saying "absence makes the heart grow fonder" doesn't always apply to matters of romantic encounter.  Anyone that's recently frequented a favorite restaurant in anticipation of imbibing that one dish that floats your culinary boat, only to discover the "gone fishing for good" sign in the window knows just what I mean. This brand of gastronomic sorrow recently reared its ugly head when La Madonna Mexican Avante-Garde Cuisine closed its doors late last year.  No more gourmet tamales and freshly squeezed margaritas?  Seafood and steak specialties with sophisticated, Latin flair (and not a pinto bean in sight) gone by the wayside?  For those of us who revel in locally owned hole-in-the-walls that offer amazing food and atmosphere, this was a bit of a calamity. Thankfully, good things have a way of resurrecting themselves, with the original crew of La Madonna offering a moved and improved version–Mundo, A Culinary Haute Spot–as a more than impressive substitute.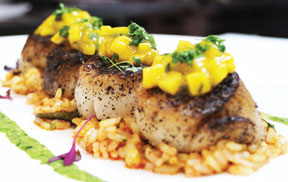 Never mind the out-of-the-way location in the World Market Center downtown, or that you have to use the public restroom located in the outer hallway of the mall as opposed to having a private lavatory adjacent to the bar; at Mundo, the good far outweighs these minor inconveniences.  Irma Aguirre has again exhibited her flair for creating a beautiful space that's sophisticated, yet simple. Weathered wood, stamped tin, crushed brown velvet curtains and artistically arranged lanterns, mirrors and candles, provide a vibe that's comfortable, yet brilliantly stylish. A welcoming bar exhibits a large glass vat of homemade sangria waiting to be poured, while serious mood music offers lively ambiance, without being obnoxiously obtrusive. It's a cool place to just hang.
La Madonna's talented Chef Robert Solano also returns, plating up his unique brand of flavorful cuisine and creating a refined Mexican dining experience that clearly steers its way clear of the rice and bean box.   Appetizers range from Chimichurri Glazed  Skirt Steak Skewers ($12) and achiote rubbed Grilled Chicken Satay with tamarind chile glaze ($12), to traditional Guacamole ($9) and three styles of salsa.  We tried the Queso Flameado ($14), a twist on the traditional melted cheese and chorizo fundido, spruced up with the addition of tangy goat cheese, roasted tomatoes, earthy mushrooms and a serrano chile sauce that added just the right amount of kick. Conversely, the Ahi Tuna Tostada ($14.), while creative, suffered from some execution issues. The thinly sliced ahi was seemingly damaged by the knife, creating a mushy texture that was overpowered by the flatbread style chip that accompanied it. It's one of few dishes on the menu that could use a little tweaking.
While Mundo offers an array of very interesting street taco and quesadilla selections, as well as upscale entrees that include Wagyu skirt steak, Chilean sea bass and prime filet mignon, for me, it's their tamales ($12-18) that foodie dreams are made of. Unlike most steamed versions that resemble a kind of maize torpedo, constructed with compacted corn mush and a smidge of filling, Mundo makes the filling the star.  Ample portions of toppings that include slow roasted short ribs in an earthy pasilla chile sauce or pulled chicken infused with a tart asada tomatillo sauce are piled over a velvety, loose style polenta flavored with sweet corn kernels and beautifully plated within a corn husk that acts more as a bowl than a mold.  The Chipotle Glazed Shrimp ($18) variety is particularly delicious, the sweet corn mush and lightly charred jumbo shrimp (surprisingly tender despite their gigantic size) married with a creamy red chile brandy sauce that's just sublime.  
La Madonna was certainly a great restaurant; one that I was truly sorry to see leave the neighborhood.  But its second born sister known as Mundo is definitely the Cinderella of the two, even if you do have to venture to Grand Central Parkway to try it.  For hours and directions, call 270-4400.