Magazines
Haute Spot: Old School is Back…Sen of Japan
By Aly Wagonseller
Not long ago, there seemed to be a sushi restaurant in every strip mall, on every corner, in just about every nook and cranny of the city. Some, quite frankly, behaving like cheap floozies in the red light district, luring in diners with discounted, all-you-can eat offers, X-rated specialty rolls, and fish so poorly sliced, it literally didn't cut it. Not that there aren't decent sushi places that might employ a few of these marketing tactics to stay afloat; I'll avoid that backlash here and now. I'm just saying that too many neighborhood sushi restaurants have me questioning why I fell in love with this cuisine nearly 30 years ago. Where did the clean flavors and fresh fish, accompanied by sauces that complemented, rather than held their seafood counterpart captive, vanish to?  Have all the sushi chefs that actually know how to purvey quality yellowtail and skillfully slice it, all the while being playfully arrogant of the fact that they do, high tail it to the Strip or beyond? Sen of Japan, located at 8480 W. Desert Inn, has given back hope that old school sushi has not only survived, but is flourishing in a sea of make believe maki.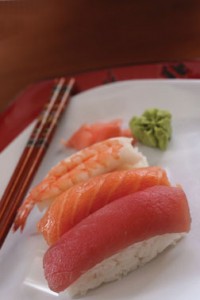 From all appearances, Sen of Japan might seem like many other local establishments. The requisite red and black contemporary décor, laminate wood plank flooring and glass tile backed sushi bar presenting a modest, yet comfy space to dine within. But, with the help of owner Hiro Nakano, former head chef of sushi heaven on earth, a.k.a. Nobu, and knowledgeable staff like our waitress Tiffany, a sweet girl, expertly adept at explaining everything from the nuances of their particular brand of ponzu to the texture of Mochi ice cream…no easy task I might add…and you've got something truly special.
Like Nobu, Sen offers a full range of Japanese cuisine that includes a wide selection of tempura, sumibiyaki (charcoaled skewers, the scallop version being quite tasty), hot fish and meat dishes, as well as specialty rolls and the like. We tried the Black Cod Soy (13.75) opting out of the optional foie gras accompaniment (an extra $9). I mean really, isn't black cod butter enough? Regardless, the fish was perfectly prepared and artfully plated, treating the eyes as well as the taste buds. I did long for the caramelized characteristics of its miso cousin, as I like a little sweet crunch to contrast with the velvety texture of the fish, but that's just me.
Hot fish is great but sushi is my game, usually indulging in a roll or two but never passing on the simplistic grandeur sashimi brings to the table.  A version they call Garlic Yellowtail (13.95) was as good as it gets; the thinly shaved fish expertly trimmed for maximum melt-in-your-mouth preeminence. Flavor and textural contrast were brought to the dish via an impossibly crisp garlic chip, spicy Serrano chili slivers and a citrusy yuzu soy sauce that was simple, bright…just plain perfection.  Spider Roll #23 (13.95) is a must, chock full of soft shell crab, cucumber and yamagobo, a pickled root vegetable that added a nice bite, but be sure to treat yourself to the Real Crab Roll with mango, cucumber, tuna and curry sauce (13.75). Unlike sushi rolls that are becoming as weighty and overindulgent as the American waistline, this delicacy is light, perfectly balanced by the sweetness of the mango and feathery texture of the crab, and elevated by the exotic flavors of a wonderful curry mayo sauce; an addition that surprisingly didn't overpower any of the other ingredients.
In addition to the Mochi ice cream and some homemade sorbets, you'd do well in the dessert department with their amazing Almond Yuzu Franijpan served with Pineapple Sorbet. Be sure to order it early as it takes about 15 minutes to bake onsite.  It's a worthy ending to a meal filled with old school, clean and honest flavors that Sen of Japan has obviously perfected.  The place fills up fast; to make reservations, call 871-7781.