Magazines
Haute Spot: The BYO Burger…Grind Burger Bar and Lounge
By Aly Wagonseller
When questioning the originality of the newest build-your-own burger craze, I found myself reminiscing of a place I used to frequent in the mid 1980s called Flakey Jake's. A casual little burger and beer joint, Flakey's was famous for their juicy burgers and a big ol' do it yourself salad bar of fixins. Toppings consisted of garden variety chili, processed cheese slices, tin flavored olives and jalapeños, and pretty much anything else that was thrifty, yet managed to compliment a hamburger patty. There was nary an inkling of impending gourmet flair, yet even back then, the place was packed with diners that craved something a little more "their way" than the clown or king could offer.
Fast forward to now, a time when even a simple hamburger is expected to delight, ala five star status, and it's really no wonder that the craze for building your own burger has suddenly reemerged, albeit with a serious price tag. Enter Grind Burger Bar and Lounge, a polished little place that brings back the casual, good time memories of Flakey Jake's, but with a burger that's anything but tin can average.
Brought to us by restaurateur Mark DiMartino, Grind has been creating quite a stir for not only their food, but their playfully inventive mascot, Juicy Lucy.  Apparently, a naked cartoon woman that's labeled for butchering like a steer (think rump, round, loin…you get the picture) and donned on everything from skimpy tees to key chains is offending people. Really?  Hooters is kicking themselves that they didn't think of the idea first, driving home the point that shock sells and can't be taken too seriously, especially in this hell bent economy.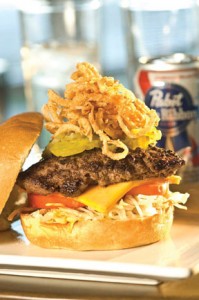 The menu is an offering of appetizers, potatoes and burgers with accompaniments that run the gamut from typical to not so norm.  Armed with a clipboard, menu and pencil, we chose Thai Calamari (9.50) and Onion Strings (5.00) as appies.  I liked the calamari; it wasn't overcooked and the sauce had a sweet little tang, but beware of the tempura lime garnish–it packs an unexpected pucker punch.  Fried onions were crispy, not greasy and served with a mild cayenne pepper ranch dressing that could have used a little more kick.  They also have three styles of fries (4-5.00), including a delicious sweet potato version that I would highly recommend, as well as a chopped salad (8.50) that could serve as a meal in itself. Portion sizes were more than ample for splitting.
Next on the list are burger choices.  You have four to choose from, a juicy ground chuck version, nicely seasoned turkey or chicken burgers, or a house made meatless variety.  They all start at nine bucks…a bit pricey, especially since the fries aren't included, but hey, this is gourmet, right?  You also have options for choosing buns (the ciabatta was outstanding); cheese that included bleu and pepper jack (+.75); typical toppings like lettuce, tomato and marinated mushrooms (two are included, +.75 for extras); condiments that included several innovative mayonnaise concoctions with the likes of basil and sun dried tomato or ajvar, a roasted red bell pepper and eggplant spread (two included, +.75 for extras); and some heavy hitting premium toppings like fried eggs, applewood smoked bacon, and Napa cabbage 3 pepper slaw (+1.50).
It's easy to go overboard, but in reality, you can create a very she-she burger for around 12 bucks; still a bit golden for some, but for those that take their specialty burger seriously, cheaper than comparables located on the Strip.  I chose the regular beef version; it had a delicate texture and was quite juicy and flavorful, perfect for the ciabatta bun which soaked in the savory flavors.  Aged cheddar, the wonderfully smokey bacon, mushrooms and the ajvar mayo took this baby over the top.  Sure, I could have added the egg, which would have been sublime, but too much of a good thing can be bad, so I'll have to save it for next trip.
Grind really is a very nice place to have a superb burger, a beer or glass of wine, or a specialty drink that's offered in both the restaurant as well as the separate bar area that's fitted with requisite gaming and flat screen TVs.  And although Flakey Jake's may have been the father of the BYO burger concept, Grind has certainly added some serious gourmet flair. Grind is located at 360 E. Tropicana.