A Family Home With Style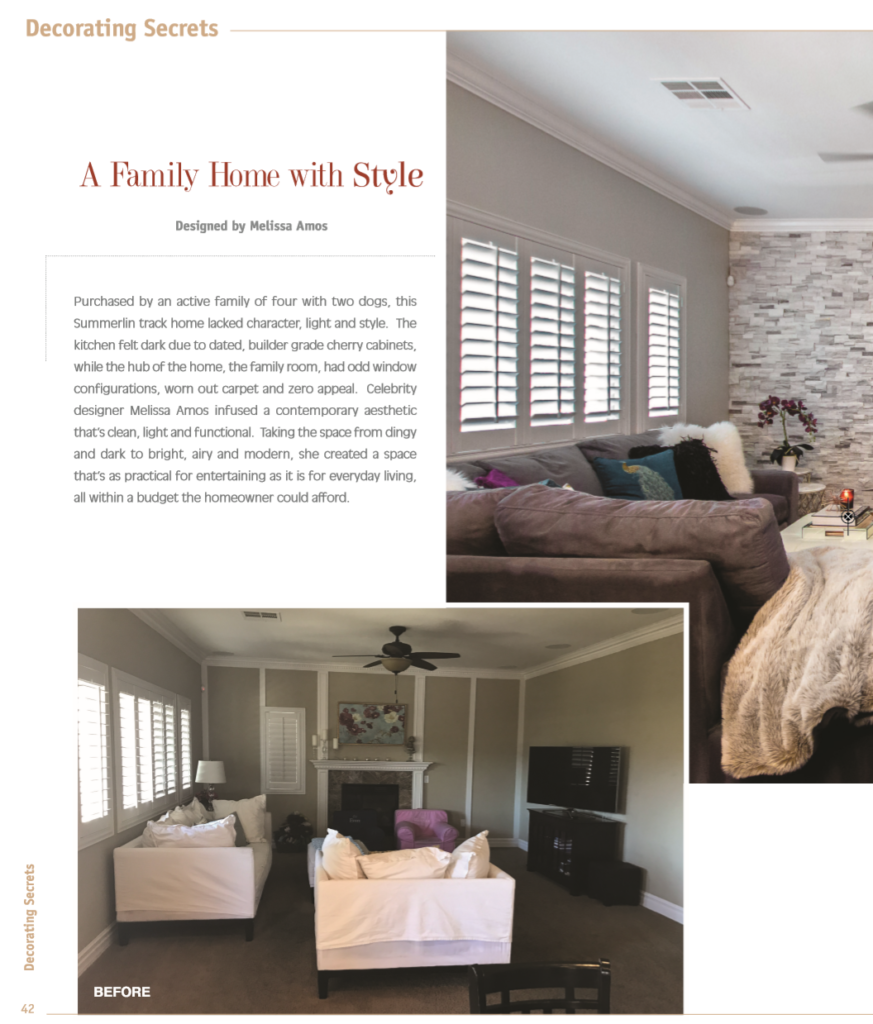 A Family Home with Style
Purchased by an active family of four with two dogs, this Summerlin track home lacked character, light and style.  The kitchen felt dark due to dated, builder grade cherry cabinets, while the hub of the home, the family room, had odd window configurations, worn out carpet and zero appeal.  Celebrity designer Melissa Amos infused a contemporary aesthetic that's clean, light and functional.  Taking the space from dingy and dark to bright, airy and modern, she created a space that's as practical for entertaining as it is for everyday living, all within a budget the homeowner could afford.      
Lighting can make or break a room, but a misplaced window next to the fireplace made for an off-putting visual distraction. Since the room had a wall of windows that let in tons of natural light, Melissa suggested removing the window to create balance and symmetry. Next, the wall was embellished with beautiful stacked quartz stone for texture. The addition of upgraded, wall washing lights that accent the split faced stone, and an inexpensive mantel from Wayfair.com, creates a focal point with upgraded appeal. Pops of color in the accent pillows and adjacent dining room chairs infused life into the warm, monochromatic gray tones of the space, an inexpensive trick for changing the look of your space inexpensively.   
Ceiling fans are hit and miss from a design standpoint but in Las Vegas they're a must have for summer time weather. In a living room or larger gathering space, Melissa suggests adding an oversized (65" and above) ceiling fan without the light kit to keep it simple and uncluttered. Its stature fills the area and makes a statement, while not looking like a bedroom ceiling fan, and it sufficiently cools the space on toasty afternoons.  (not sure if there's a pic for this but she talks about it. We can take this out if need be.)
The homeowner wanted wood flooring but for a family with young children and fur babies it simply wasn't practical.   New on the market is a wood-look, plank flooring product that has a waterproof core. Unlike laminate, it keeps its shape and doesn't swell with varying weather conditions, plus it's half the price of authentic wood flooring.  A real benefit for the budget conscious homeowner, it's the perfect solution for an upgraded look that's durable and easy to clean, yet stylish. 
Originally this U shaped kitchen was dark, cramped and tired; definitely not a space the homeowner wanted to spend much time in. Besides replacing the cabinets and countertops with updated finishes, the use of additional lighting made a huge difference in the look and functionality of the room. Melissa added brighter LED canned lighting overhead, accent lighting in the upper cabinets, task lighting under the cabinets, a decorative sconce over the sink and drop pendants over the new peninsula. A new chandelier above the nook table provides glamorous mood lighting while serving to provide visual division between the kitchen and family room areas.
The existing island was small and made the walking room tight, so the tiny island  was eliminated and replaced with a peninsula that while still open concept, opened up the center of the kitchen for better traffic flow and provided for additional seating this growing family needs.
Previously there was a mix of appliances and finishes in the kitchen. The first step was to remove the microwave/vent combo over the cook top.  Double ovens were replaced with a micro/convection oven that does double duty as a microwave and oven, and a stainless wall hood was then added over the cook top. This allowed space for a gray glass subway tile backsplash, installed in a herringbone pattern, to run from counter to ceiling, adding interest and contrast to the area. This pattern was carried over into the gray porcelain tile flooring for a cohesive look. The room was finished with stylish accessories and lighting fixtures; a kitchen transformed from builder grade to designer custom.