Magazines
For the Love of Food: A Meal with No Rules – Brunch
By Aly Wagonseller
 Ah the contradiction of brunch–not entirely breakfast or strictly lunch, yet always a wonderful excuse for a mid-morning party. It's a leisurely time to gather with family and friends to savor a hearty meal, sparkling libation and good conversation.  Brunch is the perfect way to set the tone for a relaxing, weekend day to come.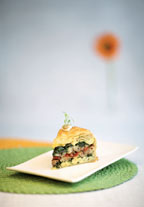 Although there are no rules when it comes to a brunch menu, there are a few things to consider. This is a meal that's counting for both breakfast and lunch so you don't want to disappoint your guests with too little variety or not enough to eat. A general rule of thumb for a casual family brunch should present at least one meat or fish selection, an egg dish, one to two side dishes, muffins and a dessert. Think about your menu, paying close attention to the sweet, savory, heavy or light aspects of your food options and providing the proper balance of each. For example, if you decide to serve a weighty Breakfast Torte as your main egg dish, provide contrast by choosing lighter side dishes that might include yogurt with granola or a fresh fruit salad. Conversely, if a rich and creamy Strawberries and Cream French Toast is the main attraction, a savory pairing of sausage and crunchy cottage potatoes might fare better. Most importantly, choose at least a few items that can be assembled or partially prepared the night before. Brunch is about a relaxing morning, hostess included. 
 And don't forget the bubbly!  Champagne or prosecco are must haves for grown-ups, with sparkling water or cider and 7-Up serving as nice non-alcoholic alternatives. Add frozen peaches and a touch of simple syrup or agave nectar for wonderful bellinis. A splash of orange, passion fruit or pomegranate juice makes flavorful mimosas, or try macerated strawberries with a touch of mint for an interesting departure from the norm.   A nicely stocked lemonade and ice tea bar with fresh fruits and flavored beverage syrups is also a nice idea, especially if there are plenty of kids in attendance.
What a wonderful way to ease into the day. Whether it's Easter, Mother's Day, or any Sunday of the week, there's no better time than now to throw a festive brunch of your own.
Layered Breakfast Torte
Serves 8
1.5 boxes (3 sheets) of puff pastry, thawed then chilled
3 Tbsp butter
10 large eggs
1 Tbsp fresh chives, chopped
2 tsp fresh tarragon, chopped
Pinch of grated nutmeg
1 box frozen spinach, thawed and thoroughly dried
1/2 lb of Swiss cheese, thinly sliced
1/2 pound sausage, cooked, chopped and drained
1 jar roasted red peppers, drained and dried
Salt and pepper to taste
1 egg and 1 Tbsp water, beaten together
Coat an 8 1/2in spring form pan with cooking spray. Roll out one sheet of puff pastry to 1/4in thick and cut out a 9in circle. Place in the bottom of the pan with the extra 1/2in going up the sides. Roll out the second piece of puff pastry to 1/4in thick and cut out an 8in circle; wrap in plastic and refrigerate for later. Roll the remaining sheet of puff pastry to 1/4in thick and cut rectangles out to wrap around the inside of the spring form pan, leaving a 1in overhang at the top. Use water where seams meet, pressing the pastry against the pan for a smooth fit. Cover with plastic wrap and refrigerate one hour.
In a medium skillet, melt butter over low heat. Whisk together the eggs, herbs, nutmeg, salt and pepper. Pour the eggs into the skillet and gently scramble until loosely cooked, (eggs will cook completely in the oven later). Remove from heat, cover and cool completely.
In prepared pastry lined pan, layer half the partially cooked eggs, half the spinach, half the cheese, half the sausage, all the peppers, then the remaining sausage, cheese, spinach, and eggs, in that order.  Spread each layer to the edge of the spring form pan. Fold the puff pastry overhang onto the ingredients. Brush with egg wash, then place the refrigerated 8in circle on top, sealing the pastry along the sides. Cut a vent in the center and place in the refrigerator for one hour or overnight.
Preheat oven to 350°F. Place torte on a baking tray, brushing again with the remaining egg wash. Bake for 1 hour and 15 minutes, or until golden and puffy. Remove from oven and cool to room temperature or the torte will fall apart when sliced. Serve with mustard.
Strawberries and Cream French Toast
Serves 4-6
 1/2 cup chopped pecans
1/4 cup brown sugar
6 Tbsp butter, divided
6 (2″ wide) slices challah or brioche bread 
4 oz cream cheese, softened
4 oz Mascarpone cheese
2 Tbsp powdered sugar  
6-8 large strawberries  
1 cup buttermilk
3 large eggs
1 level Tbsp white sugar
1/4 tsp nutmeg
1/4 tsp cinnamon
1/8 tsp salt
1/2 tsp lemon zest  
Preheat oven to 250°F. Heat pecans, brown sugar and 2 tablespoons butter in a skillet over medium heat. Stir until sugar has melted and pecans are coated and sticky. Set aside on parchment paper.
Slice each piece of bread through the middle, stopping as you near the opposite crust, so as to create a single, hinged piece (much like a clam shell).  Set aside. In a medium-sized bowl, mix cream cheese, Mascarpone cheese, and powdered sugar until well blended. Slice the strawberries to desired thickness. Gently open the "pocket" of each piece of bread, smoothing the cream cheese mixture onto each, creating a thick layer of cream. Place a single layer of strawberries atop the cream, slightly overlapping the berries as you go. Sprinkle with a small amount of the pecans, then close pocket and set aside.
Blend buttermilk, eggs, sugar, nutmeg, cinnamon, salt and lemon zest in a blender. Pour into a shallow baking dish. Melt 2 tablespoons butter in a large skillet over medium heat. Working in batches to prevent crowding, dip (don't soak) each stuffed piece of bread into the buttermilk mixture, taking care to cover both sides and the edges. Fry in butter, no more than 3 pieces at a time, until golden on both sides.  Place in oven while cooking the second batch of toast. Serve with powdered sugar, additional pecans and strawberries for garnish.  
 Prosciutto Quiche Cups
Serves 4
8 oz sliced prosciutto, slices cut in half
3 eggs
1/2 cup whole milk
1 1/2 oz cream cheese, softened
Dash grated nutmeg
¼ tsp pepper
½ cup grated Swiss cheese
2 tbsp chopped chives
Diced mango and papaya for garnish
Preheat oven to 400°F. Coat a mini muffin pan with cooking spray. Layer two halves of prosciutto over each other and press firmly into each muffin cup, allowing overage to fan outside of each cup.  
Blend eggs, milk, cream cheese, nutmeg and ¼ teaspoon pepper in a blender.  Stir in cheese and chives. Pour into prepared prosciutto cups, being careful to fill only about ¾ of the way full. Bake until puffy and set, about 15 minutes.  Serve with fruit.
Chocolate Toffee Coffee Cake
Serves 16-20
2 cups all purpose flour
1 cup dark brown sugar, packed
1/2 cup sugar
1/2 cup unsalted butter, room temperature
1/2 tsp salt
1 cup Heath toffee chips
½ cup mini chocolate chips
1 cup chopped pecans
1 tsp baking soda
1 cup buttermilk
1 large egg
1 tsp vanilla extract
Preheat oven to 350°F. Butter a 13x9x2-inch glass baking dish. Combine flour, both sugars, butter and salt on low speed until mixture resembles coarse meal. Transfer 1/2 cup butter-sugar mixture to medium bowl; mix in toffee, chocolate chips and pecans. Set aside. Stir baking soda into remaining butter-sugar mixture in large bowl. Add buttermilk, egg and vanilla, beating until just combined.  
Spread batter into prepared pan. Sprinkle with toffee topping. Bake until topping is golden brown and toothpick inserted into center of cake comes out clean, about 35 minutes. Cool completely and cut into squares. May also be made into muffins.
1 Comment