Magazines
Livin' Local: Beans That Go KerSNAP…And Other Farm Fresh Foods
By Lisha Ross
Farm fresh. You've probably seen the words in your local supermarket. It's a clever marketing tool, but perhaps a tad dishonest. The truth is, grocery store produce has been chosen for its durability, not necessarily on the quality or flavor. The end result of this picking process is that many superior tasting varietals are unavailable in your local food emporium simply because they are fragile and don't ship well.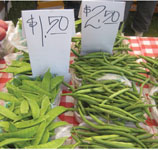 Some of the freshest, best tasting produce around comes not from the grocery store, but from local and regional farmers who pride themselves on growing the best while using the most earth-friendly techniques. Mild temperatures and plenty of sunshine make spring the perfect time to seek out these hidden treasures in open air farmer's markets and relish in the robust flavor profiles of true farm fresh goods.
To Market
Molto Vegas Farmer's Market, a project of Mario Batali, Zach Allen and Executive Pastry Chef Doug Taylor (7485 Dean Martin, Ste. 106; Thurs. 11 a.m.-4 p.m.), is arguably the best in town, thanks to the passion and energy of Kerry Clasby, self-proclaimed "intuitive forager." Widely sought after for her finesse as a personal shopper for some of California and Las Vegas' most talented chefs, she hand selects each vibrant and hard-to-find item at Molto. The selection changes with the season–a great assurance that you're getting the most flavorful bits–but you can count on finding a sparkling array of citrus, root vegetables, crisp beans, peppers, thistles, tomatoes and rare, heirloom varieties.
Part of the pleasure of a leisurely day at the market is sampling the goods before you buy, and most independent farmers at the market are eager to share. Clasby was happy to peel us a wedge of pink lemon, juicy Kishu tangerine, Page mandarin and Fuerte avocado. Meili Ou of O.U. Nuts darts around all but popping her family's Pahrump grown pistachios directly into your mouth. And a taste of an impossibly creamy, fresh-made water buffalo mozzarella cheese was too tempting to turn down. Dates from The China Ranch Date Farm, radishes and potted herbs from King Ranch in Arizona, tossed salad tidbits from Kerr Farms in Sandy Valley and wild and cultivated mushrooms are also in abundance.
From south to southwest other farmer's markets offer their own colorful assortment of goodies, from blood oranges to Peruvian potatoes. Adding to the festivities are vendors carrying everything from fresh baked breads and homemade sauces, to aprons, teas and crafts. Markets around town include Henderson Farmer's Market (Water Street; Thurs. 9 a.m.-3 p.m.), Gardens Park (10401 Garden Park Dr.; Tues. 4-8 p.m.) and Bruce Trent (1600 N. Rampart Blvd.; Wed. 4-8 p.m.).      
To Farm
You don't have to leave city life to forage on your own. On the north side of town there are 50 acres of orchards blossoming with apples, pears and peaches that, in the right time of year, can be yours for the picking. A local resource in the truest sense, Gilcrease Orchards (7800 N. Tenaya Way) will open to the public May 8, affording Veganites a rare opportunity to make like hunter-gatherers and pluck their own fruit right off the tree. Also home to a cider mill, they make some of the best tasting cider around. 
Just next door, Sharon and Glen invite you to The Farm (7222 W. Grand Teton Dr.; Sat.-Sun. 9 a.m.-sundown) to shop for produce that Sharon has grown and/or selected from area farms. It's an excellent family experience, and you're bound to leave with natural, mostly organic seasonal produce, fresh baked breads, cakes and cookies, fresh eggs, local honey from on-site bees and homemade jellies and jams. Call ahead and see what's happening this weekend (982-8000); sometimes they even offer pony rides for the kids.
To Table
As you foray into new and interesting taste sensations, you'll soon realize that the potential for incorporating farm fresh foods into your own diet is tremendous; the impact substantial. Dining becomes experiential and artistic–a theory that Project Dinner Table is taking to the extreme starting April 24th. The jubilant monthly event exemplifies the passions of a sustainable life–community, cuisine made with locally grown ingredients, charity–all while encouraging the simple art of conversation and new friendships.
Tables will be draped with white linens; locations will resonate with a sense of purpose, from orchards and farms to urban and public spaces; threads of conversation will pass between like-minded individuals; food and drink will be consumed merrily. Each family-style dinner will be inspired by the season and prepared in an al-fresco kitchen by a guest chef–could be Todd Clore of Todd's Unique Dining, Giovanni from Nora's Wine Bar, or a chef from Wynn or Wolfgang Pucks. Expect to be surprised! During the meal, diners will be introduced to the local products used in each course as well as the purveyor.  A portion of the all-inclusive price of $150 will be donated to a different charity each month. You won't know exactly what you're getting into until you get there, but hints will be dropped at www.projectdinnertable.com.
To You
It's true that some farm fresh products and cuisine come with higher price tags, although you will certainly find items that are fairly inexpensive. We found oranges at 6 for $2.50 in Henderson and Tahitian vanilla beans at 5 for $3 at Molto. No matter the price, when you purchase from local farms and vendors you're doing yourself, the planet and your fellow man a favor by contributing to the preservation of older, more favorable varieties and supporting local community.
So clink your glasses and celebrate the nectars of the Gods. Meet a farmer and find out where your food is coming from. It will invigorate your palate, your sense of community and pride, your soul–and that's a promise.