DAVID TUPAZ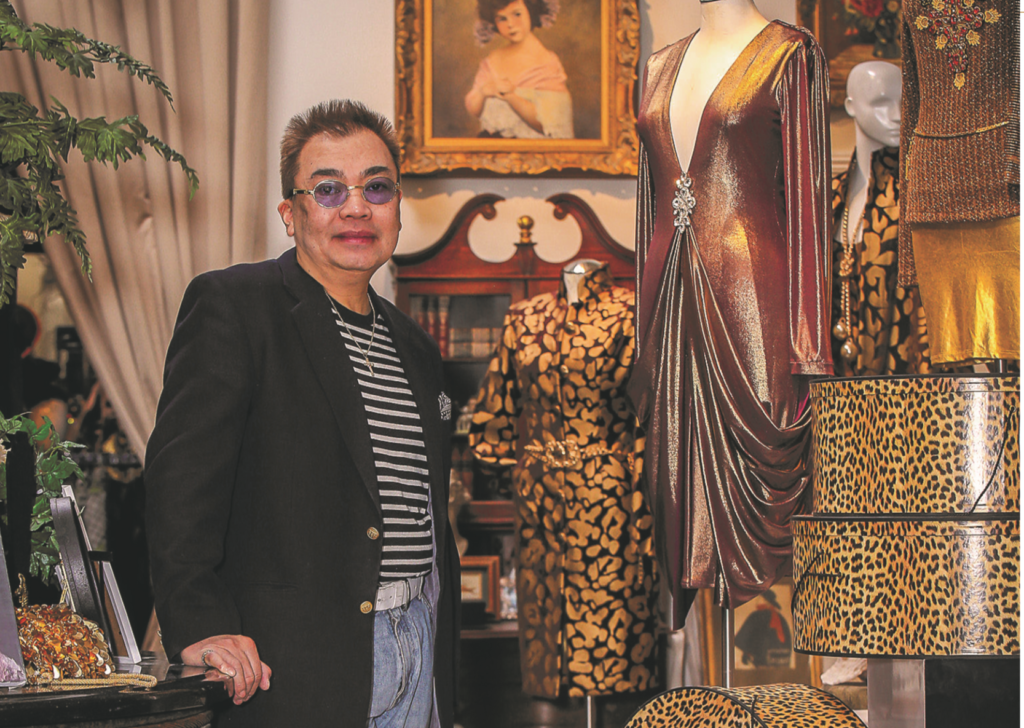 www.davidtupaz.com  – YouTube: David Tupaz   
 "I am fortunate that the universe has naturally gifted me with talent and creativity. I am honored that I am part of the never ending mystery of creation and that I am able to create beauty for others through fashion.  Being beautiful and loved is the ultimate quest, because    beauty and love is GOD made real."
Designer David Tupaz is the only established couturier designer in Nevada, representing Las Vegas at all the major Fashion Week events from Los Angeles to N.Y.C.  Crafting spectacular clothing designs that have coiffed women from high society and celebrities to royalty, his take on classic, "Old Hollywood" design sensibility intrigues women with a strong sense of self and style. Empowering women through fashion, David's devotion to splendor is evident.  Yet, despite his love affair with haute couture, it's his desire to immerse himself in community and philanthropic endeavors that truly feed his soul. We talked to David about his designs, the need to give back and his love for this glamourous city he calls home.
How did you get started in the fashion industry and what influences your design?
I am an Interior Design graduate but did not pursue it professionally. I realized that fashion was more interesting as it is the only industry that changes throughout the year. The idea of creating something new each season was exciting.  I didn't have any formal training and am self taught, having mastered and researched everything about fashion, including its history, techniques, the great design masters–from haute couture to ready to wear–and the business and commerce of it all.  I've always felt that American Design, an area of which I focus on, was influenced by Hollywood from the days of silent film to the present. Valentino and Armani became designers because of the allure of Hollywood and its movies, and it is in that tradition that my design aesthetic is based on. My muse is Audrey Hepburn. She was the example of a classic American style icon. Every time I create a new collection, I have Audrey in mind and everything is created around her image.   
 Tell us about your involvement with LV Fashion Design Council, how and why you founded the organization, and what it has done to help local designers.
I've met many design students and have worked with fashion schools around town and wanted to pioneer an effort to recognize the local talent and give the industry a chance to develop here. Afterall, 85% of American made apparel is done in California, and the proximity of Nevada to California is so close that why not bring the industry to our city?  Knowing that we have tax incentives, affordable real estate, and are the shopping capital of the world due to three million tourists every month, why not? I always say "The whole world is represented in Las Vegas, except Las Vegas" and feel that needs to change!  We have talented people who, given a chance, can create world class products. The Design Council assists young talents who cannot afford to go to fashion school to foster their creative growth. We have programs and workshops we give for free. A few of the designers I've mentored are already in business today.
 Giving back means a lot to you. What other organizations have you been involved with?
 I grew up in a culture of "it is what you can give" that matters, so life has always been a form of service for me.  My mother always told me that if you want to be happy in life, make other people happy first!  I have been privileged to give time, talent, and treasure and have raised funds for many charities, including The Lung Center of Nevada, Nathan Adelson Hospice, Keep Memory Alive, St. Jude, Catholic Charities and many more. Every Monday, rain or shine, I feed the homeless in Downtown Las Vegas. With the help of many different organizations, we provide the items and human contact they need. It is easy to write a check and just give to any charity, but being physically there and meeting these unfortunate brothers and sisters is much more rewarding. I believe that good work has to be hands on.  
It's evident you LOVE Las Vegas! How has your move here impacted your life journey?
When I decided to move here in 2010 everyone thought I was crazy. I didn't know anyone. But by 2012, I was already dining with Steve Wynn and Mayor Goodman! I think Las Vegas welcomed me. Being the only established fashion designer in Las Vegas made me feel like a big fish in a small pond, but I want to share my successes by establishing a local fashion industry. Las Vegas is the last frontier! It is the last glamorous city in America that has potential and opportunities for design, as I feel New York and Los Angeles are saturated. Why can't the future Calvin Klein come from here?