Finding Fitness on the Wild Side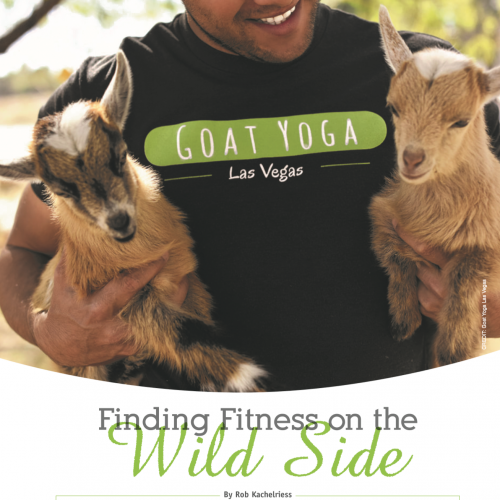 Finding Fitness on the Wild Side
By Rob Kachelriess
Looking to mix up your fitness routine? It may be time to add a little animal intrigue to your workouts. A few businesses around Las Vegas know how to tap into your wild side and keep your body in top condition.  
Stretching out with Goats
Goat yoga comes with a few warnings. If you have anything you don't want to get chewed on or used as a bathroom, keep it outside of the fenced-in area where the session is taking place. If you see something that looks like a raisin, don't eat it, although, it's definitely organic. And—this isn't ultra-serious. The classes are as much a photo op as a yoga session. Think of it as an interactive petting zoo.
"It got so popular so fast," says Nicki Taylor, a performer for X Burlesque at the Flamingo who teaches classes for Goat Yoga Las Vegas on the side. "The first year, we were sold out months in advance, no matter the weather. I think since last year, it's taken off in many other states, but we are the only goat yoga here in Las Vegas."
The idea originated at a farm in Oregon and spread quickly around the country, thanks to the power of social media. Brandon Nobles and David Lee Brown, who also work at the Flamingo as dancers for Donny & Marie, happened to own about 15 goats at their farm near Lake Las Vegas and fell in love with the concept. They founded Goat Yoga Las Vegas and generally offer three classes a week at parks and other locations throughout the valley.
Participants bring their own mats and follow basic yoga routines while the goats mingle around them. Expect the animals to come around for pets, crawl around you and even hop on your back. "That's why we keep everyone close together," says Taylor. "We're human playgrounds for them."
Classes, often held in parks around the valley, are limited to 30 participants who must sign up in advance online. No walk-ins allowed, but all ages and experience levels are welcome. "Goat yoga is a little more goats than yoga," adds Taylor. "If people want to ramp it up, they can. But if you just want to sit and pet goats, it's more about the experience of being outside with movement, nature and the animals."
The classes are also a great gateway for those getting familiar with yoga for the first time. Regardless of the intensity level, a goat yoga session is a great way to start the day and boost the endorphin levels in your body. "People really laugh and smile the whole time," says Taylor. "It's a mood lifter. And people are always surprised at how good they feel. They don't realize they've been stretching or working so long, because they've been distracted by the goats."
And the animals seem to have nearly as much fun as the humans, especially during feeding time. "These goats are very spoiled," says Taylor. "We love them very much."
For information on Goat Yoga Las Vegas, visit www.goatyogalv.com or call 239-265-7459.
Swimming with Mermaids
Marielle Chartier Hénault has made a fascinating career choice by merging her passion for "swimming, Disney princesses and fitness" into a mermaid swimming school. Although the idea was inspired by an online video of a similar concept in Germany, Chartier Hénault saw an opening in the North American market and founded AquaMermaid in Montreal in 2015. Business spread quickly with affiliates now established throughout Canada and the United States, including Las Vegas where weekly classes are held all year long at the indoor Municipal Pool at 431 East Bonanza Road.
"We mix synchronized swimming, monofin swimming and the dolphin kick of the butterfly stroke," says Chartier Hénault of the program, in which swimmers wear mermaid tails while in the water. "We target the core muscle, mainly the abs. Most people say the class is harder than it looks. Yes, you will be a beautiful and magical creature, but it's a workout."
Once the classes took off, AquaMermaid began manufacturing and selling mermaid tails, since regular participants wanted to own their own equipment. "There are two types of customers," Chartier Hénault points out. "There are ones who want a fitness class and come every week to see progression and learn a lot of techniques. Then we have people who want to come as a one-time activity and check 'I was a mermaid' off their list."
The class is popular for children's birthday parties, bachelorette parties and team-building sessions. Classes are divided between kids 7-12 and teens-adult. "In Vegas, there are a lot of things to do at night," says Chartier Hénault . "There are all the clubs, the casinos and eating a lot, but this is a really good afternoon activity to do with your friends."
Las Vegas has proven to be a great location for recruiting exceptional instructors, including performers with experience in Strip shows like Le Reve and O by Cirque du Soleil. If you'd like to experience AquaMermaid for yourself but don't want to travel downtown, private sessions can even be booked in backyard pools.  
For more information on AquaMermaid, visit www.aquamermaid.com or call 866-279-2767.
Fly through the Air on a Trapeze
If you want to fly like a bird or swing like a monkey, Trapeze Las Vegas has you covered. Founded by Lisa and Stéphan Cote, two former aerial performers at Circus Circus, the school offers classes in both traditional and modern forms of physical circus art.
Almost anything you can imagine in a classic big top or contemporary Cirque du Soleil show is here, including aerial silk, hoops, static trapeze, trampoline walls and vertical Chinese pole climbing, which grew in popularity after it was featured in Oceans 11.
"We've also got tumbling, juggling, unicycles, contortions—honestly, you name it," says Wendy Wallington, who handles marketing and promotions. "We really have a vast range of classes."
Trapeze Las Vegas started in a backyard about six years ago and quickly expanded. It now has a large indoor facility near Sunset and Valley View that offers more than a hundred classes a week. About a mile away, the school operates a large outdoor flying trapeze rig at the Las Vegas Sports Park. That's where you'll see a mix of local regulars and visitors "swinging through town."
"One of our best trapeze students is in his 70s," says Wallington. "He's amazing—and not from a circus family. He's a chiropractor in town and found this as a great fitness outlet."
Many of the instructors are current performers on the Strip, and their work with Trapeze Las Vegas serves two purposes: It's for fun and fitness, but it also trains the entertainers of tomorrow. Prospective students of all ages can sample a lit bit of everything with discounted trial classes and camps on holidays and throughout the summer.
Wallington puts it best: "There's a place for everyone at the circus."
For more information on Trapeze Las Vegas, visit www.trapezelasvegas.com or call 702-551-4858.
​