James Stanford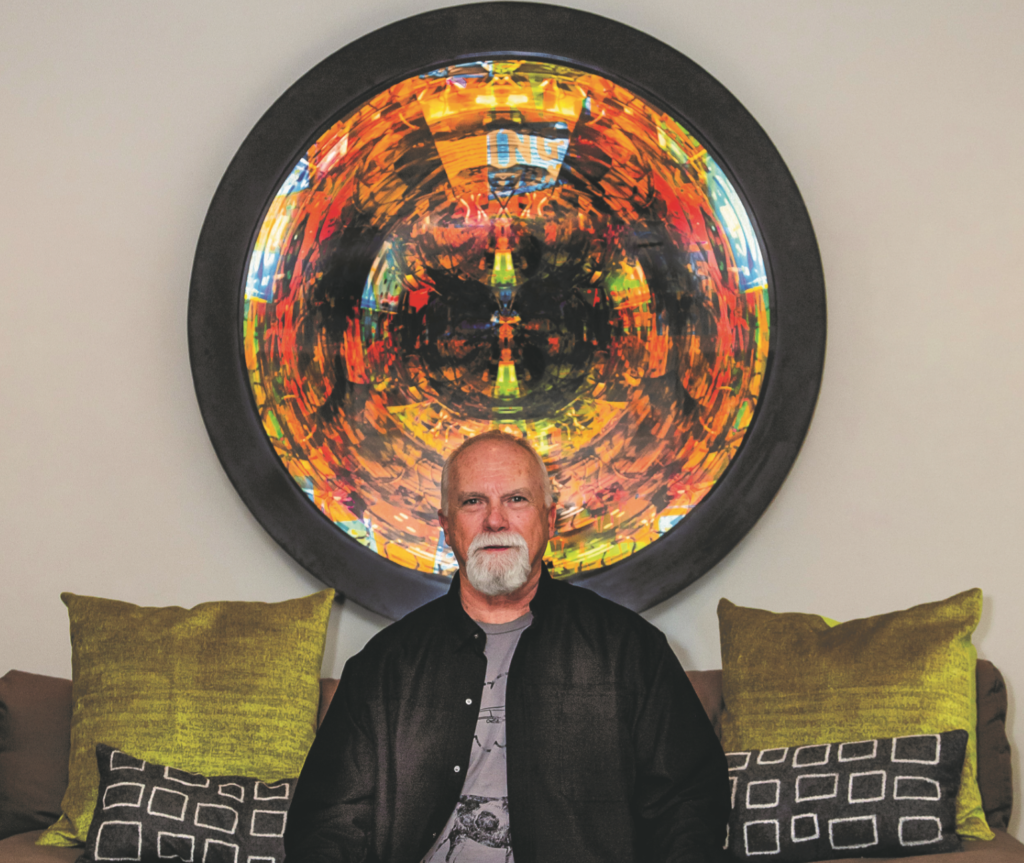 Website or site we can go to see your work:  JamesStanfordArt.com    ShimmeringZen.com
Standout Quote: "I can't remember when I was unaware of the magic and power of art."
A lifelong explorer of the visual arts, James Stanford has a storied history that has spanned more than five decades in the Las Vegas art scene. Educator, business man, activist, creative innovator and early adopter of the technological marriage that exists between traditional, straightforward modalities and the new world of computer manipulation, Stanford's artwork uses stunning imagery to create movement and provocative visuals that challenge the eye. His latest project, a book and travelling photomontage exhibition entitled Shimmering Zen, draws inspiration from saved imagery from the iconic structures and signage of his Vegas youth. A kaleidoscope of visual excitement and spiritual reflection, Shimmering Zen pays homage to a life inspired by beauty, the beast, and a few things in between.
Born and raised in Vegas, you got your Bachelor of Fine Arts in painting at UNLV, yet most of what you do now is digital. How did this come about?
I graduated with a BFA in painting in the first graduating class in the newly formed BFA program at UNLV, then was accepted into the Masters of Fine Arts Painting Program at the University of Washington. After graduating from Washington, I came back home to Las Vegas. I wound up taking a job as a black jack dealer to try and pay off some college debts. It was probably the best thing that could have happened to me. It was an opportunity for me to learn more about life. I started teaching drawing at UNLV, became a technical illustrator, then, in 1986, formed my own graphics studio. It was through this transition that I discovered digital art. I started the first graphics studio in Las Vegas to make the transformation from traditional skills to Macintosh computers. By 1987 we had abandoned chemical typesetting and copy cameras and had entered the world of Photoshop and Illustrator.
With your digital skills well underway, what inspired you to take this knowledge to create something that's much more meaningful and artistic then practical?
I had been using my camera to gather images that I thought I might someday be able to incorporate into my paintings. Without realizing it, I had built up quite a body of photographs. By 1993, I began to concentrate on the digital montage. Through my progress as a practitioner of Zen Buddhism I soon discovered what I wanted to explore. Mandala had always interested me. I loved exploring mirrored images. Symmetry had been so difficult to create before the advent of the computer and Photoshop. So, I began to explore the forbidden and formerly impossible world of Perfect Symmetry. Infinitely repeatable patterns became a metaphor for Indra's Jeweled Net, an ancient description of this holographic universe that we discover when we look within ourselves. My interest in transforming reality into imagined realms has taken many forms, including a photomontage series, Shimmering Zen, originally called Indra's Jewels. The series takes as its point of departure the Hua Yen Buddhist concept of totality within the metaphor of Indra's Jeweled Net.
Which brings us to Shimmering Zen, your newest body of work. What's it about?
I realized that Las Vegas had everything I needed by way of subject matter. Everything was happening right in front of me. This self-awareness helped me to overcome all doubt.  Why not examine what is close at hand? Las Vegas, my home town, was certainly worthy of exploration. What better place to explore Pop Culture than in this city of neon signage? In Shimmering Zen, I use the iconic vintage signage of Las Vegas, where I spent my childhood at a time when the city was a small resort town. My layered images reflect a sense of infinite reflection. I have accompanied stories of my life and coming of age in Shimmering Zen, the book.  I also reveal the "elements" that were used to build each pattern, with a story of the sign or property associated with the final image.
Shimmering Zen is also an exhibition. Some of the pieces in the collection are "lenticular" images—several layers of the same image, each treated differently, backlit and viewed through a lenticular, or striated lens. They are the product of photography and Photoshopping—sometimes up to 30 or 40 layers each. The picture shifts as you move in front of it. So, when you move, the image shift, while brief, is pronounced, a disruptive flutter before the picture snaps back to clarity, albeit now in a different alignment.
The Las Vegas/ Zen connection is interesting. How did that come into play?
Today, I am concerned with the development of a visual expression of a philosophy which brings greater understanding to the concept of Unity of Polarity. I attempt to illustrate the fact that bad exists on the same pole as good. We know each in degrees. Like one coin with two different sides, heads and tails, it seems that we can't know one without also knowing the other. I am trying to show that Las Vegas is a holy place. Just because it is full of Samsara (desire mind) doesn't mean that it isn't also full of Nirvana. Is anyone still surprised that a rose can grow on a thorny bush?
You're quite involved in the Las Vegas arts community. How has living here impacted your art? 
I have seen the LV art scene go from the peg board walls of the Vivian Wood's original Art Guild, to the Las Vegas Art Museum and back again. As a founder of the Arts District, and a former Las Vegas Arts Commissioner, I can assure you that it has been quite a roller coaster ride. However, I see the same interest and passion in our art community as I always have. Las Vegas and its environs are at the heart of my expression. I was born and raised here. At my age, I know a lot about this town that many people don't know, and I am very proud of my hometown. We have some amazing artists living here, but the larger community needs