Magazines
Meet Your Neighbor: Lori Krogel
By Callie Thomas
An unknown author once wrote of a young boy who, while walking along the beach where many starfish had washed up on the shore, was picking them up and throwing them back into the ocean.  An onlooker, having noticed what he was doing, told him that his effort was pointless, that it wouldn't make a difference.  As the boy threw another starfish into the sea, he responded, "It makes a difference to this one."  Resident Lori Krogel has something in common with the young boy; a desire to help others even when it might seem challenging or even impossible through her work with the United Way of Southern Nevada's Women's Leadership Council.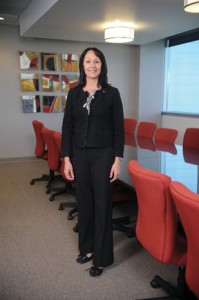 The 22-year Las Vegas resident, wife to husband Michel Gebruers and mother of six year old daughter Chloe, is the Area Director/Recruiter of Accountants International.  In her role she is responsible for the financial and operational aspects of the accounting and finance staffing firm.  To say that Lori is a natural achiever is an understatement.  Not only was her company named Branch of the Year under her direction, but she was recognized as "Star Performer" seven years in a row and awarded the President Club's Highest Achievement honor in 2008.  "I'm fortunate enough to assist local decision makers and owners of companies with their staffing needs," says Krogel.  "It has been a very rewarding experience watching candidates that I have placed flourish in their career."
This opportunity to nurture talented individuals and see them reach their career goals has been influential in Lori's decision to support United Way of Southern Nevada's Women's Leadership Council, where she proudly serves on the council's Outreach Committee. With an active career and young daughter, Krogel realized she needed more balance in her life and found the ability to socialize with others while helping people in the community to be appealing.  "Being part of the Women's Leadership Council has given me the opportunity to socialize with very dynamic women from a variety of backgrounds.  They are passionate about the cause and inspire me with creative ways to help others."
The Women's Leadership Council educates and encourages women to effect change in the community, create venues to share their concerns and visions and strengthen their relationships with each other. The women invest their time, talent and resources in a variety of local non-profit organizations.  Local female leaders are brought together and participate in integral educational initiatives, hands-on volunteer involvement and executive level networking.   The focus of the group is on education, income and health, which are the building blocks for a good life. "Community service to me isn't about padding my resume," says Krogel.  "It is an extension of who I am and what motivates me.  This is reflected in my career choice as well.  I simply like to help others."
Lori has that opportunity by supporting initiatives through the group which enable children to enter school with important literacy, social, emotional and intellectual skills.  She enjoys participating in efforts that assist individuals and families to increase their income, build savings and fulfill assets.  
Krogel has recently expanded her philanthropic efforts by also joining the Crimson Links, an organization that promotes the Las Vegas PGA Tour and Shriners Hospital.  "I am looking forward to putting as much effort into this cause as well.  I was attracted to it because the tour supports Las Vegas as well as the Shriners, who offer local children free medical care," she said.
Lori Krogel looks forward to continuing her own education and "staying one step ahead" of the changes within her industry.  She aspires to make a difference within the community, even if it is one person at a time.  "It makes me so happy and fulfilled to know I've made a difference in someone's life, even if it is just giving some advice."