Magazines
For the Love of Food: Parsley, Sage, Rosemary & Thyme -Cooking with Herbs
By Aly Wagonseller
There's no better way to add flavor to food, without the addition of salt or added fat, than by tossing in a handful of garden fresh herbs. From the woodsy essence exhibited by an earthy sprig of rosemary, to the licorice undertones so prevalent in the leaves of the tarragon plant, fresh herbs have a way of elevating the simplest of dishes from plain Jane average to vibrant, palate pleasing perfection.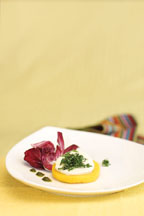 Still, with the wide array of distinct seasoning that each species maintains, it can be easy to go overboard, using competing or overpowering flavor combinations that result in an unpalatable forest on your plate. You must first know what you're working with, using pungent varieties more sparingly, and experimenting with flavors that your family finds appealing. 
Basil – One of the most widely used herbs in Italian cuisine, basil has a distinctively peppery, yet sweet flavor profile that's equally adept as a main salad ingredient as it is in pestos or sauces. Care must be taken that basil is eaten when extremely fresh, as it can become bitter if prematurely chopped.
Parsley – Much more than a pretty garnish, parsley, especially the Italian flat leaf variety, adds a clean, subtle peppery spice that's perfect for sassing up traditional egg or pasta dishes, as well as adding brightness to creamy dishes that need to lighten up a bit.
Sage – Traditionally used in heavy cream dishes, meats and sausage preparations, sage exhibits a pungent, yet slightly minty flavor that holds up better to heat than most herbs. It's great when used with creamy sauces and sweet vegetables, including sweet potatoes and squash.
Thyme – Used in many Mediterranean dishes, thyme has a lemony spiciness that marries well with a variety of other herbs, including parsley and rosemary. Wonderful on roasted chicken or roast, the leaves should be peeled from the stock before chopping.
Regardless of what might become your "go to" herb combination, remember that dried herbs are much more concentrated than fresh, about  3/4 to 1 teaspoon dried being the equivalent of  2 to 4 teaspoons of fresh.  Use fresh whenever possible, storing them loosely wrapped in a damp paper towel placed inside a Ziplock bag filled with air. And try growing your own! It makes for a fast and convenient way to snip flavor into your next meal!
Bacon-Herb Wrapped Pork Tenderloin
Serves 4
 1 head garlic, top sliced off
3-4 tbsp olive oil, divided
2 pork tenderloins (about 1 to 1 1/2 pound each) trimmed of excess fat
Salt and freshly ground black pepper
1 tbsp chopped fresh rosemary
12 fresh sage leaves, chopped
1 tbsp chopped fresh thyme
12 1/4-inch thick slices bacon
Preheat oven to 300 degrees F. Place garlic in a small ramekin, drizzle with 1-tbsp olive oil, and wrap in foil. Bake until soft, about 45 minutes. When cool enough to handle, squeeze garlic flesh from head into a small bowl.
Arrange tenderloins on work surface. Rub the top of each tenderloin with 1/2 of the roasted garlic and season with salt and pepper. Mix together the herbs and scatter half of the mix over the garlic on each tenderloin. Wrap 6 strips of bacon around each tenderloin and tie bacon in place with kitchen twine.
Preheat oven to 375 degrees F. Heat remaining oil in a medium skillet over medium-high heat. Sear the tenderloins until golden brown on all sides. Transfer seared tenderloins to medium roasting pan; place in the oven and cook to medium doneness about 8 to10 minutes. Transfer tenderloins to cutting board and let stand 10 minutes. Remove twine before carving.   Recipe courtesy Bobby Flay.
Chicken and Tabbouleh Salad
Serves 6-8
1 1/2 cups boiling water
1 cup bulgur wheat
1/4 cup freshly squeezed lemon juice (2 lemons)
Olive oil
Kosher salt
2 chicken breasts, bone in, skin on
Freshly ground black pepper
1 cup minced scallions, white and green parts (1 bunch)
1 cup chopped fresh mint leaves (2 bunches)
1 cup chopped fresh flat-leaf parsley (1 bunch)
1 hothouse cucumber, unpeeled, halved lengthwise, seeded, and medium-diced
2 cups halved cherry tomatoes
 Preheat the oven to 350 degrees F.
 In a heat-proof bowl, pour the boiling water over the bulgur wheat. Add the lemon juice, 1/4 cup olive oil, and 1 1/2 tsp of salt. Stir. Cover the bowl with plastic wrap and allow the bulgur to stand at room temperature for about 1 hour.
Place the chicken breasts on a baking sheet and rub them with olive oil. Sprinkle liberally with salt and pepper. Roast for 35 to 40 minutes, until just cooked. Set aside until cool enough to handle.
Remove the chicken meat from the bones and discard the skin. Cut the chicken into medium dice and add to the bulgar wheat / lemon mixture. Add the scallions, mint, parsley, cucumber and tomatoes. Season to taste and serve immediately, or cover and refrigerate. The flavors will improve as it chills.  Recipe courtesy of Ina Garten.
Rosemary Shrimp with Mint Pesto Dipping Sauce
Serves 4
1/2 cup pine nuts, toasted
5  chopped garlic cloves, divided
2 tbsp (packed) feta cheese
2 tbsp (packed) Parmesan cheese
1 tbsp coarsely chopped jalapeño 
1/2 tsp salt
1/2 tsp black pepper
2 cups (packed) fresh mint leaves
5 tbsp fresh lemon juice, divided
1/3 cup + 2 tbsp extra-virgin olive oil, divided
24 large uncooked shrimp, peeled, deveined, tails left intact
1 tbsp chopped fresh parsley
24 4-inch-long woody rosemary sprigs
For mint pesto, combine nuts, 3 cloves garlic, cheeses, jalapeño, salt and pepper in a food processor. Using on/off turns, process until mixture is smooth. Add mint leaves and lemon juice; process until smooth, stopping occasionally to scrape down sides of bowl. Gradually add oil and process until mint pesto is smooth and creamy. (Can be made 1 day ahead; cover and refrigerate.)
Preheat broiler. Sprinkle shrimp with salt and pepper. Whisk oil, garlic, and parsley in medium bowl to blend. Add shrimp; toss to coat. Let stand at room temperature 15 minutes. Arrange shrimp in single layer on broiler pan. Broil until opaque in center, about 2 minutes per side. Transfer to large bowl; sprinkle with lemon juice and toss with 1/2 cup mint pesto. Starting at base end of rosemary, skewer 1 shrimp on each sprig. Arrange on platter and serve.
Mango-Radicchio Caprese with Basil Vinaigrette
Serves 4
1/3 cup chopped fresh basil plus 8 whole large basil leaves
3 tbsp extra-virgin olive oil
2 tbsp white balsamic vinegar
8 radicchio leaves, thick ends trimmed
2 large mangoes, peeled, halved, thinly sliced
8 1/4-inch-thick slices fresh mozzarella cheese (from one 8-ounce ball)
 Blend chopped basil, oil, and vinegar in mini processor until most of basil is pureed. Season with salt and pepper.
Overlap radicchio, mangoes, cheese, and basil leaves on plates. Drizzle with vinaigrette. Serve, passing remaining vinaigrette.  Recipe from Epicurious.com.