Recipes from February
Instant Pot Indian Butter Chicken
Serves 4­-6
-1/4 cup butter flavored coconut oil (Whole Foods)
-1/2 sweet onion, thinly sliced 
-1 small red bell pepper
-diced 4 cloves garlic, minced
-1 Tbsp. freshly grated ginger
-2 tsp. garam masala
-1 tsp. ground turmeric
-1 tsp. smoked paprika
-2 tsp. ground cumin
-1/4 tsp. ground cayenne pepper, optional
-1 tsp. salt, more to taste 1/2 tsp. pepper, more to taste
-1 can diced hot/spicy Rotel tomatoes
-1 8 oz. can tomato sauce
-1/2 cup chicken stock
-2 pounds boneless, skinless chicken thighs, cut into chunks
-1/2 cup coconut cream (not milk)
-2 Tbsp. almond flour
-1/4 cup chopped fresh cilantro leaves, divided
-Cauliflower rice for serving
– Combine garam masala, turmeric, paprika, cumin and cayenne in a small bowl; set aside. In another small bowl, whisk together coconut cream and almond flour; set aside.
 – Set Instant Pot to sauté setting. Add coconut oil, onion and bell pepper. Cook, stirring frequently, until tender. Stir in garlic, ginger and spice mix, cooking until fragrant, about 1 minute; season with salt and pepper. Turn off sauté setting and add diced tomatoes, tomato sauce, chicken stock and chicken. Select manual pressure cook setting to high and set for 10 minutes. When finished cooking, quick­release pressure according to manufacturer's directions.
– Remove lid and select high sauté setting. Stir in coconut cream mixture and cook, stirring frequently, until slightly thickened, about 3­5 minutes. Stir in cilantro; season with salt and pepper if desired. Serve immediately with cauliflower rice.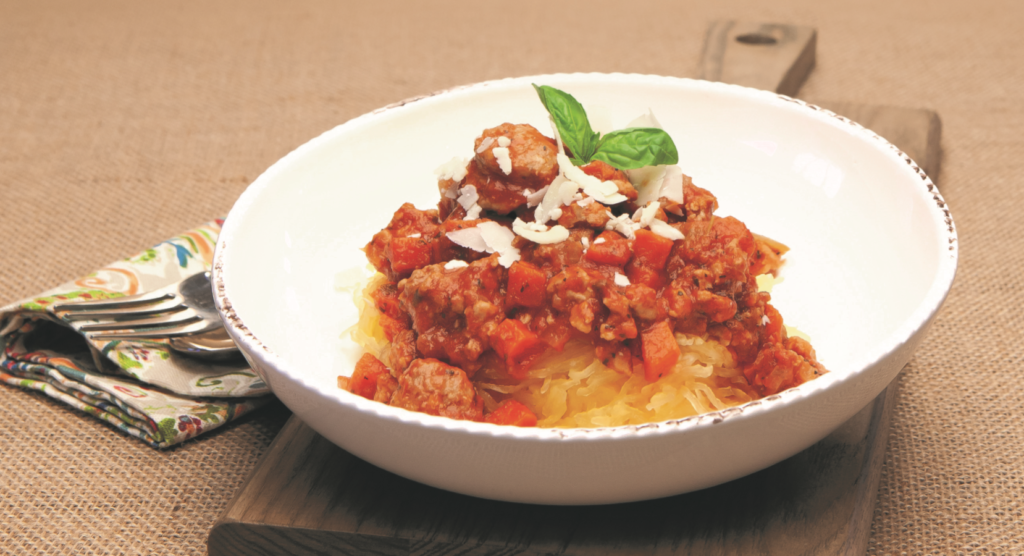 Paleo One-Pot Turkey Bolognese with Spaghetti Squash
Serves 4
-1 Tbsp. extra-virgin olive oil 1 yellow onion, chopped
-2 cloves garlic, minced
-1 lb. ground turkey
-2 spicy Italian sausage links, cut into bite sized pieces
-Fine sea salt and freshly ground black pepper
-1 (28 oz.) can Cento crushed San Marzano tomatoes
-2 celery stalks, diced
-2 carrots, diced
1 Tbsp. aged balsamic vinegar
-1 tsp. pure maple syrup
-1 tsp. dried oregano
-1 1/2 tsp. dried basil 1 (3 lb.) spaghetti squash
-1/4 cup full-fat coconut milk (optional)
– Press sauté and add the olive oil, onion, garlic, turkey, sausage and 1 tsp. salt to the Instant Pot. Sauté until the meat is browned and cooked through, breaking it up with a wooden spoon as you stir, about 8 minutes. Press Cancel to change cooking cycles. Add in the tomatoes, celery, carrots, vinegar, maple syrup, oregano, basil, and 1/2 teaspoon salt and stir well.


-Wash the spaghetti squash and carefully pierce the skin with a sharp knife to vent. Place the whole squash directly into the sauce, making sure that the area where you pierced the skin is facing up, out of the sauce, to vent. Secure the lid and move the steam release valve to Sealing. Select Manual/Pressure Cook to cook on high pressure for 15 minutes. When the cooking cycle is complete, let the pressure naturally release for 10 minutes, then release any remaining pressure. Using oven mitts, lift the spaghetti squash out of the pot. Transfer it to a cutting board to cool slightly. Stir the coconut milk into the sauce and season with salt and pepper, to taste. 
-Cut the cooked spaghetti squash in half crosswise and use a spoon to remove the seeds from the center. Use a fork to scrape out "noodles" from the squash and place them on plates. Spoon the Bolognese sauce on top of the noodles and serve. Store leftovers in an airtight container in the fridge for up to one week.
Adapted from a recipe by Megan Gilmore from The Fresh and Healthy Instant Pot Cookboo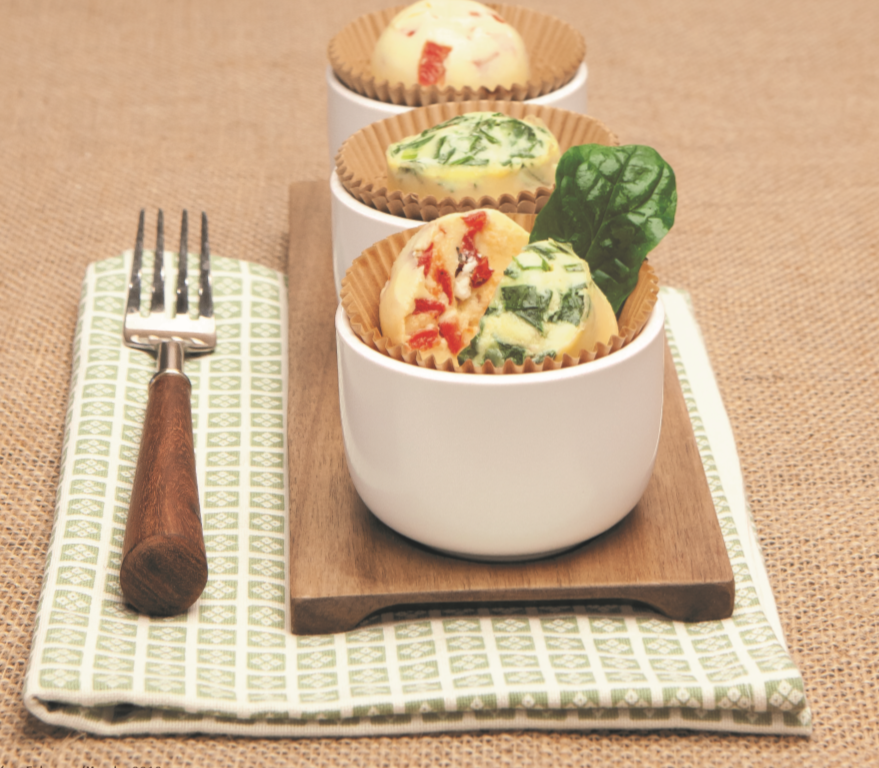 Copy Cat Sous Vide Egg Bites Makes
7 Bites
-4 large eggs
-1/4 cup mozzarella cheese
-1/4 cup feta cheese
-1/2 cup cottage cheese
-1 green onion, chopped
-1 roasted red bell pepper, chopped
-1/4 cup spinach, chopped
-1/2 tsp. salt, optional
Put 1 cup of water in the bottom of your Instant Pot followed by the trivet that came with your pot. In a blender, add eggs and cheese, blending until smooth, about 15­30 seconds. Stir in vegetables and salt. Divide evenly between the cups of a silicone egg bite tray (available at Amazon.com), or use 4 small mason jars that have been sprayed with cooking spray. Cover tightly with foil and lower onto the trivet in the pot. Set the Instant Pot to the steam setting and cook for 10 minutes. Allow the pressure to release naturally for 10 minutes then open the vent to release any remaining pressure. Remove from the pot and let cool for a few minutes before eating. May also be reheated in the microwave for 30­45 seconds.
Keto Blueberry Lemon Cheesecake
Serves 6
-16 oz. cream cheese, room temperature
-1/2 cup sour cream, room temperature
-1 1/4 cup + 3 Tbsp. erythritol powdered sugar, like Swerve, divided
-1/4 cup lemon juice
-4 eggs, room temperature
-1/4 cup butter flavored coconut oil
-1/2 cup almond flour
-1 1/2 cups blueberries
-Zest of one lemon
-For the crust, combine almond flour and 1 Tbsp. of erythritol in a small bowl. Cut in coconut oil and work with a fork until crumbly. Press into a lightly greased 7­inch springform pan. Set aside.


-Blend cream cheese, sour cream and 1 1/4 cup erythritol in a stand mixer until smooth. Add lemon juice and mix. Add eggs, one at a time, mixing thoroughly between each addition. Fold in one cup blueberries with a rubber spatula. Pour over prepared crust in springform pan. Place a paper towel loosely over the top of the pan then cover it tightly with foil. Tear a sheet of foil long enough to go under the pan and up to the top of your Instant pot. Fold into thirds lengthwise. Place the pan in the middle of the foil and bring the sides up to create a "sling handle" on each side. This will allow for easy removal from the pot.


-Add 1 cup of water in the bottom of your Instant Pot followed by the trivet that came with your pot. Place springform pan (with foil handles placed upwards towards the lid and on both sides of the pan) into the Instant Pot. Set for high pressure cooking and cook for 30­35 minutes. Allow the pressure to release naturally, about 20 minutes more. Remove from pot and take off foil and paper towel. Center can be wiggly but shouldn't be liquid. If it is, cook for 5­10 minutes more. Let cool to room temperature, then refrigerate overnight.


-In a small sauce pan, cook remaining ½ cup blueberries, 2 Tbsp. erythritol and the zest of one lemon over low heat. Stir constantly until sweetener is dissolved and sauce has thickened. Cool, then pour onto chilled cheesecake. Remove sides of pan and serve.