Magazines
Livin' Local: The Battle of the Ivories – Dueling Piano Bars
By Lisha Ross
If Las Vegas has a knack for anything, it's luring in some of the best entertainers in the country and creating dramatic spectacles of sight and sound to shock and awe eager tourists and locals alike. But for those who like their action a little more intimate and minus the heavy ticket price, there are few Vegas institutions quite as entertaining and audience participation-friendly as the dueling piano bar. Upbeat music, boisterous players, vibrant crowds and libations make for an exciting night on the town. And this is no spectator sport. You pick the songs and sing-along while high energy piano savants shake your nerves and rattle your brain with a vast repertoire of jammin' tunes.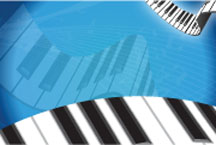 Double Time
Sing us a song…piano gals? That's right. Harrah's is doubling your dueling piano pleasure with twin female players. Piano masters and comediennes Kimberly and Tamara Pinegar have been playing since the age of six and performing at various venues from the Middle East to New York. In recent years they've been tickling keys and guests at the piano bar at Harrah's, which is located just adjacent to the always bustling carnival court. Their show is big on audience participation, and the twins' shtick is to divide the room in half and encourage their "team" to battle it out with the other side of the room, so be prepared for some friendly rivalry and quick wit from the players. With a truly vast range, Kimberly and Tamara play music from the 60s to today's hits on their baby grands that are actually disguises for electronic keyboards.  You'd never know it by the sound though, and the trickery lends itself well to the twins' style of adding more musical accompaniments, like drums and other instruments, to spice up the play list with even rap and hip hop selections.
If you've got a special request and the place is jumpin', be prepared to drop about $20 with your order. It might seem steep, but with just a $5 cover charge on weekends only plus a relatively inexpensive (by Strip standards) one drink minimum, it's a small price to pay to get down with your fave piano jam. The twins duel Tues.-Sat. from 9 p.m. on and perform a matinee at 5 p.m. on weekends. They don't take reservations, so if you want to get a good seat make sure you arrive early. For more information, visit www.harrahs.com.
Pete vs. Pete
Located in Town Square, amidst restaurants, shopping and nightlife aplenty, Pete's Dueling Piano Bar offers an uproariously good time on two baby grand pianos. Their undeniably rock 'n roll style is loud and proud and their philosophy is to let their talented players create a jolly good atmosphere where you make the entertainment as lively as you want it to be. By their reasoning, if your voice and hands aren't sore the next day they haven't done their job. To ensure their mission is accomplished, and if our visit was any indication it surely will be any night of the week, Pete's quadruples your pleasure with four players nightly who rotate in and out throughout the evening, keeping the energy up and the entertainment fresh. Pete's doesn't serve food, so you might want to pad your belly with eats from the Square before you head in…or after. There's plenty of standing room, but seats are limited, so if you take your dueling ivories sitting down you'll want to get there as soon as the doors open at 7 p.m. Showtimes are Tuesday-Saturday 8 p.m.-2 a.m. Pete's can get pretty wild, without being over the top rambunctious, so if you've got a good group of music lovin' friends looking for a high voltage night of dancing, singing along and waving their hands in the air, this is the perfect place for any age.
An Upscale Adventure with Napoleon
If you're looking for something grand, no pun intended, yet still super fun you might want to take a stroll through Le Boulevard of Shops in the Paris casino and end up at the luxurious Napoleon's Dueling Piano Bar. Gorgeous wood furnishings, comfortable low-slung leather club chairs and an intricate inlaid marble floor add to the inviting ambiance, and pianists Billy Krauss, David Mauk and Bonnie Mizell throw in thousands of tunes to complete the upbeat, lounge atmosphere. As with many a piano bar, the sounds of Billy Joel, Elton John, Queen and Van Halen liven up the room, but there's a whole lot more to the rotating collection of musicality. The lounge opens daily at 4 p.m. with background musicians playing, but things really heat up when the dueling pianos face off from 9 p.m.-1 a.m. Billy and Dave square off Thursday through Sunday, and after 19 years of sporadically playing together, they sure have learned how to entertain a crowd with humorous antics and showmanship. Adding to the ritzy appeal is a high end selection of draft beers, single malt scotches, cognacs, still wines, tempting champagne cocktails, specialty martinis and an attached cigar room. It's a double date night feast. Visit www.parislasvegas.com for more info.
The battle is afoot on 196 keys, so visit some of the city's piano hot spots where dueling pianos duke it out almost every night of the week. It'll tickle you ivory, I promise.