Magazines
Family Ties: The Perfect Mix – A Balanced Schedule for Summer Break
By Michelle Vessel
Ready or not, summer is here, and that means the kids are outta school and ready for some fun.  Although the first couple of weeks are usually a honeymoon period when the little free birds delight in their unfettered independence from the classroom, it's generally not too long before they're spending massive amounts of time playing video games, watching TV or chatting on the Internet. What's a parent to do?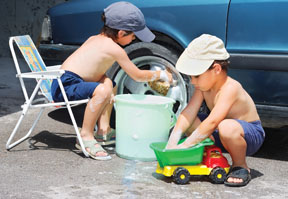 Scheduled Chaos
While you may feel that kids are overloaded with stressful, sometimes overscheduled activity during the school year, making up for it by allowing unlimited downtime can actually do more harm than good. Research has shown that kids need a schedule during the summer months to help keep them motivated, disciplined and ready to return to the next school year with an attitude for learning. 
This doesn't mean you need to cram every minute from sunup to bedtime with organized activities; this gives kids little opportunity to develop the ability to entertain themselves. What is important is that downtime is balanced by structured bed and wake up times, chores or activities that instill responsibility, as well as play time that releases energy, provides exercise and stimulates the noggin!  Evaluate the needs of your family, keep the schedule realistic and varied, and be flexible without becoming a pushover. Remember, this is summer vacation, so letting the kids stay up late for popcorn and a movie is perfectly okay from time to time.
Stave Off Summer Boredom
Once the chores are done and the allotted video or computer time limit has expired, you're probably staring down a long, hot afternoon with a whole lot of nothing on the agenda. Here are some fun activities to pencil in on your child's summer vacation schedule.
Pool fun with a purpose.  Marco Polo can get old. This year, develop a repertoire of games to keep your kids occupied in the pool. A quick Google search for fun pool games offers suggestions from squirt gun football to nose pushing beach ball races.  For a take-along guide in handy book form, try 101 Cool Pool Games for Children: Fun and Fitness for Swimmers of All Levels, by Kim Rodomista. Alternately, outfit your crew with snorkels, masks and inexpensive trinkets for treasure diving, or check out pool supply or specialty stores like Brookstone for floating ping pong or pool tables.   
Stoke their competitive spirits. Humdrum childhood games are infused with a new level of intensity when you're pitted against a sibling or neighborhood pals in a heated battle. Bump it up this summer by turning your kids' favorite activities into tournaments. Competitions might include ping-pong, jump rope, checkers, stacking cups, Go Fish or Old Maid, Wii sports games, bike races, or even classic field-day games like the sack race or three-legged race. Visit www.blankplayoffbracket.com[AW1]  for customizable brackets that make it official. Take turns with a few other mom friends and alternate activities at different houses, creating a play date with purpose. Don't forget to schedule a spa day when your turn is up!
Get your geek on. Spend some time talking to your child about subjects they'd like to know more about, and then invest a few hours picking up books, research materials and resources at local libraries and hobby shops. Set up a "learning lab" where your child can spend time doing research, whether it's building a volcano or dinosaur model, investigating ancient cultures, tending to an ant colony or practicing sewing or knitting techniques. Check out www.pbskids.org/zoom/activities/sci/  or www.tryscience.org  for ideas and inspiration.
Encourage goal-directed play. Have your child identify two or three goals they'd like to achieve by the end of the summer. Some examples include learning how to ride a bike, perfecting a tricky skateboard maneuver, playing a song on a musical instrument, memorizing a dance routine or landing a cartwheel. Schedule practice time for at least 20-30 minutes a few times each week. Have them perform their newly acquired skills at an end-of-summer party or barbecue.
Get crafty. Whether you like to keep it simple or create elaborate projects that would make Picasso proud, summer is the perfect time to cultivate your child's burgeoning creativity. Check out designer Todd Oldham's 2009 book Kid-Made Modern for some easy, surprisingly attractive projects. Sign the kids up for age appropriate classes at a variety of pottery shops, Michael's or neighborhood recreational facilities.
Jot it down in a journal. Buy each of your kids a spiral-bound notebook to use as a summer journal. Have them write a brief blurb about what they did each day, and spice things up from time to time with creative writing assignments. You can find a treasure trove of fun writing prompts for kids at www.tooter4kids.com/journal_writing.htm. 
By scheduling prearranged fun and free time in just the right amounts, you'll get the best of both worlds: activities and chores that will lend a sense of purpose and structure to the summer, and downtime that lets your kids relax, without being lax!
---