Haute Spot: A Ban on Boring – Bachi Burger
By Aly Wagonseller
The year was 2010. An era when the gourmet burger bandwagon had rolled into just about every strip mall and hotel restaurant in town. Humble hunks of poor man's steak lavished with luxurious truffles, lobster or buttery foie gras gained fast notoriety with each newer, more self indulgent creation vying for ultimate supremacy in a celebrity chef induced fight to the decadent death. Standard 85/15 ground beef mix was now passé, cast aside for trendier yet tastier brands of protein from Japanese cows genetically predisposed for superior fat marbling and a blessedly messier juice quotient. And don't even start with the glamorous make-over the French fry experienced, as if being French wasn't sophisticated enough. Still, almost three years later, and with most of us bored of all the hoopla, a breakout winner rises from the gourmet burger grill top. Bachi Burger is on the move, winning the indulgent sandwich throw down with fresh, Asian fusion flavors and a concept on the verge of stardom.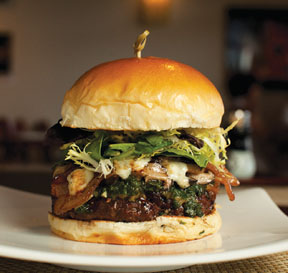 From my first experience at Bachi's Windmill location, just three days after their 2010 grand opening, I knew this place shouted "it" factor. Co-owner Ehren Watada enthusiastically explained how he and his brother Lorin, a former chef at Roy's Hawaiian Fusion, wanted to create an affordable dining experience where guests could enjoy cuisine normally reserved for higher-end restaurants. Building something from scratch while becoming socially responsible business owners was also high on their list. With Ehren's business sense and Lorin's creative chops, Bachi (a play on Hibachi) was born. A bit of an eye roll was had as I've heard this story before; the service needed work – I almost left because it took so long – and the décor, while relaxed and modern, wasn't necessarily a big draw. But after that first bite of Banh-Mi Burger greeted my taste buds, all doubt quickly faded. If every other burger on the menu was as good as this one, these guys were on to something big.
Of course they are. The Banh-Mi combines traditional Angus beef with pork, shrimp and pork pate, layered with a thin slice of Vietnamese bologna-like pork over the top. It's aggressively salty on its own, but add the freshness of carrots, daikon and mint, an understated curry aioli, and sweet and garlicky Nuoc Mam sauce and wow… it's like nothing you've ever had in a burger joint. Mr. Ho's Burger spikes the meat with a generous amount of ginger and garlic, topping it with sautéed mushrooms (not a button or cremini in sight); chopped, dried Chinese sausage, the texture like Spanish chorizo, yet flavored with sherry and garlic; hoisin mayonnaise that was a bit more aggressive than I would have liked; and an interesting purple bun that was light as air despite being made with starchy taro, hence the color. Their most popular burger is arguably the Ronin, a wild ride that combines the nuttiness of miso goma dressing, sweet Katsu BBQ sauce, caramelized onions and a tart yet flavorful yuzu aioli. Finished with a fried egg over top, an addition that adds rich flavor without masking the other ingredients on the bun, it's a burger born from true culinary genius.
Beefy burgers aside, Bachi also offers The Lonely Bird (surprisingly moist for a turkey/chicken combination), a few versions of Steamed Bao sandwiches, and an Oxtail Chili Cheese Fry appetizer that serves up spicy chili and beans infused with flavors of cowboy barbecue beef, jalapeños, perfectly crispy fries and a fried egg that melds it all together. It's the work of a madman, but man is it good.
How Lorin dreams up these wacky yet incredible flavors is a testament to his serious talent. With help from his bro, they've expanded their Windmill experiment, adding a Summerlin location at 9410 W. Sahara, with plans to cross the state line into California this fall. It goes to show that without going overboard, a better burger can evolve. One that's sure to be around for more than just a showy second or two.