Haute Spot: A Casual Catch – Caribbean Cooker
By Aly Wagonseller
It's hard to miss the building.  An unabashedly schizophrenic structure where lime green siding and colorful neon fish collide with a brick, brownstone pub you'd be more apt to see adjacent to Wrigley Field than on the corner of Stephanie and Paseo Verde. I'd heard from credible sources that some righteous paella, delicious alligator on a stick and legit key lime pie could be found at this locale, but one had to wonder when pulling into the parking lot – did they run out of masonry during construction? Are there building restrictions on the usage of car crash inducing, dayglow hued paint colors on main thoroughfare store frontages?  Did I take a wrong turn and end up in the downtown Arts District?  A head scratcher…to say the least.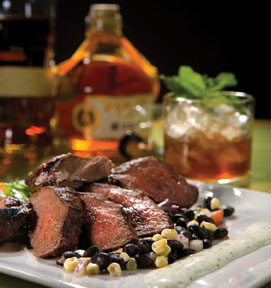 Have no fear… it turns out this perplexing segregation of architectural styles is really three places in one; a shrewd concept in dining and gaming entertainment brought to us by the proprietors of Henry's American Grill. The complex includes a Hemingway themed bar, Boar Head toting deli and Caribbean restaurant all under one roof, albeit with separate entrances, menus and decors. And, while the bar and deli certainly bring something to the table with quick sandwiches, signature Sloppy Joe's, and the opportunity to try your luck while watching the big game, it's the Caribbean Cooker, located on the flashier side of 65 So. Stephanie, that's a casual catch in neighborhood dining.   
More boat house cozy than island chic, the décor inside the Caribbean Cooker is simple and subdued, yet comfortable and casual. This is quite the contrast from a vibrant menu that calls upon Spanish, African and French influences so indicative of Caribbean cuisine. We started with a complementary mushroom sour cream dip and homemade plantain chips.  The dip was likened to pate in consistency–quite thick due to a nice, earthy mushroom ratio–yet spiced up enough to fare well with the sweet and salty plantains. Tapas selections ran from traditional Batatas Bravas (3.29) to Almond Crusted Goat Cheese with Pineapple Chutney (5.49), Coconut Shrimp (9.29) and Conch Fritters (7.29).  The Molasses Grilled Lamb Chops (10.79) and Alligator on a Skewer (7.) were both winners.   The chops are caramelized nicely; the bitterness of the char a perfect balance for the creamy goat cheese, baby greens and molasses drizzle that accompanied them. Alligator…as the cliché will attest…tastes like chicken, with this version reminiscent of tandoori in texture and taste.  Grilled mango and an aggressive habanero lime tarter sauce added the right amount of sweet and fire to round out the dish.
While you could easily just graze on Tapas and Tapatizers, you'd be missing out on the Caribbean Cooker's version of Callaloo soup, Cuban sandwiches and burgers, seafood, steak and pasta dishes and a hidden gem on the menu–paella. It may not be the most authentic adaptation of one of my all time favorite Spanish dishes, but I must say I was pleasantly surprised by the depth of flavor they were able to achieve in the Classic Spanish Valencia version (12.49). A huge portion that's big enough for two people, the Arborio rice was expertly prepared, not soggy in the slightest, and wonderfully permeated by the smoky flavors of chorizo, fresh seafood and a subtle white wine broth.  The portion of succulent clams, mussels, scallops, shrimp and crab was more than generous, making this truly a bargain for the price.  As sumptuous as this dish was though, I honestly could have done without the grilled and fanned chicken breast presented on the top. Besides appearing as a clunky afterthought in presentation, the moister, more satisfying slivers of chicken thigh found within the rice mixture were much more tasty.  But who am I to complain about too much food?  Especially when a neighborhood restaurant makes paella this outstanding.
The Caribbean Cooker is also one of few restaurants that actually make desserts from scratch, their velvety rich Key Lime and Coconut Cream pies (5.29), a decadent must have at the end of your meal.  It's just one more reason to never judge a book….well you know.   For information or reservations on banquet facilities, call 888-6565.