Haute Spot: A Crackin' Success – Crab Corner Maryland Seafood House
By Aly Wagonseller
I love it when a good thing just gets better. It started when two East Coast legit brothers expanded their wholesale Maryland blue crab distributorship by opening a tiny, nondescript (okay, the Baltimore Ravens décor isn't exactly commonplace in the valley) strip mall restaurant and, surprise of all surprises, it brilliantly succeeded. Despite a poor economy and more than moderately priced (though worth every penny) menu items, Crab Corner Maryland Seafood House has thrived, so much so that you'll be downing the good stuff at a second location on Rainbow and the 215 by football season.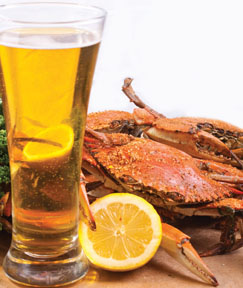 Die hard blue crab fans have known about the Corner, located at 4161 S. Eastern, virtually since the place opened almost three years ago. News spread quickly that real deal blue crabs were crackin', and that for about the same price you'd expect to pay for the delicate little devils if you were sitting on the shores of the Chesapeake, you could pull up a chair stateside and enjoy. The charming part is that even after all the hype, the place hasn't been Vega-fied. You know, snazzed up and priced up to the point that only the rich and famous can indulge. Nope… there's still a little blue bucket for the shells, gills and anything else inside you'd care not to eat, with plastic silverware and a charming brown butcher paper table "cloth" used to catch all the drippings you manage to miss. Crab that was most likely swimming in the bay just a day or so prior is still plopped unapologetically onto the table; a heap of perfectly steamed, J.O. seasoned heaven in a shell, waiting to be cracked and devoured with an ice cold beer to wash it down. Oh ya… there's really not many simple pleasures better than this. That is, until you taste one of their crab cakes.
Having traveled to Baltimore many times, I've had my share of crab cakes. Some good, some full of stuff I wouldn't recommend, but for the most part they've arguably got the best in the nation. Those served at Crab Corner stand up to the best. Incredibly sweet chunks of the freshest crab imaginable, patted lightly together with an undetectable binder, fried in butter and served with a lemony tartar sauce you'll shamelessly spoon into your mouth well after the rest of the meal is finished. It's easy to obsess about these little morsels, as they're really that good. Order them as an appetizer if you're planning on crab cracking, or indulge in the platter or sandwich offerings for a full meal; just don't resist ordering them as diner's regret will be imminent.
Crab Corner brings other down home specialties to the table, including hand battered, melt in your mouth oysters, bacon wrapped scallops with an apricot chutney sauce, and even jumbo Gulf shrimp, all flown in fresh within days of being caught. Side orders are homemade, their hushpuppies deliciously moist without being gluey, and Boardwalk style French fries seasoned aggressively with more J.O. crab seasoning and splashed with a bit of vinegar for kick. They're not a bit oily and go well to cut the richness of beer battered Alaskan Cod (a fish Friday fav), fried sea clams or Southern style catfish. For dessert, it's Baltimore Style Snowballs; shaved iced doused with flavors from bubblegum to egg custard and topped with chocolate or marshmallow cream if you're so inclined.
Brothers Mark and John Smolen were brave souls to start a crab restaurant in the midst of a looming recession. But what they've created is proof that when you serve a little piece of home and do it without compromising freshness over fear of failure, good things happen. And even with a new location coming to relieve the crowds, beware: the Ravens games are coming. Get there early if you want a seat in the house.