Haute Spot: A Lunch Buffet with Spice – Taj Palace Indian Restaurant
By Aly Wagonseller
For many, the exotic spices and flavors found in Indian cuisine are a complete mystery. I doubt it's because we're afraid to try new things, but more likely because, despite the glut of AYCE sushi bars, kabob joints or Italian bistros that saturate the Vegas Valley restaurant scene, Indian eateries continue to be a rarity. So, when asked by a vegetarian friend to join her for the luncheon buffet at Taj Palace Indian Restaurant, located at 9530 S. Eastern Ave., I was both thrilled and apprehensive.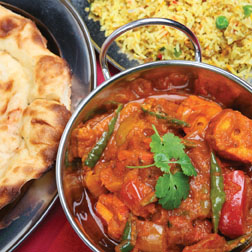 Indian food is A+ in my book. I love the exotic amalgamation of flavors that permeate the curry sauces and gravies so prevalent in this homey style of cooking. Freshly roasted cumin, coriander, cinnamon, clove and cardamom, paired with spicy peppers and tart tamarind create a flavor profile that's anything but boring. Still, a buffet is usually synonymous to yuck in my book; subpar menu choices of questionable freshness, all sitting in a water bath, heat lamp environment that typically does nothing but suck the life out of the food. This is where I was pleasantly surprised with Taj.
As we were seated by some of the friendliest wait staff I've encountered, I noticed the restaurant was nicely decorated with wood flooring and upscale Indian wall hangings and light fixtures, creating an atmosphere much nicer than your average neighborhood eatery.  I could have done without the smell of incense that clashed with the competing scent of curry, but I'm one that would rather relish the aroma of what's cookin' in the kitchen than an unnecessary, artificial cover-up. At the table, we were graciously treated to a basket of delicious Garlic Naan bread. Freshly baked in their onsite, tandoori clay oven, the bread was fluffy yet lightly charred and crisp, seasoned with just enough garlic to complement the varied selection offered in the buffet menu.
Both vegetarians and their carnivore adversaries are treated to a nice assortment of fare, a representation of some of the more popular items on Taj's regular dinner menu. In general, I was impressed with the freshness and integrity of the food, something so often missing on your standard buffet table. Fried items that included vegetable samosas were not greasy in the slightest and remained crispy, as if they'd just been removed from the deep fat fryer. Jasmine rice was perfectly cooked with a nice punch of cinnamon and cardamom, each grain separate from the next as it should be. Lentils, when served in an earthy and comforting Dal Makhani, had just the right amount of bite. Vegetarian standouts included the Navratan Korma, crispy green beans, corn, peas and carrots blanketed in a rich and creamy yogurt tomato sauce, and the Baingan, roasted baby eggplants, the sweetness of which paired nicely with a spicy sauce that's perfect for dipping your naan.
Meat eaters were treated to Goat Curry, a dish likened to a less fatty version of beef short ribs; Chicken Tikka Masala, a classic dish that, while tasty, had a bit too much acidity for me; and Chicken Korma, tender chicken in a decadent, fragrant yogurt sauce. Flavorful Tandoori Chicken rounded out the entrée menu, the bright red hue of the outer skin surprisingly tame in the spice department, yet delicious when served with the accompanying pungent, crispy onion.
You might not know much about Indian cuisine, but at $10.95 per person, the luncheon buffet at Taj Palace may be your ticket to adding some spice to your midday meal. They're also open for dinner with an extensive menu that includes smooth Taj Mahal lager and wine. For info, call them at 685-0222.