Haute Spot: A Refreshing Farewell to Pretentious Fine Dining: David Clawson, A Fine Cooking Restaurant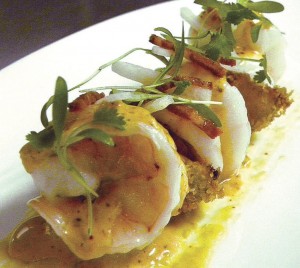 By Aly Wagonseller
IN A PLACE THAT (FOR SOME) MAY SEEM LIKE A metropolis away, one of the best new restaurants our city has experienced, regardless of locale, has taken root. David Clawson, A Fine Cooking Restaurant, located at 2840 Bicentennial Parkway between the Anthem Highland and Sun City communities, brings something extraordinary to the south side of town. The attention to detail here is aston- ishing; from the amuse-bouche of thinly sliced salmon with avocado mousse served on a Himalayan salt plank to the garde manger stylings of a meticulous young chef who artfully plates behind the open view, chef's counter seating area, David Clawson Fine Cooking is a must visit for anyone who enjoys elevated cuisine, yet can do without the snobbery that's so often associated with it.
The origins of this Strip-worthy establishment could easily be mistaken for celebrity chef status if it weren't for the philoso- phy of Chef David Clawson, an unpretentious restaurateur who prefers to offer honest, sophisticated food sans the tourist trap fluff. Chef Clawson has been in the industry for more than 30 years, opening and heading the culinary teams of fine dining establishments that include The Ritz Hotels, Hotel Nikko Atlanta and most recently the Vail Mountain Dining at the Game Creek Club and Restaurant. Living in NYC, he discovered more modern influences under the direction of Daniel Boulud. While his namesake restaurant exhibits a contemporary sensibility, he prefers to bill his fare as real food that you can identify, taste and crave well after you have eaten it. And crave I most certainly do.
The menu consists of globally influenced small plate offer- ings that are designed to be ordered on their own or paired with wine, sake and beer options as suggested on a separate pairing menu. We chose the 2 ounce pairing option and were impressed at how amiable they were to changing out options due to personal taste requirements. Not once did I feel like a low life wine slob because I preferred a Pinot Noir with my fish or a stainless steel aged Chardonnay with my steak. In fact, our server's enthusiastic suggestions for substitutions made our meal that much more memorable. This is how a real restaurant – for real people – should be.
Small plate may sound ho hum but this is not your normal fare. Organized by one word categories of food genre, i.e. wild game, fish, duck, bread, pork and so on, the menu is easy to follow and not overly complicated, yet presents a sophisti- cated flavor profile. We started with the vegetable, a cold asparagus, shiitake mushroom beauty served atop a meyer lemon curd with lemon foam. Lemon done two ways was an interesting addition to the earthy vegetables; the acidic tart- ness of the light and airy foam acting as the perfect foil to the sweet and creamy curd that coated the plate. A jumbo crab cake followed that had no binder, just huge chunks of succu- lent crab with a thin coating of panko on the outside holding it together. A delicate basil oil and vibrant red pepper sauce took the cake up several notches. Miso Sea Bass in a delicate broth, Lo Mein Garlic Noodles with crunchy garlic chips throughout, and an amazing Truffled Gouda and Fig Jam cheese plate served with house made crackers were all out- standing but for me, the Black Tiger Shrimp and Quail dish- es completely blew the lid off the place. Expertly prepared shrimp tossed in a chipotle vinaigrette were served atop a sweet corn puree dotted with chorizo slivers, jicama and cilantro micro greens. The combination of smoky, sweet and spicy was superbly balanced and, simply put, sublime. The quail offering was equally outstanding. I have to say quail is not on my staple list of food items I order at the neighbor- hood watering hole, but this rendition was bold, yet some- how homey and comforting at the same time. Marinated with an achiote spice rub, the skin was caramelized and crispy while the meat remained moist and flavorful. Served atop a green chili spiked macaroni that provided a nice kick, it's a go-to for any future visits.
There really is something special about David Clawson, both the chef and his restaurant. He's created something truly inspired and sophisticated, and he's made it for locals that know their food, but don't feel the need to brag about it. David Clawson, A Fine Cooking Restaurant also offers a Chef's Choice, multi course prix fixe Omakase experience with reservations only. For information, call 702-466.2190. ◆