Haute Spot: A Restaurant Worth Remembering – Panna Thai
By Aly Wagonseller
When hunger calls, we often find that the fridge is empty, and in the hunt for good grub that's not grab and go fast food, we tend to forget about great eateries in our neighborhood. The kind of places where you can relax in an atmosphere that's above average, enjoy a nice glass of wine or beer and treat yourself to delicious food that's reasonably priced and close to home. Panna Thai Restaurant, located at 6015 S. Fort Apache, is just that kind of place, a restaurant that deserves a spot on your go-to list for casual dining any day of the week.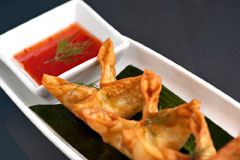 Tastefully decorated with modern touches that resemble much fancier establishments, Panna Thai has an upscale vibe you wouldn't expect in a southwest area strip mall. A great selection of what I call "mesmerizing chill music" sets the mood without overpowering the space, a tiny yet thoughtful detail that makes it easy to lounge around and unwind. The service is impressive as well, with an attentive staff that knows the menu and isn't afraid to make recommendations or graciously substitute another dish if you're dissatisfied, something we appreciated when we felt one selection fell flat.
We started with the Crab Wonton appetizer ($5.95), a delicious Rangoon style morsel that was surprisingly light for this type of starter, a nice change from the hard as rock, cream cheese gut buster this popular appie so often resembles. Containing "real" crab as proudly touted by our server, the flakey wontons melted in your mouth, the creamy interior rich in crab flavor. Tom Yum Soup ($5.75) was equally impressive, with a tart, lemongrass infused broth that was not overly spicy and filled with ample quantities of meat (in my case, perfectly cooked shrimp) and mushrooms.  As a caveat, however, I should mention that there seemed to be an inordinate amount of lemongrass, and since it's really not supposed to be eaten, I had to fish around to avoid getting it on the spoon. Still, the soup was a definite highlight. With regard to spice, our medium hot level seemed a bit on the passive side, so those that favor a more five alarm kick may want to make their preference known ahead of time.
After ordering – then sending back – the aforementioned recommendation called Minty (a deep fried short rib stir fry whose jerky like consistency we found unappealing), we settled on several other dishes we did find delicious, the Spicy Eggplant with Chicken ($8.75) being a standout. Tender chunks of gorgeous aborigine eggplant were expertly prepared, their melt in your mouth consistency an excellent contrast to the crispy peppers and onions included in the stir fry. Finished in a sauce flavored with the delicate licorice undertones of basil and robust chili, it's a winner for both vegetarians and meat eaters alike. Pork Pad Thai ($8.50), while again not overly spicy, had a peanut aggressiveness I personally loved, even if it did somewhat overtake the subtle tartness of the house tamarind sauce designed to hold the dish together. The rice noodles still had bite and the vegetables were perfectly crispy and fresh, making this a respectable version of the classic Thai dish. We passed on dessert but it's certainly a viable option here, with homemade coconut ice cream, fried banana or mango and sweet sticky rice all offering a nice way to tame your post dinner sweet tooth.
Fewer and fewer quality choices seem to exist in the neighborhood restaurant scene, so when one survives as long as Panna Thai does, there's clearly a reason.  Good service, ambiance and food that's served in portions large enough for screaming good leftovers says it all. It's definitely a restaurant worth remembering the next time the dinner bell rings.