Haute Spot: A Strip Mall Gem – Marbella Tapas & Bar
By Aly Wagonseller
Attention to detail is often lost in local, family owned restaurants. For many new restaurateurs trying to ring the dinner bell, lack of it can result in the final nail in the coffin, especially when competing for loyal clientele amid a sea of endless eateries. That said, when a hometown mom and pop makes you feel like you're in an upscale hotspot on Las Vegas Boulevard while serving stellar food that won't pop your wallet seams, you tend to take notice. Marbella Tapas and Bar, located at 4561 W. Flamingo, is just that place; a neighborhood establishment that spoils customers with beautiful surroundings, exemplary service and a menu that won't disappoint.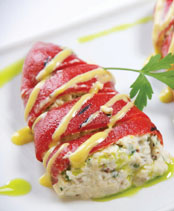 Located in a convenient yet somewhat "has been" strip mall next to the Palms Hotel & Casino, Marbella has a stunning interior. Dark wood flooring and wainscot, white linens, Spanish influenced ceiling frescos and glass dome chandeliers are just a few impeccable details proprietor Sia Amiri has infused into the decor. With 32 years of restaurant ownership experience catering to an impressive group of A-listers both here and in California, Amiri knows what discerning diners want and is determined to deliver. The upscale yet relaxed vibe is further enhanced by private eating areas, two bars and music that runs from Spanish folk to meditative chill.
The attention to detail continues in the kitchen, where everything is made from scratch, including the mozzarella cheese and an amazing crustless cheesecake. The menu is ingeniously organized and priced by plate size –  small being $6; medium priced at $9; and large, which constitutes full meals ranging from Grilled Tilapia to Lamb Chops to a 12oz. Ribeye and more, priced at a mere $16. This type of price structure lets you know exactly what you're spending for certain portions, a smart move that helps prevent sticker shock when it's time to pull out the credit card. Two signature versions of Paella are also available in half or full orders for $11-20, with Charcuterias, a specialty sausage plate meant to be split among two to four people, priced at $16 or $32. Portion sizes are ample and perfect for sharing.
Steak Kabobs, Chicken Quesadilla, Fish, Chicken or Steak Tacos, Boneless Baby Back Ribs and a variety of salads will appeal to picky diners, but being a fan of anchovies and all things Spanish, I stuck with more traditional fare. I started with the Boquerones, a heavenly combination of toasted sourdough baguette topped with shaved hardboiled eggs, mild white Spanish anchovies and grilled piquillo peppers. The dish was surprisingly light yet flavorful, the airy quality of the egg nicely balanced by the crunchy bread, salty fish and mildly sweet pepper. Another delicious gulp of my brandy spiked white sangria called for something with fat content; no better choice than the Huevos Estrellados. Crispy, thin cut French fries combined with nicely rendered Spanish Chorizo (a slight deviation from more traditional jamon) were clean tasting and not oily in the slightest. Top it off with the glorious yolk of a perfectly executed, sunny side up egg and you've got Spanish comfort food at its finest.  Piquillo Peppers with Crab Meat lightened things up, the fresh combination of crab and peppers nicely dressed with a tangy lime cilantro aioli and a spicy remoulade that, although promising, was a tad tame for my tastes. Other notable selections included a healthy portion of Shrimp Ceviche and Chicken Kabobs that, while mildly seasoned, proved an amazing flavor combination when paired with the accompanying vermicelli and rice side dish.
Our server was friendly and exceptionally attentive, and both Rozanna the manager and Sia personally visited with each patron, welcoming them to their culinary home. It's important details like these that set Marbella apart from your average local restaurant, making it a strip mall gem worth supporting. Marbella is open for dinner from 5:00 pm-3:00 am, Tuesday-Sunday. For information, call 405-0003.