A Step Above: Angele Bruce
A Step Above 89144
Angele Bruce
Palo Verde High School
Class of 2014
G.P.A.: 4.4
"To thine own self be true…" The quote is Shakespearean and a little old-fashioned, yes, but does that make the message wrong? Absolutely not. That fact is made clear through the success and happiness of Palo Verde High School student Angele Bruce. Fully dedicated to greatness, while simultaneously humble and thoughtful, this senior shows bravery, conviction and honor in all she does and we're confident that trend will continue into her future, placing Angele – A Step Above.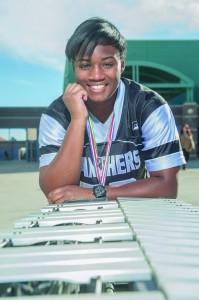 Sports/Music
Palo Verde Panther Pride Marching Bands 2010­Present; Percussion section leader 2011­2012, 2013­2014
Palo Verde AFJROTC 2010­Present; Element Leader 2011­2012, Squadron Commander 2012­2013, Vice Corps Commander 2013­2014, Mission Support Group Commander 2013­2014
Palo Verde AFJROTC Armed Drill Team 2010­Present
Palo Verde Jazz Band 2010­2012
Scholarships/Awards

National Merit Semifinalist 2014
Air Force Association Award 2013
Outstanding Cadet AS­II 2012
Outstanding Musician: Wind Ensemble 2012
Tuskeegee Airman Award 2011
What do you plan to do after high school? "For now I would really just love to be accepted to my first choice university as well as be able to pay for it. I intend to earn my degree in Biochemistry and move on to medical school thereafter. In all honestly though I just want to be happy and secure with my life and do something I can consider good. There is already enough negativity in the world so I want to make a more positive contribution to it."
You've been through some personal hardship in high school. "I know it tends to be a bit of a controversial topic but my coming out during my junior year of high school was probably the scariest and best thing to ever happen to me. It might seem a bit cliché but it really did help lead to a lot of realizations about myself as a person. I found that it is just such a waste of time to try and be anything other than you. I found that the antisocial, negative, and self-pitying person that I was before was due to the suppression of who I really was. That is putting it in very simple terms but I believe finding the courage to accept myself as well as to open myself up to others changed me for the better."
Is there anything specific that defines you and your success? There are three specific things that I believe have made me successful in most every venture of my life thus far. The first of these is my integrity. It was something instilled in me by parents and reinforced by my time in Palo Verde's AFJROTC program. Being an honest and dependable person I think is a necessity for success. It earns not only the trust, but also respect of peers and leaders. I also find my self-discipline very key to my success. Some might call me a perfectionist in this sense but I want everything I do to be the best it possibly can. I want my name to be near synonymous with excellence and its something I strive for in everything that I do. Lastly, and most importantly, I owe my success to my tenacity. Joining the marching band in my freshman year of high school was the most difficult test of this. I have never been nor do I ever plan on quitting anything. I take my commitments very seriously
What's your favorite quote to live by? "When one begins to live by habit and by quotation, one has begun to stop living"
James Baldwin.