PetPourri: Animal Apps –
By Ashlee Verba
Thanks to our ever-evolving smartphone culture, we've got an app for just about anything: social media, weather, banking, you name it. But what about our four-legged loves? Without opposable thumbs, it's hard for them to navigate an iPhone or Android, so we scoured the digital universe to find the best pet friendly applications out there.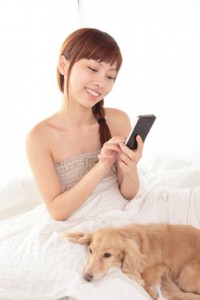 Healthy Living
When your pets get into something you know is harmful, it's easy to panic in the wake of cluelessness. The following apps are here to administer a little guidance for medical care.
PupTox (iOS; $0.99) by Salerno Labs LLC is aimed toward diagnosing and treating poison ingestion. With a user-friendly layout, PupTox breaks harmful substances down into liquids, solids, chemicals, non-food plants and other common hazards for easy navigation. It even has a tab for chocolate for when Fido sneaks a forbidden brownie.
Pet First Aid (iOS & Android; $1.99) by Jive Media Inc. can help you treat your pet's injuries with detailed videos and illustrations on bug bite diagnosis, disaster preparedness and more. Videos cover topics such as restraint, CPR, bandaging and many others. All articles, videos, and illustrations are bundled with the app for offline access as well.
iKibble (iOS; $0.99) by Llamaface Lifestyle lets you browse hundreds of foods with detailed descriptions ranging from meat to dairy to grain. This app also gives helpful information on everything from food functions to types of meat bones. You can even keep a list of your dog's favorite foods! A free version with ads is also available.
VetFinder (Android; free) by Apparent Media helps find nearby vets and animal hospitals. Perfect if you're new in town, on vacation with your pet or looking for a specialist. VetFinder also gives information on payment methods, parking and treatment options. If it's an emergency, the app can even show vets who are on duty right now.

Lost & Found
Whether a pet's lost, found or you're looking to find a new best friend, these applications put pets in people's hands and help establish connections between animals and owners.
PetFinder (iOS; free) helps you find adoptable pets no matter where you are. This app gives you over 370,000 adoptable animals, videos to get a glimpse of your potential companion, a breed guide and more all in your pocket. With testimonials from adoptive owners to the option of sharing a listed animal via Facebook and Twitter, it's your best bet to save a homeless pet. An Android version should be available in the near future.
PetRescuers (iOS & Android; free) by HomeAgain is designed to help find lost pets or return them to their families. Extend your reach beyond neighborhood flyers and share your lost pet alerts on Facebook, Twitter and email with ease. Sign up to send and receive lost pet profiles that include a photo, breed, age, area last seen and personality description. PetRescuers can also help tell you what to do if you stumble upon a lost pet.
Training Time
Sit, stay, heel. The right amount of training can turn even the most rambunctious animal into a confident and faithful companion, and these apps can help you get a good start.
Dog Trainer Pro (iOS; free) by TheAppStudio.com Ltd. focuses around canine behaviorist Jez Rose and teaches owners how to train dogs in everything from basic commands to modifying behavior problems. Dog Trainer Pro also gives you access to a training blog, course information from Jez, and contact info for the professional himself. Not just geared toward grown dogs, this app also has great training tips for puppies.
Clicker Training Lite (iOS; free) is a simple app that supplies you with a clicker and tips on clicker training. Clicker training started with dolphins and has been known for being very effective, so this app can help you train just about any animal in your life.
Dog Whistler (iOS; free) by Mobeezio, Inc. runs along the same lines. This app puts a dog whistle in your pocket with frequency and pattern options to help find what your dog reacts to best. It's not just for dogs, either; cats have been known to respond to the high pitched sound and there have also been reports that the whistle helps keep mosquitoes and other pesky bugs at bay. A similar app is available for Android as well.
Fun with Fido
A day out just isn't as fun knowing your pooch is stuck at home. These apps can help you find plenty of pet friendly places in the neighborhood.
Dog Park Finder Plus (iOS; $1.99) by Tech Wanderings is perfect if you enjoy bringing your pooch everywhere. This app puts 6,600 dog friendly parks, beaches and trails at your fingertips. Using your GPS location, Dog Park Finder pinpoints places your dog will be welcomed, now including restaurants. You also get access to user reviews of the places listed, along with markers that indicate whether or not the area is fenced.
Pet (Android; free) also uses your location to find pet friendly parks and beaches but extends the search to include groomers, vets, doggie day care and much more. Perfect for those who are new to the city, on vacation or just looking for a new service provider.
Find Pet Friendly Hotels (iOS; free) by Socialight makes a great digital doodad for the traveling pet owner. With over 10,000 pet-friendly hotels listed, this app breaks down searches by your pet's weight as many hotels impose weight limits for pet guests with some only accepting smaller dogs. Based on your location, the app also lists nearby hotels, along with any fees, requirements for stay and other local pet friendly spots.
Make 'Em Laugh
While combing through the Internet and app stores, we found some pretty creative applications for pet lovers who love to laugh or enjoy a relaxing tune.
Dog Translator (iOS & Android; free) helps provide a little fun with your pet. Simply record them expressing themselves and this hilarious app 'translates' what they're saying. We have a feeling it can translate cat lingo, too. It's the Shazam of barks and meows!
Pet Acoustics (iOS; $1.99) is an app that plays music created with dogs and cats in mind to help calm and relax your pets. It has several tracks to choose from, but you're going to have to give this soothing app a trial and error run to see how it works for your animals.
PetSnap (iOS; $1.99) uses more than thirty different sounds to get your pet to look into the lens so you can have their full attention for a cute picture. Add fun frames and filters to your pet's photo and easily upload your snapshots to Facebook, Twitter or email.
When it comes to apps for pet lovers, there's so much available to choose from if you simply take the time to do a little scrolling on your mobile device. Download a few today and let the wonders of technology help keep your relationship with your pet fun and enjoyable.