A Step Above: Brandon Kawaguchi
Coronado High School
Class of 2014
Many people go years without finding or pursuing their true passions, and for some the threat of failure can be a deterrent all together in chasing a dream. As a senior at Coronado High School, Brandon Kawaguchi has found his passion…and he's going for it. Contrary to the "safer" options he may have been pursuing until now, Brandon is determined to follow his calling regardless of the risks involved. His appetite for a career he cares about, matched with respect for good old-fashioned hard work and the rare courage it takes to venture outside of his comfort zone is inspirational, and places Brandon – A Step Above.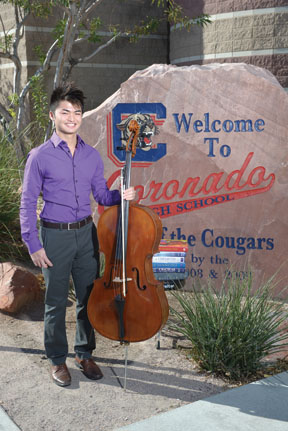 Music/Sports/Scholarships/Awards
Coronado High School Orchestra, 2010-Present; Board President, 2013-2014
Nevada All-State Orchestra, 2013
CCSD Honor Orchestra, 2012-2013
CCSD Solo & Ensemble Regional, 2012
Junior Varsity Track & Field, 2011
National Merit Semifinalist, 2013
Advanced Placement (AP) Scholar with Honors, 2013
Japanese Language Bowl Winner, 2011-2012
Scholar Athlete, 2011
Clubs/Community Service
Leo's Club Culture Shock Presentation, 2010-Present: Performer, 2012-2013; Host, 2013; Co-President, 2013-2014
Mu Alpha Theta, 2011- Present
Las Vegas Gakuen (Japanese School), 2011-2012
CHS Key Club, 2010-2011
Hip Hop Dance Club, 2010-2011
Habitat for Humanity, 2012-Present
A side hobby has just recently become a greater focus for you: "From the start, I've taken AP classes to prepare me for an engineering or health major. Although a job in these fields may offer more stability and security, I've chosen to pursue my true interest in filmmaking and apply to USC's School of Cinematic Arts while continuing to play cello in a classical orchestra. Risky? Yes, but if I'm going to do something for the rest of my life, I might as well do what I love."
You're not afraid to try new things: "I'm not afraid to step out of my comfort zone. From scuba diving with sharks, to attempting to sing in a high school performance, to trying out for the All-State Orchestra – I find that these are some of the ways that I can learn and experience new things and discover new passions, and perhaps learn from failures along the way."
Is there a person in your life who has shaped your outlook on things? "My dad swept floors at Pier 1 Imports and flipped burgers at Carl's Jr. Now, he's a respected physician, but one thing hasn't changed: he is still down to earth. He treats everyone with dignity and respect – regardless of status or position. He realizes that no colleague is unworthy and that everyone makes mistakes and learns from them."
A favorite quote to live by:
「塵も積もれば、山となる」
-Japanese proverb
Pronunciation: Chiri mo tsumoreba, yama to naru.
Literal meaning: "Even dust when piled up can become a mountain."
Significance: Many small efforts can combine to make great success.