Haute Spot: Build it and They Will Come – Dom DeMarco's Pizza
By Aly Wagonseller
Domenico DeMarco is a pretty famous guy. His name is synonymous with a tiny, hole in the wall pizza joint known as Di Fara's. For more than 45 years, people have queued up for hours in a graffiti laden neighborhood in Brooklyn, New York, just to garner a morsel of his legendary pies. DeMarco himself is something of a celebrity, earning accolades and recognition from the likes of Good Morning America to Gourmet Magazine on what many consider the best pizza they've ever tasted. Even President Obama sampled some the last time he dropped in on Las Vegas. Hype, you say? Can this pizza really be that good?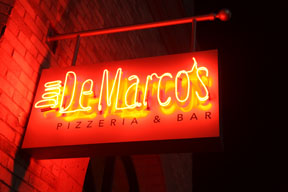 Worlds apart from the gritty, green walled pizzeria a countryside away, Dom DeMarco's, located at 9785 W. Charleston Blvd., arrived with a Summerlin-esque facelift and more than a few extra dishes designed to woo those who enjoy the trendy, neighborhood foody scene. The restaurant is impressive yet casual, with an open kitchen, a few flat screen TVs and a stunning, outdoor glass fireplace alcove that makes for some of the best alfresco dining in the city. I smell the makings of a successful conglomerate here, yet one can only hope that the namesake's claim to fame remains the focal point. Remember… it's all about the pizza.
Or is it? Not with dishes like their Grilled Sausage small plate: homemade Italian sausage served over velvety white beans, studded with roasted red bell peppers, garlic and a hefty amount of olive oil. The char from the tasty sausage permeates this dish, an amalgamation of textures and flavors that speak to those who love soulful comfort food. Eggplant Pizzettes are nicely breaded, served with creamy, whipped ricotta cheese and a fresh tomato sauce that's thankfully not too salty. Gram's Meatballs possessed a magically dense yet light texture thanks to a perfect combination of beef, pork and veal. The Soho salad was a misstep for me, mainly because I neglected to see the vinaigrette contained truffle oil, a flavor I tend to loathe as, unlike its true fungal counterpart, it can often overpower a dish with an artificially pungent punch. My guess is that's a new addition to the menu, one I'd bypass for the house vinaigrette, which I suspect is tastier and respectful to the other ingredients on the plate.
And the pizza? It's worthy of the crowds this place pulls in, not only because their stiffest competition resides on the opposite side of town, but more accurately because they make a quality pie using imported ingredients. I'm a fan of the thin crust version, choosing the Quattro Formaggio, yet simultaneously dreaming about the possibilities of the Bianca. The crust was paper thin with a crispy rim that crackled when bitten into, a very good thing. Not one of the four cheeses overpowered another, and the tomato sauce was light yet flavorful, allowing for a nice balance of tastes. There was a touch more olive oil drizzled on the pie than I'm used to, but I'm not one to complain about good imported olive oil, especially when it's sprinkled with a nice handful of fresh herbs.  Thick crust lovers are also represented with a heftier slathering of the incredibly delicious San Marzano tomato sauce soaking ever so slightly into the dense, bread-like crust, the edges of which were perfectly charred. Some might find it overly done, but don't chicken out and cut off the edges or you'll miss out on some magnificent flavor.
Pizza is personal and people will go to unusual measures to tout the superiority of their favorite pie. Based on what's coming out of the kitchen at Dom DeMarco's, I'd say Brooklyn isn't the only place they've earned some bragging rights. For info, call them at 570-7000.