A Step Above: Catie Miller
Bishop Gorman High School
Class of 2014
Being comfortable in your own skin is a luxury that comes to most well after the trials and tribulations of high school. For Catie Miller, on the other hand, it's something that has arrived much sooner as a result of hard work, adversity and a positive attitude. A flourishing swimmer with Olympic capabilities, a coach and a stellar student, Catie has a schedule that would leave most begging for mercy but she powers through with a smile and clear idea of where the hard work will leave her positioned for the future. Her energy and defined sense of self are unique and her talent is trumped only by her will to always maintain forward momentum, clearly setting her – A Step Above.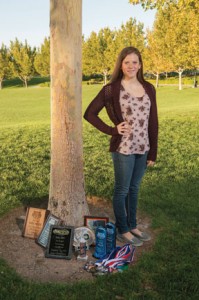 Sports/Scholarships/Awards
Sandpipers of Nevada Swim Team, 2001-Present
Bishop Gorman Swim Team, 2010-Present
Bishop Gorman Swim State Champions, 2010-2013
Academic All-America, 2011-2013
Sandpipers of Nevada State Champions, 2011-2013
Olympic Trial Qualifier, 2012
200 Individual Medley Champion for Bishop Gorman, 2012
Sportsmanship Award, 2012
Clubs/Community Service
National Honor Society, 2012-Present
National Spanish Honor Society, 2012-2013
Academic Society, 2010-2012
Volunteer at Faith Lutheran Church, 2010-Present
Catholic Charities, 2011-2013
Volunteer at Carefree Senior Living, 2013
You've had some exciting accomplishments. One of my most proud accomplishments is when I got my Olympic Trial cut in the 400 Individual Medley during the summer of 2012. I had worked my entire life to get to that point, and after missing it by a few tenths of a second finally achieving my goal was an amazing feeling. It took a lot of hard work and dedication, many long hours of intense training and endless days of soreness, but it all had paid off, achieving my ultimate goal.
Do you have a person you look up to? The person that I look up to the most is my brother Cody. Cody has been so successful in everything he has worked for. He is a very inspirational and driven person, he knows what he wants and he goes after it. Cody is always there for me and has been a guiding light in my life. Although he is my brother, he is my greatest teacher, my role model and my best friend.
What quality makes you most successful? I think I am successful because of my capability to always see the brighter side of things, and I thrive to achieve all I can. My ambition and drive allow me to accomplish.
You've had to transcend difficult times. I have sailed through many storms in my life, but my ultimate storm was and still is, my father leaving. I had to become a very independent person at a very young age and I have had to make many sacrifices to be where I am now. But these waves have only made me stronger. They have sculpted me into the person that I am today and for that I am truly grateful because I wouldn't want to be anyone other than me.