A Step Above: Cindy Rivera
Spring Valley High School
Class of 2014
When it comes to education, college and planning a future there are students who are set on a path from a young age, and there are those who blaze their own trail. Cindy Rivera, a senior at Spring Valley High School, is the latter. As one of the first in her family to attend college, Cindy is realizing a lifelong dream and far surpassing it with a focus on medicine. And, better yet, she is pulling it off with style and class. Her passion, thoughtfulness, spirit and concern for others will not only garner success in the medical world and in her life, but also places her – A Step Above.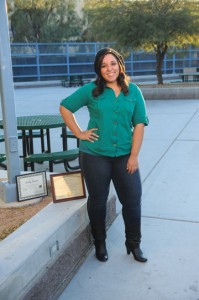 Scholarships/Awards
Spring Valley High School Honor Roll, 2011-2013
UC Irvine Position Paper Award, 2012-2013
Paris Model United Nations Honorable Mention, 2013
AP Scholar with Honor, 2013
Brigham Young University Position Paper Award, 2012
Benedict College Presidential Scholarship
Whitworth University Presidential Scholarship
Virginia State University Presidential Scholarship

Clubs/Community Service/Sports
Model United Nations, 2011-2013; Secretary, 2012; Vice President, 2013
Advancement Via Individual Determination Club, 2011-2013; Vice President, 2011; President, 2012
Mu Alpha Theta, 2012-2013; Historian, 2013
Relay for Life (American Cancer Society), 2011-2014; Team Captain, 2011; Co-Chair, 2012; Event Chair, 2013-2014
Varsity Bowling Member, 2011-2012

You are very focused on your future in medicine. My biggest current goal is to be able to go to a good university for free and take the burden off of my parents. In the future, I plan to attend medical school and specialize in neuroscience to become a surgeon. Ten years from now, I see myself completely independent. My career will be in its foundations and I will be creating a name for myself in the field of medicine.
Your family has a huge influence on you. I look up to my mother. She has been through so much adversity in her life and is the strongest woman I know. She puts 100% into everything she does and is always my biggest fan, because she knows I do the same. My biggest accomplishment is making my family proud of the person I am becoming. Being one of the first in my family to go to college, I am living out the dreams they have had for me since I was born.
Education is very important to you. Young adults today do not understand the significant value that education holds on one's future. If I could get every teenager to see the difference between life with an education, and life without one, I would.
Picture this: You're the President of a non-profit…what would it be? I would be the President of the American Cancer Society. Being a part of Relay for Life, I have witnessed first hand the immense impact the organization makes on cancer patients and survivors. It is truly inspirational.
Favorite quote to live by: "You can waste your life drawing lines or you can live your life crossing them."