Haute Spot: Comfort with a Twist…Republic Kitchen & Bar
By Mike Sweeney
We call it "comfort food" for a reason. One taste of mouth watering fried chicken or macaroni and cheese and we're instantly transported back to those wonderful days when carbs didn't matter and mom made the best meals in town. Republic Kitchen & Bar, located at 9470 S. Eastern Ave. in Henderson, has captured that old fashioned comfort food feel while giving a gourmet spin to those classic dishes you remember.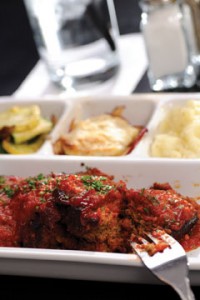 The modern atmosphere calls to mind a neighborhood pub retrofitted for the 21st century.  High ceilings tower above hardwood floors. A white brick accent wall dominates the bar area, adding an old fashioned feel to the contemporary trappings, while an intimate loft features plush couches and a wide selection of board games to enjoy. As you take your seat, peruse the cocktail menu for a broad range of tasty libations. The Rock Candy Lemonade ($9) was a tad too sweet for me but still enjoyable, blending Ketel One Citroen with lemon sour and rock candy syrup for a confectionary delight. The Republic Sangria ($7) also made a distinctive impression; smooth, chill and popping with berry flavors. Perfect for summer!
Upscale comfort food dominates the menu, all served up by an engaging and attentive staff. We started with the Tuna Nachos ($12.95), a twist on the traditional pub appie using seared ahi atop crispy wonton noodles for a tender yet crunchy texture, the ahi crust adding a nice kick of spice. Fried Chicken ($13.99) was a particular standout among the entrées, if a bit heavy on the stomach. Crispy and well seasoned, served on a bed of creamy mashed potatoes with four buttermilk biscuits, it's well worth the extra calories. Classic fare gets a new spin with the Republic TV Dinner, available with either turkey ($14.99) or meatloaf ($15.99). Each comes with veggies, mashed potatoes and cobbler. The turkey dinner includes stuffing, gravy and cranberry sauce for a full Thanksgiving presentation, all plated on a fancy porcelain version of  a typical TV dinner tray. Smaller portions ensure you won't feel overly stuffed, but don't let the name fool you; the herby flavors of the juicy turkey and tasty trimmings create a variety of homespun tastes that you won't find in the freezer section. Just like mom used to make, indeed. Remember to save room for desserts such as the sinfully good PB&J ($6), deep fried mini peanut butter sandwiches served with strawberry and chocolate dipping sauces. You may need two orders, because ours disappeared fast!
For a special treat, check out their all you can eat weekend brunch, accompanied by live jazz music on Sunday. You can choose from three tiers to fit any budget. Continental ($8.99) offers a variety of fruit, pastries and yogurt that includes sweet but somewhat flaky Mini Cinnamon Rolls. Continental and Hot Dishes ($13.99) form the second tier, adding favorites such as Cheese Blintzes and Belgian Waffles, along with fresh twists such as luscious Red Velvet Pancakes served with tangy vanilla agave syrup. Continental and Hot Dishes are joined by Specialties ($18.99) for the third tier, adding Eggs Benedict with plentiful Canadian bacon (available with lobster meat and filet for an extra fee), Chicken and Waffles and a delicious Pastrami Hash that adds a smoky, peppered flavor to a breakfast standby. Add all you can drink Mimosas ($15) or Bloody Marys ($12) and you've got the perfect lazy weekend meal.
Republic Kitchen & Bar takes comfort food to new levels, adding gourmet twists to old favorites for a fun and unique dining experience. Remember the good old days and discover something new to savor at the same time. For reservations or more info, call 463-3500 or visit www.republickitchenandbar.com.