A Step Above: Deanna Konopka
Cimarron-Memorial High School
Class of 2014
It's hard to find a person with the curiosity and bravery to start something totally new, and even more rare for that person to posses the focus and willpower to conquer the difficulties that will surely come from inexperience. This is the mindset of Deanna Konopka, Student Body President at Cimarron-Memorial High School. Embodying the maturity and patience to trust in incremental improvement along the path to success, Deanna believes that just because you're not good at something the first time around doesn't mean you should give up. With incredible tenacity and a positive attitude she's sure to conquer any challenge she faces with flying colors, placing her – A Step Above.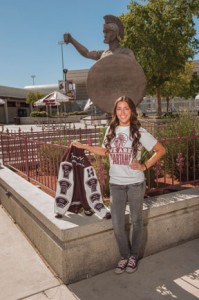 Sports/Activities/Clubs
Varsity Tennis, 2013-Present
Varsity Cheerleading, 2010-2013
Varsity Swimming, 2010-2013
Sophomore Class Secretary, 2011-2012
Student Body Secretary, 2012-2013
Student Body President, 2013-Present
Scholarships/Awards/Community Service
National Honor Society, 2012-Present
Scholar Athlete Award, 2012-2013
NIAA Swim Regional Finalist, 2011-2013
National High School Cheerleading Competition, 2012-2013
Spartan Academic Lamp, 2012-2013
Spartan Academic Letter, 2011-2012
St. Joseph Husband of Mary Community Service, 2010-2013
Atria Seville Nursing Home Volunteer, 2011-2013
Candlighter's Run, 2010-2012
Thanksgiving Feed for the Hungry, 2011-2012
Catholic Charities, 2012
What accomplishment are you most most proud of?  I am most proud of winning the "Do the Write Thing" challenge, an essay contest about violence and how it affects our community.  Not only did I get to travel to Washington D.C. with my mother, I also got the chance to meet with other student delegates from around the nation.  Winning that contest made me more confident in the writing I have done since, and it also was a wonderful experience I will never forget.
We're sure you've had your share of obstacles. When I swatted at my first tennis ball it looked as if I'd never have a chance to make the Varsity Tennis Team at my high school.  My boyfriend and I practiced on the courts for hours, but I was barely improving.  It seemed like I was chasing down the balls more than hitting them over the net.  However, I wanted to be a part of that tennis team, so I practiced numerous weekends making sure I'd be ready in time for tryouts. Try-outs came around and within the first week I was playing number one doubles.  It felt like such a great accomplishment and I was proud of myself.  I believe that if you want something bad enough, you will work towards it until you achieve it.
Any one thing that drives your success? My drive to be the best I can be is what makes me successful.  Every day I strive to push myself to be better than the day before.  I believe that my motivation, as well as the great support system I have behind me, is what has made me successful.
1 Comment