Haute Spot: DW Bistro – Better Late than Never
By Aly Wagonseller
As a general rule, I like to wait until a restaurant has had a chance to "settle in" before   dining there.  I guess in part because of the impending crowd factor, especially if it's the newest, grooviest "it" place on the block, but more likely because even the most experienced restaurateur struggles with menu, kitchen and staffing issues when yielding the proverbial newbie knife fresh off the chopping block.  So, even though I'd heard the buzz about DW Bistro, located at 6115 S. Ft. Apache Rd., #112, it wasn't until Three Square's Restaurant Week, and the prospect of sampling a three-course prix fixe dinner with partial proceeds going to this worthy cause, that I decided to give them a shot.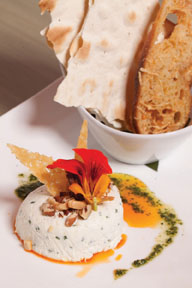 Located in an average strip mall along the empty banks of an area hit especially hard in the foreclosure department, DW is anything but downtrodden. Bright, modern décor with splashes of lively orange and green hues and vibrant artwork create an exciting vibe, with mesmerizing, chill music, eclectic touches of rustic wooden accessories, and exposed white brick wall coverings lending a yin and yang sensibility to the place.  Interestingly enough, this same balance of electricity married with an innate hominess is mimicked in the food, a testament to purveyors with style and attention to detail, both front of the house and back.
Executive Chef Dalton Wilson has created a menu filled with bold flavors developed in the Caribbean and New Mexico Southwest, yet wisely keeps them on separate plates; a decision that prevents fusion from becoming a fussy Frankenstein of mismatched cuisine.  Case in point, the Oven-Roasted Jerk Pork Shoulder ($12) is as true to its unique island culture as the New Mexican-style Slow-Cooked Pork with red chilies and an over easy egg ($12) is to its own, and they're both simply delish.  For Restaurant Week, DW offered some of their most popular selections, and it wasn't difficult to see why.  Starters included the DW Signature Salad ($9), a flavorful combination of peppery greens and creamy goat cheese brightened with citrus infused balsamic vinaigrette and sugary roasted pecans, as well as Oven Roasted Baby Back Ribs ($11), tender sticks of meaty dynamite generously rubbed with jerk seasoning made spicy with traditional Scotch Bonnet chilies and allspice. A nice slice of grilled pineapple is included to cool the heat, but maybe because of the smaller prix fixe helping, the homemade ranch listed in the menu description was omitted.  A pity as it would have been a nice addition to the dish.
Sublime Braised Oxtail ($16) literally fell off the…well…cartilage…aptly accompanied by a delish Bordelaise sauce that balanced the richness of the meat quite nicely, although I would have loved to have more of it. Chunky mashed potatoes added a substantial base for the oxen, as well as for the Jerk Lamb Chops ($24), tender, full flavored chops that exhibited a pleasant, spicy finish without going overboard.  One thing not on the prix fixe menu was DW's Mac and Cheese ($8), and it's a must.  This is the stovetop version, super creamy, made with tiny shells that hold the sauce like little bowls of cheesy goodness.  Add to this a helping of woodsy truffle oil (if you're really jonesin' for some serious mama love, bacon and mushrooms can be added for a small fee) and you've got a dish that's just plain off the charts.
Our meal with a conscience ended with the perfect sampling of both carrot and red velvet cakes and a refreshing lemon lime pudding. The cakes were moist and flavorful, accompanied by a kind of homemade Rice Krispy dipped in white chocolate that added an unexpected crunch to the confection; another little detail that elevates this restaurant above the crowd.  I love that DW Bistro participates in several charitable endeavors during the year too, serving their unique brand of home-style, eclectic cuisine to help people in our community. I'm just kicking myself for being tardy to the ball. For directions or hours, call them at 527-5200.