Haute Spot: An Exercise in Prudent Behavior – SkinnyFats
By Aly Wagonseller
I think most of us harbor a little bit of Dr. Jekyll and Mr. Hyde when it comes to dining out.  Some days it's a piece of cake to keep our inner Dr. Oz in check –avoiding gluten, carbs or whatever else may wreck havoc on the bod. Still, on other occasions all we want IS cake…and burgers…with fries and a side of milkshake please. That's the beauty of SkinnyFats, located at 6261 Dean Martin Dr., a place where you can choose to be healthy or happy all under the same roof.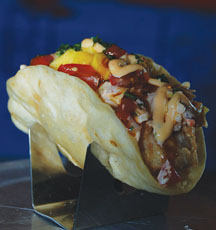 Hipster, BoHo, honey I think we've left Las Vegas and landed in downtown Portland, Oregon best describes this tiny space. It is oddly located in a predominantly industrial part of town, yet surprisingly convenient to get to. Word also has it they'll be expanding to the Downtown and Summerlin area's soon, so that's a plus. Graffiti style frescos, reggae music and an overall urban vibe give the place a fun, upbeat atmosphere that draws an eclectic crowd of foodies ready to choose their dietary plight for the day. Should I be "happy"? This portion of the menu tempts the willpower with selections that include Meaty Buns, a slider snack laden with BBQ sauce, cheddar cheese and coleslaw; or the Phatty Philly, a monster sandwich with filet mignon, blue cheese and veggies.  Or, should I sneak a peek at the "healthy" side of their kitchen offerings, with choices like the Cranburkey turkey burger, slathered with a tasty cranberry, basil yogurt spread and served on a nine grain bun; or the Smoke in a Bowl, an agave, BBQ chicken stir fry with veggies, pineapple, black beans, brown rice and cilantro lime yogurt sauce?  With "healthy" and "happy" selections available for breakfast items that are served all day, snacks, main entrees, salads, cold pressed juices, and yogurt or ice cream shakes to choose from, it can be tough to decide upon naughty or nice.
Feeling a little bit of both, we started with the healthy Ahi Srirachi, a seared ahi soft taco with earthy hints of sesame oil, freshened up with mango pico de gallo and a crunchy, cucumber slaw. Addictive. Next came the guilt-free Flat Chix and Greens, the perfect selection for those on the low carb diet train. Grilled chicken, pounded flat yet remaining both tender and juicy acts as a base for an arugula, tomato and cucumber salad that's quite delish. Served with a healthy amount of capers, as well as a caper and lemon vinaigrette, it was definitely caper overload, even for those of us that adore the little pods of salty, pungent goodness. A nice balsamic reduction drizzle did well to somewhat balance the aggressive nature of the ingredient, but I'd suggest asking for a lighter load so as to not overwhelm the rest of this otherwise tasty dish. Gluten free pizza was our final choice for dietary good behavior; SkinnyFats offers four varieties on a flatbread-like crust that, while not overwhelmingly flavorful (it is gluten free after all), did a great job of showcasing the tasty ingredients layered on top and was fairly crispy when eaten right out of the shoot. Nice to Greek You was an excellent choice, creatively topped with a creamy tzatziki dressing, crunchy cucumber, kalamata olives, red onion, feta and grilled chicken, and finished with more of that delicious balsamic reduction.  A nice balance of flavors and textures, and huge portions of the fresh ingredients make this a winner worth trying.
Tossing thoughts of the bathroom scale to the wind, we took a walk on the "happy" side of the menu ordering their signature Burger Benedict, Sweet Potato Fries and a Smooth Immunity frozen yogurt shake. Served on an airy, brioche bun that did well to sop up the conglomeration of creamy, fried egg, a mayo/ketchup like special sauce, avocado and pickles in their juice, this burger was worth every calorie. Sweet potato fries were…well amazing, coated in a light batter with a hint of maple syrup that rendered them crispy and sweet, yet not overly so thanks to a sprinkling of the perfect amount of course salt. Finally, the hedonistic addition of the Immunity Shake proved especially worthwhile with the orange, lime juice and basil flavors producing a fresh and clean accompaniment to the burger. While maybe not entirely healthy, it certainly made us immensely happy.
SkinnyFats is open every day but Sunday and is already pretty busy during peak times so consider ordering online at www.SkinnyFats.com to speed up the process. It's a great place when you feel like a (health) nut…and an even better one when you don't. For directions call 979-9797.