Haute Spot: Fashionably Thai – Nittaya's Secret Kitchen
By Aly Wagonseller
In general, when you think of most neighborhood Thai restaurants, heaping plates of spicy Pad Thai, a variety of curry dishes, papaya salad and fried rice comes to mind.  The food is served family style or in to-go cartons, a byproduct of décor that's typically not the highlight of the dining experience.    Now don't get me wrong. I love the sweet, salty, spicy flavors of traditional Thai cuisine; I'd eat the stuff off a slightly cracked, melamine plate any day of the week if it's good enough. And, I'm not saying that some restaurants don't cook up a far better sampling than the other guy down the street.  It's just rare that you'll find a playful, yet sophisticated take on what's considered the norm, and herein lies the beauty of Nittaya's Secret Kitchen, located at 2110 No. Rampart, Suite 110.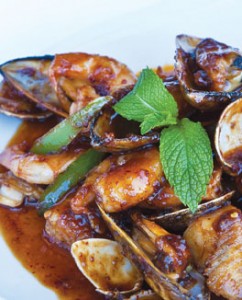 The restaurant is the brainchild of Nittaya Parawong, a talented, artistic and driven individual with a passion for fashionable food and surroundings.  Nittaya, according to our enthusiastic and very personable server, is responsible for just about every detail this tiny, surprisingly chic restaurant has to offer.  With only ten tables and as many bar stools for overflow, her choice of dark brown hues, pearl white banquette seating and modern art provides an urban feel.  Fresh floral arrangements (a nice touch that Nittaya, of course, arranges herself) and the brick walled bar create a warm, yet lively nightclub-meets-neighborhood bistro feel that's perfect for both family or date night.  Her one woman show doesn't stop there either; she is also responsible for changing things up a bit in the kitchen, personally overseeing and oftentimes preparing her unique versions of traditional Thai and Thai Tapas cuisine.
Thai Tapas…seriously?  Well why not? It's simply a trendy, much more refined Thai version of the beloved pu pu platter we Americans have clamored about for decades, with the added benefit of personalized choice.  What you do have to choose from isn't your average egg roll either. Grilled Mango Shrimp wrapped in bacon; Cilantro Steak Skewers; Shrimp in Pastry with jalapeños, leeks and cream cheese; and a Stuffed Angel Chicken Wing that was moist in the middle and impossibly crunchy on the outside are  just a few of the creative selections offered.   All are artfully plated with the kind of detail that speaks volumes about Nittaya's pride in and love for her establishment.
We started with what they call their World Famous Spinach Salad. This is not your typical salad, but more like a Thai version of chips and dip. The spinach is lightly dipped in batter and deep fried in a way that renders it crisp, without being heavy or greasy in the slightest. The lime vinaigrette dressing, a sauce I would suggest you dip into instead of pouring onto the spinach for fear of creating a soggy, tempura mess if it sits too long, is filled with ground chicken, whole cashews and carrots.  It's aggressively tangy and fresh tasting, and it's absolutely addictive when paired with the earthy, crunchy spinach leaves.  Equally enjoyable were the Whitefish Cakes.  Oh my…the flavor imparted by the licorice undertones of Thai basil is sublime, and these light, delicate and expertly prepared little morsels had just the right amount.  The addition of crispy cucumber for textural crunch and a sweet chili sauce for a bit of a kick elevate this dish to must-try status.
Nittaya's offers a large variety of family style entrees that, while more traditional, still contain a unique twist or two.  Home Style Pad Thai, with its distinctive peanut sauce, as well as Fresh off the Boat Pineapple Fried Rice, attractively served in the shell of the fruit, are two of their more popular dishes.  With an impressive wine list, many served by the glass, and special half price offers on Thursdays, Nittaya's Secret Kitchen is Thai that's got style.  Reservations are a must for dinner and can be made by calling 360-8885.