Haute Spot: Fogo de Chao – A Brazilian Churrascaria with Style
By Aly Wagonseller
As I've expressed in the past, I'm generally not a fan of big chain restaurants. The food often comes across as painfully generic, while attempts at tasteful décor lack warmth and ambiance, replacing soulfulness with a corporate chill that leaves a bad taste in your mouth. It's a nice surprise, then, when a concept establishment gets it right, as is the case with Fogo de Chao, Vegas' newest addition to the ever popular Churrascaria, or Brazilian steak house. And though its location is clearly designed to attract the expense account dollars of the hungry trade show brigade, the restaurant manages to exude the same charm and rustic quality the founding family offered their patrons in Porto Alegre, Brazil more than forty years ago.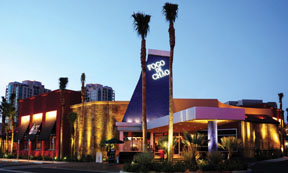 To say this place underwent an extreme facelift from its previous resident, a lackluster corporate yawner known as Cozymel's Mexican Grill, would be an understatement. Warm and rustic yet tasteful and modern, the restaurant's spacious dining area still feels intimate thanks to several interior walls adorned by murals depicting the Brazilian gaucho (or cowboy) way of life. The entryway teases the senses with views of sumptuous meat searing over an open flame and a well-appointed wine cellar encased in floor-to-ceiling glass. A separate bar area completes the arresting visual atmosphere with authentic oak wine barrels transported from the vineyards of Mondavi and its brethren lining the walls, creating an elegant culinary comfort zone.
The attention to detail in the surroundings extends to what's delivered on the plate. A prix fixe menu, typical for this style of restaurant, starts with a Brazilian bread roll known as a Pao de Queijo, an addictive little morsel filled with gooey cheese. A subsequent trip to the salad bar becomes a meal in itself, with more than 30 quality items to choose from. Aged manchego and parmesan cheeses, crisp asparagus spears, smoked salmon, imported prosciutto and salami and artisan breads are just a few of the items designed to whet your appetite. Be warned, however: 15 different varieties of meat are about to grace your table, so tread lightly at the salad bar. You don't want to fill up on small bites before you experience the main attraction.
With your table top coaster set to green light status (the reversible red side option lets your server know you need a rest), the true churrascaria experience begins. Served in the authentic rodizio style, the skilled gauchos circle from table to table carving various cuts of beef, lamb, pork and chicken directly onto your plate. Per Brazilian tradition, the meat is roasted on a spit over an open flame, a technique that not only imparts a delicious smokiness, but also sears in the juices while producing a crusty outer skin. Cuts of sirloin called Pacanha originate from the cap of the roast, a fattier version much more flavorful than traditional sirloin. Fogo offers theirs two ways, with or without garlic, both bursting with flavor. The Brazilian sausage was juicy, yet never greasy. Decadent beef ribs cut off the bone and generous portions of ribeye steak were both melt in your mouth delicious. Other favorites included filet mignon and a parmesan crusted pork tenderloin that was incredibly moist and tender. Family style versions of fried polenta (yum), garlic mashed potatoes and caramelized bananas served as bountiful accompaniments. 
A dessert and after dinner drink cart completed the evening, the standouts being turtle cheesecake with chocolate ganache and caramel or their signature papaya cream. Fogo de Chao may hail from south of the equator, but when it comes to an excellent dining experience, there's been nothing lost in the translation. Reservations are recommended, so be sure to call 431-4500 before you pay them a visit.
1 Comment