Livin' Local: Foodie's Paradise – Preparing an Epic Dinner of Epicness
By Mike Sweeney
When the mood strikes us, my girlfriend and I love to pair up with another food loving couple who are good friends of ours and spend an entire day shopping, prepping, cooking and of course eating a delicious and decadent multi-course meal. We have dubbed these experiences "Epic Dinners of Epicness" or "EDoE" as there's really no other way to describe such a bountiful feast.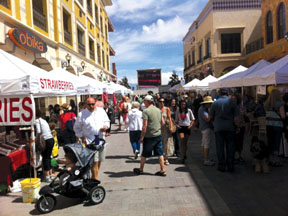 Choosing Your Menu
Planning is half the fun of an EDoE, and we always have a great time getting together to work out a menu. Still, the question remains: how do you select the evening's bill of fare? For us, it's always part familiar and part adventurous. We like to explore different takes on foods that we know and love. What's a new way to do prime rib? How can we gourmet up plain old dishes such as tacos or pot roast? What kind of new sauces or accompaniments can we add to an old entrée? We also like to use the opportunity to discover new things and take some risks. It's as good a time as any to experiment with escargot, pâté or other things that may not be on the regular rotation for Tuesday night dinner – and trying new stuff is always more fun with friends!
To Market, To Market
There are no set rules for an EDoE. The menu can consist of whatever strikes your fancy. What you want to shoot for are multiple courses with fresh ingredients. Our EDoE starts with a visit to the farmers market, something that's not in short supply in Las Vegas. Since there are many markets available on different days, you may need to do some shopping a few days beforehand.
Downtown Henderson offers the Country Fresh Farmers Market every Thursday in the bustling Water Street District (200 S. Water St.) where you can find a perfect selection of seasonal fruits and veggies. Fresh52 Farmers & Artisans Market is another open air market with a great sense of community and is often frequented by chefs from Le Cordon Bleu and the Culinary Arts School with demonstrations from other master chefs. You'll find them at Town Square on Fridays, Tivoli Village on Saturdays, and at the Silverado Park Place shopping center on Eastern and Richmar on Sundays. Downtown 3rd Farmers Market takes things indoors every Friday in downtown Las Vegas, showcasing a hip vibe and plentiful offerings along with art shows. Quail Hollow Farms, one of the best local examples of Community Supported Agriculture (CSA), frequents both this market and the Bet on the Farm! Farmers Market created by chefs Mario Batali and Joe Bastianich, held on Thursdays at Springs Preserve (333 S. Valley View Blvd.). Visit www.fresh52.com for links and info about all of these markets.
Here's our secret for gathering fresh fruit and veggies: do it yourself! Take a trip to Gilcrease Orchard (7800 North Tenaya; www.thegilcreaseorchard.org), where you can wander sixty acres of agricultural land and pick your own fresh and tasty goods in the great outdoors. The apples we found here turned our apple tart tatin into one of the most amazing desserts we've ever had. Other great row crops we've found include bok choy (excellent with our roast venison EDoE), kale (if you haven't had kale chips, you haven't lived), and pumpkins, which we carved out and used as a tureen in which we cooked a fabulous "pumpkin pie soup" courtesy of Alton Brown.
For some veggies and side dishes, you'll have to visit a grocery store, but take our advice: visit Whole Foods rather than your typical Albertson's or Smith's. Yes, you're going to spend a bit more, but you're also going to get the freshest and tastiest ingredients. This is important for us, as our approach to EDoE involves making just about everything within reason from scratch.
The Main Course
While we love our fresh vegetables (grilled or sautéed only, by the way; steaming is a sin), the centerpiece of any EDoE calls for something grand. This has run the gamut from Beef Prince Orloff with soubise and duxelles stuffings to rabbit sausage and mushroom crepes to several entrées that served as part of our indulgent Feast of the Seven Fishes variation on EDoE last Christmas Eve. For your main dish, put the grocery store behind you and head for the butcher!
Branded Meats & Deli (1550 Horizon Ridge Pkwy.; www.brandedmeats.com) has some of the best beef in town, offering Prime and Upper Angus Choice Beef. We also found some delicious duck that we used for our duck tacos with corn salsa. Remember, you want to go beyond mere steaks or pot roast for EDoE. Things don't need to get too exotic, but it's a special occasion. On the west side, The Butcher Block (7625 S. Rainbow Blvd.; www.thebutcherblocklv.com) is another great location with a full range of meats. We picked up an amazing standing rib roast here for one of our plentiful home feasts, made even more amazing by aging it with a nice salt crust for almost a week. Family owned and operated, the Butcher Block has everything from Japanese Kobe and Wagyu beef to unique selections such as quail, partridge and pheasant.
For fresh seafood, there's probably no better place than the 99 Ranch Market in Chinatown (4155 Spring Mountain Rd.; www.99ranch.com). We've picked up fantastic blue crab here for a crab boil EDoE edition (perfect with some andouille sausage from Whole Foods), along with the salted cod (head still intact and everything) that we prepared for Feast of the Seven Fishes. For a more adventurous EDoE, you can find exotic fare such as yellow eel, squid or sea urchin. Things can get crowded, especially on weekends, but the quality of seafood you get in return is worth it.
Pour the Wine
One thing you'll quickly learn about our EDoE group: we're just as big wine enthusiasts as we are foodies. When we can't bring back some great pinots from our biennial trip to Paso Robles, there's pretty much one place in town we hit up for vino, and that's Valley Cheese and Wine (1570 W. Horizon Ridge Pkwy.; www.valleycheeseandwine.com). Even if you're on the opposite side of town, you'll find their eclectic wares well worth the drive. This is like our home away from home, and husband-and-wife owners Bob Howald and Kristin Sande help make it feel that way; it's not even Valley Cheese and Wine to us anymore, but rather just "Bob's."
Bob and Kristin are all about what's good, not what's popular, and that's the true spirit of EDoE. Local chefs seem to agree as culinary artisans from Bellagio, Mandalay Bay, Settebello and more make up some of their loyal customers. Tell them what you're making and they'll find the perfect wine pairing for you, from light chardonnay to full bodied cab. When we want something light to munch on while we're cooking, we'll always browse the cheese and charcuterie case as well, where you can find the best artisanal meats and fromage to suit any palate. You can even up your wine IQ by signing up for one of their incredibly fun and informative wine classes.
Dinner doesn't need to be a grand affair, and most of us are too busy to spend a lot of time and money on an extravagant meal. But when you plan ahead and know where to go for the best ingredients, you can hold your own Epic Dinner of Epicness for a foodie's night to remember.