Haute Spot: Forte – European Tapas Bar & Bistro
By Aly Wagonseller
It's strangely exciting finding a neighborhood restaurant like Forte European Tapas Bar, located at 4180 So. Rainbow Blvd.; a place where the food is as eclectic as the décor. It's funky…charming…reminiscent of  bistros you stumble upon in dark European alleyways, yet this one's propped in a nondescript strip mall you've no doubt droned past countless times during commute. Clandestine comes to mind. The dinner conversations, mostly in Eastern European dialects, halted eerily upon our entrance into the establishment. The polite, albeit noticeable stares acknowledged a stranger was in their midst. Dramatic, I know, but seriously, I felt like a camera toting, sandal wearing tourist, fully exposed to the scrutiny that Americans bring upon themselves when travelling abroad. Will I be able to pronounce the food names while ordering? Just exactly what was that I ordered? Do they really prepare Albondigas meatballs that rare in their country of origin, and if I send them back, will I offend the chef? It's these delightful idiosyncrasies that make Forte a "go to" destination for those that crave a dining experience that's slightly off-kilter from the norm.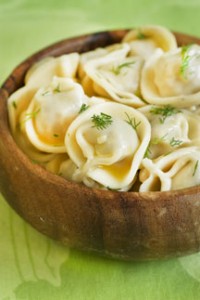 The cuisine is hardly your average small plate fare. No dumbed-down, Americanized tapas here. In fact, many of the dishes aren't even of Spanish descent, instead calling upon the heartier styles of cooking found in Russia, Hungary and Bulgaria.  Granted, they do have safer bets for the less adventuresome eater–chicken wings sautéed in garlic and Spanish olive oil, mac & cheese and stroganoff all come to mind. And yes, you'll find the requisite jamon, Manchego cheese, chorizo, and bacon wrapped dates with almonds (ours unfortunately torched to an inedible, blackened crisp) you'd expect from any self respecting restaurant with tapas in their title. But it's selections like Stuffed Squid in its own ink, eggs baked in clay pots with a variety of meats and cheeses, and an array of dumplings and other homey specialties that make Forte truly memorable.
Pelmeni, Russian style meat dumplings, were a clear stand-out and reminiscent of homemade pyrohy my mom and Ukrainian grandmother used to make.  Just enough spice in the filling, tender dough of perfect consistency (too thick and they're gluey, too thin and they don't hold up) and a nice slathering of thickened sour cream…aaah memories. The addition of green onion and chopped dill added nice texture and freshness to the dish.  Aforementioned meatballs, served with a spicy aioli, were aggressively seasoned, of generous portion size, and although a bit rare in temperature and just a tad rubbery for my taste, respectable.   Still, the dish that will have me coming back time and again is the Adjarski Khachapurri.  No need to wait for a dreaded hangover to enjoy this dish, although it would be the perfect counterpart for too many swigs of infused vodka, something Forte brews countertop in their bar. Piping hot, impossibly crusty bread that's shaped like a hollowed out canoe is filled with mildly salty pickled cheese and a raw egg.  Twirl your fork (or ask your server to do it) through the egg and the heat of the bread cooks it while melting the cheese underneath.  The bread somehow stays crisp, making the perfect vehicle for sopping up the amalgamation of delicious protein.  Who'd have thought simple ingredients of cheese, bread and egg could be so heavenly?    
Much like many European eateries, the service was not overly friendly or helpful, something that could be attributed to one server trying to man the entire restaurant on our Monday night visit.  No matter.  With vodkas to try, egg and cheese to devour and so many other international items on the menu left to experience, a trip back to Forte is happily in order.  For info, call them at 220-3876.