Haute Spot: Fresh…Fast…Opa Delicious – The Great Greek Grill
By Aly Wagonseller
Maybe because of the economy, or perhaps because our culture is one that's constantly on the run, the fast food industry has thrived while fine dining has…well…unfortunately seen better days.  This doesn't mean enjoying a five course meal in upscale digs is dead; that would be criminal. What has evolved though is a new generation of fast food restaurants that aim to satisfy the discerning tastes of diners who recognize quality eats, at a price they can afford any day of the week.  The Great Greek Grill located at 1275 W. Warm Springs #160, is just such a place where unassuming, simple and no frills dining has never been better.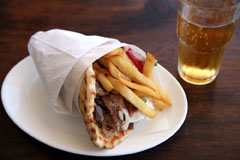 Owner Girair "Jerry" Goumroian, is no stranger to the restaurant world.  He grew up helping in his parents' Greek eateries here in town, eventually venturing on his own culinary journey by attending school then working for the likes of Adam Sobel at Rick Moonen's RM Seafood, as well as other haute spots on the Strip.  Looks like young Jerry learned a few things, as what he's dishing out at the Great Greek is cuisine that is honest in its ethnicity, yet has a modern sensibility that's fresher, lighter and definitely something special.  No matter that you order at the counter; or that the restaurant is tiny, with just a few tables for those wanting to dine-in.  What does count is that the food is worthy, and the price tag surprisingly low for the quality of what's served on the plate.
Besides a near perfect bowl of lemony, Avgolemono soup, a good representation of the classics can be had with the Mezze Plate (9.95); a nice selection of salad, pita bread, dolmades, falafel, hummus, tzaziki and a surprise serving of spanikopita.  It's fairly evident that everything is made in-house; the hummus, a textural treat that's not overly processed; a  yogurty version of tzaziki,  that's delightfully tart and hearty, yet nicely tempered by fresh cucumber; and falafel that was magically moist on the inside, despite an unusually crumbly outer texture.   The more substantial fare on the plate was equally well done, especially the spanikopita. Flakey filo was light and not overly greasy, and the spinach filling was creamy, feta cheese goodness; not too heavy and exceptionally flavorful.  
The Great Greek of course serves up the requisite Gyro sandwich (7.50) and Grilled Souvlaki Platter (10.95) that included a perfectly dressed Greek salad and crunchy fries that traditionally wind up inside the do-it-yourself pita wrap.  Both were quite good; the Gyro aggressively seasoned but in a good way, tempered by sweet tomatoes, lettuce and creamy tzaziki,  and the Souvlaki perfectly cooked – no easy feat  for chicken kabobs, which oftentimes tend to dry up and wither off the skewer. Still, my off the chart menu favorite has to be Yia Yia's Pasticcio (9.95). A Greek, ground beef and pasta casserole, layered with creamy Béchamel and tomato sauce, it's typically pretty heavy and dense.  This is where Goumroian displayed some serious cooking chops, his version exhibiting an airy, almost soufflé-like texture that preserved all the sublime flavors of the original dish, yet didn't weigh you down like a brick. Good stuff.
 The Great Greek Grill just added Mythos and Hillas beers for the sit-down crowd, and they serve homemade desserts that include a cinnamon infused Baklava, Yia Yia's Rice Pudding and Shamali, a traditional semolina and orange zest cake. Good bye kings and clowns. This is one fast food revolution you can feel good about. For take-out, call 547-2377.