Haute Spot: Fun with Food – Ohjah Japanese Steakhouse
By Aly Wagonseller
There's really nothing over the top about the food served at a Japanese steakhouse. Abundant veggie, meat and fish combinations expertly seared on a hibachi grill, while healthy and clean in flavor, rarely warrant the James Beard Award for creativity. Still, sometimes it's just plain fun to watch other people play with your food, especially when you have kids in tow or need a good cheering up from a hard day at the office. I mean seriously, if you can keep a straight face while flying fragments of shrimp are torpedoed into your mouth via a spatula wielding chef doubling as a variety show entertainer, you're a better person than I. And if you can find a teppanyaki den that also serves more daring fare, including sushi and even Thai selections, you've got a winner the entire fam can agree upon.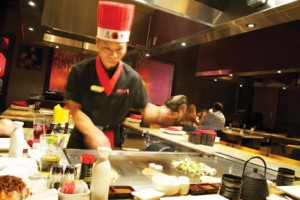 Ohjah Japanese Steakhouse, located at 8595 S. Decatur at Blue Diamond, or their newest location at 10144 W. Flamingo, is a definite "go to" for Japanese steakhouse fun and food in a surprisingly sophisticated yet casual atmosphere. Super clean (not an easy feat considering the controlled food fight that takes place on a daily basis), the décor is modern and warm, with dark finishes and granite grill side surrounds that stay cool despite what's flaming on the flattop. A separate section for those interested in other menu items sans hibachi, as well as a dedicated sushi bar, makes this restaurant a great place for both family and date night outings. Service was outstanding as well, with quick seating and food service, despite being busy on what you might think would normally be a slow Tuesday night.
Hibachi selections aside, the menu is quite large, offering a wide range of meal options from katsu to yakisoba, sushi rolls to Thai curry. Curious about the sushi, we tried the White Tiger Roll, reasonably priced at 11.95. Comprised of aggressively spiced tuna, and I mean that in a good way, the heat was nicely tamed with crisp cucumber and buttery tuna belly overtop; a tasty option that definitely warrants another visit just for the sushi. Hibachi offerings were easier to navigate, with a required basic entrée (8.95) that included soup, salad, rice or noodles and vegetables. You can stop there or add a variety of mix and match meats and fish, from reasonably priced chicken (4.95), salmon or shrimp (5.95), and filet or New York steak (5.95-7.55) options, to a decadent lobster tail (15.95) or Kobe beef splurge priced at 48.95. Let the party begin.
Out came our chef in a whirl of twirling utensils, doing all the regular shtick, including tossing egg shells into his chef hat and creating flaming onion volcanoes as only a culinary magician can do. Scallops, steak and chicken were flipped to and fro (not at the same time, mind you; these guys are versed on cross contamination issues), with the addition of butter, fresh lemon juice and ginger or teriyaki sauce spicing things up a bit. While he toiled away, we finished our appetizers; a broth that, while tasty, was plagued by the addition of unappetizing crunchy noodles that became quite chewy as they took on the liquid in the bowl; and a cooling, iceberg lettuce salad with creamy miso ginger dressing that was quite nice. The main dish was, as expected, nothing over the top from a culinary standpoint, but very well executed for this style of cuisine. Beef was cooked as ordered, the teriyaki scallops exceedingly fresh and plentiful, and the chicken still possessing some juiciness to it. Rice and noodles were nicely caramelized, and the addition of butter and soy sauce provided ample flavor.
All in all, our meal at Ohjah was a very filling and tasty one. But more importantly, it was an entertaining one; a definite plus if you're trying to amuse kids that have been home on summer break for one day too many. For reservations, call them at 868-9888, or 868-2888.