A Step Above: Gabrielle Smith
Coronado High School
Class of 2014
G.P.A.: 4.2
Hard work and a sense of humor will take you a long way. This is evident in the success enjoyed by Gabrielle Smith. With intense dedication, competitive spirit and a smile, the senior at Coronado High School is living her dream, and excelling in incredible ways. Unafraid to sacrifice for the things she loves, Gabby understands the power of focus and commitment. Her openness to learning, a playful outlook on life and pure talent will take her far, and places her – A Step Above.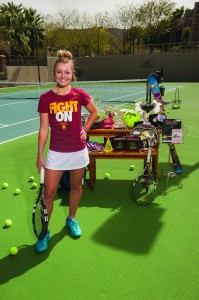 Sports/Music/Scholarships/Award
Darling Tennis Center (DTC) Tennis Academy, 2012-2014
USTA Intermountain Girls 18s National Team, 2011-2012
Nevada State Tennis, 2010
Nevada State Tennis Team Runner Up, 2010
Nevada Individual State Tennis Women's Champion, 2010
National Federation of Music Clubs – Nevada, Piano, 2009-2014
Full Ride Scholarship to USC for 5 years to play tennis
LDS Young Women's Medallion Recipient, 2014
Intermountain Girl's 18 and under Snowball Champion, 2014
Intermountain Girl's 18 and under Great Pumpkin Champion, 2013
Coronado Athlete of the Month, 2011
Bronze Girl's USTA Clay Court Championships in Doubles, 2009, 2011 & 2013
Silver Girl's USTA National Hard Court Championships in Doubles, 2010 & 2012
Bronze Girl's USTA National Clay Court Championships in Singles, 2010
Clubs/Activities/Community Service
Jill Gibson Piano Studio, 2009-2014
Anthem Stake Youth Committee, 2013-2014
Youth Camp Leader for Anthem State at Camp Kolob, 2013-2014
Las Vegas Ski and Snowboard Resort All Mountain Ski Team, 2009-2010
Nevada Hunter Certificate from Nevada Dept. of Wildlife
Serving food to homeless at St. Timothy's Church
Congrats on the scholarship! Looks like school and tennis are on the agenda for the next few years. "Academically I plan on ending the year with straight A's. This summer is my last summer of junior competitive tennis before college. I hope to place in the top 10 in the country spring and summer nationals.
At USC, I will work to win the NCAA women's singles tennis title and help my team end in the top four teams in the country. At least once I hope I can help USC obtain a national tennis title. I hope to maintain a high GPA and later enter a graduate program in either medicine, accounting or law."

What's your secret? "I tend to listen to leaders and coaches. My coaches say many students argue and they give up on them. Those same coaches give me just a little more coaching and help because I am happy to listen and try my hardest. I also like to compete and work at a quick pace. My family has given me a lot of support and has sacrificed many family vacations, holidays, and rest days to keep up with tennis, piano, friends and church."
You've given up a lot for the sport of tennis: "After my sophomore year my tennis ranking had slipped because my tennis peers all home school. I decided to live on the east coast and train with a tennis competitor and her family the summer before and the fall semester of my junior year. Living with her and her family was hard. We pouted and drove each other crazy but we still played six hours of tennis a day and I did a lot of soul searching to find the strength to carry on. I could not come home. I had to do well at national and international tournaments. The summer and fall was very successful I ended up in the finals at Waco Texas and placed in the top eight nationally. Based on those results the following summer, USC gave me an offer. I learned that once you set a goal you cannot turn back no matter what the pain. Tennis matches are like that."