Haute Spot: Giada's Italian Cucina – A Sunday "Sit Down" Any Day of the Week
By Aly Wagonseller
Most every restaurant has a story.  Many are proudly shared with loyal patrons, lovingly displayed on menus, cocktail napkins, Facebook pages and the like. Whether these legends are factually correct, slightly embellished or a flat out fib is of no consequence; we long to become a part of the tale, especially if flavorful food and family tradition is at the heart of the plot.  Still, a restaurant with a story yet mediocre food isn't worth the menu it's written on.  You simply can't create an epic moment with words alone; you gotta have the grub to back it up.  Giada's Italian Cucina, located at 2540 Anthem Village Dr. certainly does just that.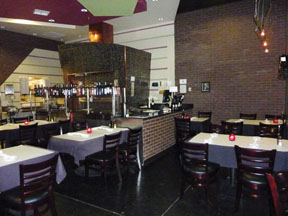 A tiny gem in a somewhat hidden location, Giada's houses just 12 tables, something I think is incredibly smart in a day where bigger is not only considered passé, but an unequivocal invitation for going broke. The dark furnishings, brick wall façade, semi open kitchen and glass tiled pizza oven feel modern, yet warm and homey. These are the details that generate credence for the story of Giada, the quintessential Italian grandmother whose recipes from Sunday "sit down" dinners are now lovingly presented to us by her grandson and owner of the establishment. Giada was certainly a great teacher.
I have a serious pet peeve regarding heavy handed Italian food, and thankfully, Giada's was a testament to the lighter, yet far more flavorful side of Italian cuisine.  With the exception of desserts that clearly weren't from the same kitchen as the rest of our meal, it was gleefully apparent there were no dark secrets (a.k.a. frozen or substandard, canned ingredients) hiding under too much mozzarella, salt and olive oil. This was obviously apparent with our starter selection, The Calamari Fritti (10.95). A heaping plate of delicately crisp, melt in your mouth morsels, it was as far away from the bricklike and breaded frozen version as you can get. Served with a balanced marinara sauce made with just enough olive oil and herbs to give it substance without overpowering the tomatoes, it was clear that my taste buds wanted more.
The menu is fairly small, but what is offered is in keeping with the philosophy that a few quality ingredients, perfectly executed, make food that's extraordinary.  Case in point, their Eggplant Parmigiana (13.95).   Thinly sliced eggplant (no breading), fried as to not take on too much oil, yet render it fork tender, was stacked with a light and flavorful tomato sauce and just the right amount of mozzarella.  It is truly an art to make a dish this flavorful while dodging the dreaded, greasy stomach grenade so often associated with a Parmigiana of any kind. Pollo Giada (14.95) also fared well, a roulade of thin chicken breast rolled with prosciutto, spinach and cheese that skillfully remained moist, despite a tendency for this kind of dish to get rubbery from over handling.  The chicken was wonderfully complimented with traditional escarole greens (a nice balance of pungent outer leaves tempered with the more mild, inner stock), flawlessly sautéed in olive oil and razor thin garlic slices and dressed with a sprinkling of sundried tomato. Rustic pizza (8.95-17.95) is another dining option, prepared with a homemade crust that's thin and crisp; the perfect canvas for showcasing fresh toppings.  I especially enjoyed the Arugula Lou, the peppery greens barely wilted over a tomato, cheese and prosciutto pie, and expertly prepared with the kind of restraint you'd expect from a celebrity chef. Pizza heaven, especially when washed down with a Peroni or a glass of wine from their limited wine list.   
Giada's would  appreciate a phone call letting them know you're coming for supper, a practice akin to finding a seat at grandma Giada's Sunday night dinner table. With recipes like these, this is one restaurant story that deserves the happiest of endings. For reservations, take out and catering, call   462-9830.
Side Dish
Wine and art in the neighborhood…what could be better? Starting Thursday, March 24th and continuing each Thursday through June 9th, Rachel's Kitchen at the District at Green Valley Ranch will host an evening of culture, libation and seasonal fun.  Each event takes place on the patio from 6-9 p.m.  Enjoy a complimentary wine tasting, live painting exhibitions by local artists, and the acoustic guitar styling's of Sean Hayle. Don't miss their first event featuring wine from the Chateau St. Michelle portfolio. For more information, call 522-7887.
1 Comment