Haute Spot: Give a Little Love to the Locals – Neighborhood Restaurant Favorites
By Aly Wagonseller
This has been a tremendously tough year for restaurants, with no one feeling it more than the local mom and pop establishments off the Strip.  Having been a local foodie for more years than I'd like to admit, I started looking back on some of the best eateries in town  and sadly discovered that more than a few had succumb to the chokehold of our stifling economy.  Now, more than ever, we need to frequent the "little guys"; restaurants that offer real food while serving to provide jobs and a sense of community in our neighborhoods.  Here's a few of my surviving favorites and the specialties that have helped not only put them on the map, but overcome our media fueled climate of continual gloom and doom.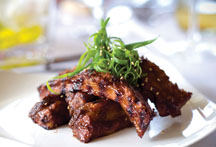 Mantra Masala, located at 8530 W. Warm Springs, #101, operates on the belief that Indian food should be healthy, yet satisfying. Breaded appetizer items like the Onion Bhajo or Chicken Pakora are coated in high protein lentil flour then flash fried in vegetable oil, wok style, as a fit alternative to deep fat frying. Staple entrée dishes boast the earthy flavors of Indian spice, something they import, roast and freshly grind daily. The  Chicken Tikka Masala–melt in your mouth tender morsels served in a creamy tomato curry that's spiked with ginger and green chilies for heat, then tamed with just the right amount of tangy yogurt–is one of many standouts.  
Todd's Unique Dining, located at 4350 E. Sunset Rd., is the epitome of David in a Goliath world, thankfully offering amazing cuisine that rivals much of what you'll find anywhere else in town.  Creative, thoughtful and just plain talented, Chef Clore uses the finest of seasonal cuisine, a philosophy that has the menu (especially the fish selections) constantly changing based on ingredient availability.  Ahi Tuna with Wasabi Potatoes and the Short Ribs with Jalapeño spuds have long been favorites, but regardless of what you order, it's never ordinary. 
UNLV Basketball fans, or just plain lovers of a juicy burger and hearty sweet potato fries should pay a visit to Grind Burger Bar and Lounge, located at 360 E. Tropicana. Racy Juicy Lucy mascot aside, the burgers, whether beef or turkey, are delicate, yet substantially legit, especially when topped with any combination of specialty cheeses, sauces and condiments offered for a "build it as you like it" experience.  Aged cheddar, applewood smoked bacon, mushrooms, ajvar mayo and an over easy egg all served on an impeccable ciabatta bun is a favorite, but how you dress your patty is up to you…and that's true beauty on a bun.
When La Madonna Avante Garde Mexican Cuisine closed late last year it truly was a sad day in the Vegas local dining scene.  Luckily, the same wonderfully different Mexican cuisine comes to us at its successor, Mundo, located at 495 So. Grand Central Pkwy.  More sophisticated than most restaurants lacking a Las Vegas Blvd. address, Chef Robert Solano transforms the typical into something wildly delicious and different, but it's his tamales that keep me traveling to this somewhat distant location. Faves include the earthy, Short Rib with Pasilla Chili sauce and giant Chipotle Glazed Shrimp versions…simply sublime.
Although there are quite a few Thai restaurants in town, for dining in an upscale, yet casual setting you really can't do better than Archi's Thai Bistro, located at 6345 S. Rainbow Blvd., Ste. 100.  Great for power lunching or a date night dinner, the décor is well above most, but seriously tasty dishes including Pad Kapow, a simple concoction of expertly spiced hamburger and rice and any of their Pad Thai selections make this spot more than just a pretty face. 
On the casual side, Crazy Pita and Rachel's Kitchen, both located in the District Shops, are fine examples of small businesses dishing out excellent food, and making friends while they're doing it.  The Favorite–scrambled eggs with goat cheese, sun dried tomatoes, avocado, mushrooms and basil–is a delicious choice to people watch with at the bistro-like setting at Rachel's, especially when accompanied by one of their Sunday mimosas!  The Kefta Pita, a flavorful ground beef and hummus sandwich, has paved the way for Crazy Pita to give back to the community via The Josh Steven's Foundation, an organization whose main purpose is to promote and reward acts of kindness in our schools. Their rotisserie chicken and variety of grilled skewers, along with notable side dishes also keep this place hopping most any time of the day.
Of course there are many more wonderful establishments sprinkled around our neighborhoods; places where pride and love of homemade recipes replace Weight Watcher menu endorsements or microwaved, prepackaged pasta sauces…blah!  The thing is, you must support them, or we'll all run the risk of a Walmart world in the restaurant industry.