Haute Spot: Good Karma – Great Pizza….Pizza Buddha
By Aly Wagonseller
Anyone that's been in Las Vegas for more than a blink knows Mark DiMartino has been relevant in the local restaurant scene for decades. He grew up in Vegas, working in his parents' iconic Italian restaurant DiMartino's, and later developed several of his own successful concepts, including Grind Burger Bar and the now national chain Tilted Kilt Pub. His drive and affection for developing sexy and somewhat man-centric establishments is no secret, but there's something different about his newest endeavor, Pizza Buddha, located  at 2520 W. Horizon Ridge Pkwy at Carnegie. It seems that Mark may be mellowing as a boomer on the cusp, trading the frenetic edginess of his earlier endeavors for a more joyful, "make my belly happy" mantra that's a telling tale of personal growth and, I suspect, a desire to stop and smell the marinara.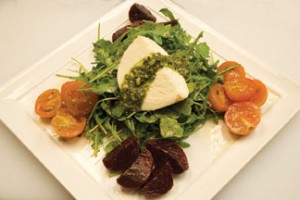 A quirky mix of Italian tastes wrapped in an Asian package, Pizza Buddha is more about attitude than fusion flavors. The menu relies on DeMartino's Italian roots with pizza, appetizers and salads, adding Asian ingredients only in small doses or menu namesake. The vibe, on the other hand, is Buddha-lectic and casual. Funky particle board flooring, Asian wall hangings and chill quotes such as "Learn to Let It Go – That is the Key to Happiness" painted throughout evoke a friendly, "don't take yourself so seriously" atmosphere designed to take you to your happy place. A small bar overlooks the open kitchen where Mark can be seen slinging pizza into brick ovens, and a few tables (the place is tiny-cozy) allow you to bask in all the good karma while enjoying some interesting yet not overcomplicated menu selections.
Like the restaurant's stature, the menu is small but never lacking in variety; no over thinking things in this Buddha den – a nod to DiMartino's minimalist vision. Fried Calamari (9.50) was tender yet crispy, tossed in a sweet but not overly spicy Thai sauce that coated the breading without making them soggy. Served atop a crunchy bok choy, carrot and green onion slaw with creamy dressing, it's a must try. A ricotta and spinach appetizer called the PB Egg Roll (7.50) transforms mama's stuffed shells into a hand held crunchfest ready for dipping in some of the best marinara sauce I've had in ages, but it was the Roasted Beet Salad (10.50) that had me om nom noming until the plate was licked clean. Wow, this is a winner; a thin slice of lightly breaded and fried eggplant served as a crunchy base to perfectly dressed and seasoned peppery rocket greens, a beautiful hunk of mozzarella and a touch of pesto. The sweet and earthy addition of roasted beets and acidic cherry tomatoes round out this taste I liken to culinary nirvana.
The aforementioned marinara served as a tasty base for crispy pizza, thicker rather than thin crusted, allowing you to build your own concoction or choose from a variety of house specialty versions aptly named after your favorite Buddha sayings. We rolled yin and yang familia, choosing the Mama and Papa Krakatoa pies (10-18.00 depending on size). Mama is an unusual hardboiled egg and roasted onion creation with flavors reminiscent of an egg salad, onion and tomato sandwich – hold the mayo and add a sprinkling of hot pepper flakes, please. It sounds weird, I know, but it's an interesting slice worth trying. Papa was reminiscent of pizza ala Hawaiian, albeit with smoky pancetta, pineapple and red jalapeño peppers, a delish version if you like this flavor profile. For me, I'm already planning my return for the My Sitar Gently Weeps (crispy eggplant and roasted onion) and Buddha Sama (white pizza with shaved garlic and more of that fabulous rocket salad) versions; I'm confident they'll make me fat and happy.
Like many of us, Mark DiMartino may be looking for peace, love and happiness in life. It's nice that he's sharing his newest brand of zen on a plate to spread the vibe. Pizza Buddha is open for both lunch and dinner. For information or take out, call them at 558-5039.
2 Comments