PetPourri: Healing Hands: A Visit With Local Veterinary Specialists
By Lindsay Minor
Illnesses such as diabetes, heart disease and cancer are not just human problems. Our beloved pets suffer many of these same ailments, and it can be a heart-breaking and stressful affair when emergency intervention and more expert care are required. Thankfully, Southern Nevada offers cutting-edge veterinary specialists in areas ranging from urgent care to skin treatment to ophthalmology and beyond. Just like human doctors, these vets receive intensive post-graduate training to prepare them for the daunting task of healing more than just a scraped paw or bruised collarbone. You can feel safe knowing that your pet's well being is in their capable hands.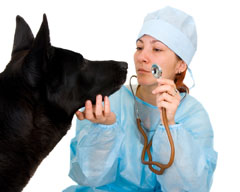 Critical Critter Care
So, what kind of advanced treatment do these specialists provide? Almost anything that can be done in human care can be done in animal care according to Kim Morgan, Hospital Operations Manager for the Las Vegas Veterinary Specialty Center (8650 W. Tropicana Ave.; 871-1152), which offers 24-hour emergency services through their Veterinary Emergency and Critical Care office. "We've had dogs with pacemakers and even done eye exams on the flamingos at The Flamingo," says Morgan. Patients with everything from cancer to torn ligaments and heart murmurs have passed through here, and each one is treated with the same kindness and concern.
LVVSC veterinarian Ryan Gershenson, D.V.M./Diplomate ACVECC (American College of Veterinary Emergency Critical Care) emphasizes his passion for the ER environment, saying, "I fell in love with emergency and critical care as an intern. I get a great sense of accomplishment when I am able to save a pet that would otherwise not be saved." This vet's most memorable case was a Yorkshire terrier that was injured on a boat outing on Lake Mead. "When he initially came in, he had severe head trauma, could not walk, swallow or keep his airway protected," Gershenson says. "We had to put in an emergency tracheostomy. He was in the hospital for two weeks but slowly, day-by-day, he improved. Ultimately, we were able to take out the tracheostomy tube and he is now at home and has returned to being a normal, happy dog."
Blood donation is another important medical issue that crosses species lines. Until about five years ago, area vets and pet emergency rooms had to order blood, which could take up to 24 hours to be delivered. To help provide better support, the LVVSC began a local blood bank for cats and dogs back in 2007. Once their pets are cleared for health and disease, owners can bring them to participate in monthly donation days and are invited to join the list of emergency donors.  Recently, a donor pet and its owner met with a recipient pet and its owner. According to Morgan, "Both parties were clearly appreciative of the other's participation in the blood bank program."
Sneeze, Itch, Cough, Repeat
While critical care is always important, there are plenty of less serious disorders that may still require the help of a specialist. Springtime is allergy season, when both humans and animals endure the effects of everything nature throws at them. According to Kim Coyner, D.V.M/Diplomate ACVD (Dermatology) at the Dermatology Clinic for Animals of Las Vegas (5231 W. Charleston Blvd.; 821-1002), "Pets here in Southern Nevada suffer many of the same issues that we humans encounter including allergies to pollen, grass and dust as well as sunburn and even skin cancer." The clinic is here to help, offering specialized care in skin diseases, ear infections, chronic itching and many other allergy-related issues.
Through the use of progressive treatments and clinical trials, Coyner hopes to improve the quality of life for pets suffering from skin ailments. She also enjoys the detective work that goes into analyzing and identifying certain conditions. "After my diagnosis," she says, "I can usually make patients feel better quickly, and that makes owners happier, too." When asked why she chose dermatology as her specialty, she remarks, "It was simply easier on my psyche. Internal medicine may be sexier, but in the end, rarely do my patients die from their ailments."
One of Coyner's favorite cases involved a tiny Terrier mix who was paralyzed in its back legs and had barely a hair on its head. Coyner immediately diagnosed Dermodex, a condition where microscopic skin mites in the hair overgrow due to a suppressed immune system. "After just three months of treatment," she says, "this little dog went from looking like a raisin-skinned little gremlin to a beautiful, fluffy and vibrant Terrier mix. She was a dramatically different dog."
All the Better to See You With…
Allergies can be just one factor of animal eye problems, which are the specialty of Veterinary Ophthalmology Service (1914 E. Sahara Ave.; 457-6523). VOS owner Dr. Michael Brinkmann, D.V.M./Diplomate ACVO (Ophthalmology) treats cataracts, glaucoma, infections and other eye injuries in most all animals. Specializing in one area offers him the chance to excel at ophthalmology and interact more with pets and owners.  He enjoys eye care because it's something humans can relate to, especially in the dusty climate of Las Vegas, where flat-faced pets such as pugs and Persian cats struggle harder than most. "Dryness is rampant here," says Brinkmann, "and there are some wonderful over-the-counter daily eye drops for pets that really help. Using drops also helps pet owners to look closely at their pet's eyes on a regular basis."
Brinkmann treats all types of animals, including cats, dogs, birds and snakes. He even once performed surgery on a cougar. The majestic big cat was a performer in commercials and was losing his sight to cataracts. Just like human actors, animal performers need good eyesight in order to hit their marks and successfully navigate a photo or film set. The dedicated vet performed cataract surgery on the cougar, restoring better eyesight and thereby ensuring a longer career for the animal and a sense of relief for its owners. That satisfaction brings a sense of joy to Brinkmann. "It may sound corny," he says, "but to see a patient's owner smile makes my day."
Eye Care for Animals (5231 W. Charleston Blvd.; 795-3937) also specializes in ophthalmology and offers both chronic and urgent care for exotic animals and family pets. Neal Wasserman, D.V.M. of ECFA, recalls a case involving a shelter kitten born without part of her upper eyelids, which made it impossible for her to blink. Wasserman performed three procedures to reconstruct her eyelids using skin from her cheeks. After the final procedure, the kitten healed comfortably and was adopted by a caring family. At times like these, Wasserman enjoys comforting patients and educating their owners about care and treatment. "While technology allows us to do more than ever before," he says, "with laser procedures for glaucoma and modern cataract instruments,  it's really the owners' ability to offer care and comfort that truly makes a big difference."
If you think your animal might require the care of a specialist, always remember to check with your regular veterinarian first. They will know the medical and social history of your pet better than anyone and can offer recommendations to help you make the right decision.
Ultimately it's good to know that our furry, feathered and fuzzy friends can find quality care here in the valley. Whether your beloved pet has an emergency or requires the help of a specialist for a chronic or unique ailment, residents can rest assured that there's a veterinarian here for them. As the esteemed Mahatma Gandhi once said, "The greatness of a nation and its moral progress can be judged by the way its animals are treated." It's obvious that the intense work these veterinarians and specialists do comes from a passion for helping the most helpless among us.
The 911 on Emergency Pet Care
Many animal emergencies occur after hours, so it's important for pet owners to know their options when it comes to emergency care. Southern Nevada is home to four after-hours animal hospitals:
Animal Emergency Center
3340 E. Patrick Ln.
457-8050
Las Vegas Emergency Animal Hospital
5231 W. Charleston Blvd.
822-1045
Veterinary Emergency + Critical Care
8650 W. Tropicana Ave., Suite B-104
262-7070
Warm Springs Veterinary Emergency Clinic
2500 W. Warm Springs Rd.
614-5454