Haute Spot: Healthy Eating Made Easy | Manhattan Fish Grill
It's widely recognized that eating more fish is a good way to stay healthy. Yup, Omega 3's deliver an array of benefits including lowering blood pressure and strengthening the immune system, while also having positive effects on the nervous and cardiovascular systems. Brain food lecture aside, the reality is if you're like most people with busy lives, cooking fish at home or finding a healthy version of it while on the run or at work isn't always easy. Sushi, while awesome, isn't for everyone and neither is a formal, sit down lunch or dinner with a hefty price tag. So, how can fish-starved people who are also starved for time get their healthy fix? This is the goal of Manhattan Fish Grill, located at 4115 Grand Canyon Dr #100.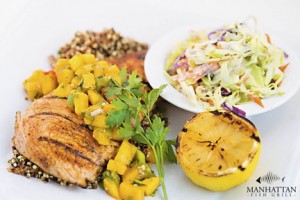 By: Aly Wagonseller
Located in a maze of streets, parking lots and retail outlets off Flamingo near the 215, this local restaurant has all the makings of a new concept (translation: franchise) business ready to set sail. Clean, open and bright, the décor has clever touches of modern, nautical influenced lighting, picture perfect food photos and a polished logo you'd expect to see displayed nationwide. Most closely likened to a Chipotle of healthy fish cuisine, they rely on counter service ordering that encourages mixing and matching of side dishes, seasonings and sauces, allowing you to be as healthy or deviant as your mood. Unlike Chipotle though, everything is cooked to order, so it's not exactly fast food… more like 15-20 minute food. Still, it's a small price to pay when you can easily phone in your order ahead of time to eat in or take out depending on the clock.
The menu is pretty abbreviated (a good thing) offering appetizers, sandwiches, tacos, salads and fish plates. The New England Clam Chowder served in a bread bowl was sadly sold out by the time we arrived so we decided to try the crab cakes. Not really a fan, unfortunately, as they resembled a giant, crab-flecked hush puppy more than their namesake. Priced at $11.00 for two, I wasn't expecting a whole lot and, to be fair, if you're going for legit crab cakes you probably should stick to a fine dining establishment. My bad. The same could be said for the Seared Ahi fish plate. Yes, it was only priced at $15.00, and included one side dish and coleslaw, but it clearly wasn't seared properly, lacking the firm texture and caramelized exterior I'd hoped for.
Overly ambitious mishaps aside, Manhattan offered some really outstanding selections that proved to be both tasty and healthy. Fish tacos (either grilled or crispy fried) were plentiful and not greasy in the least, the salmon version exhibiting perfect preparation that paired well with a spicy, tomatillo relish, guacamole and pico de gallo. Note to the diet diva: they do come with an abundant slathering of mayo based sauce and cheddar cheese, something you might want to forgo if you're counting calories. For the purest, a selection of fish platters that serve up Catfish, Mahi Mahi, Cod, Salmon and Talapia were real winners, each fairly priced between $10-$15.00. Chargrilled and offered with a choice of side dishes that include super food options like kale salad, quinoa and sweet potato fries, they're light years ahead of Long John Silver's. I chose the Orange Roughy version with Mango Salsa. The two, plentifully sized fillets were nicely charred yet retained their moisture, the salsa adding a subtle, sweet component with a bit of a kick. I couldn't get enough of the delicious kale salad, a combo filled with strawberries, almonds, jicama, carrots, dried cranberries and apples, while the quinoa, made with just enough vegetables to provide flavor without added bulk, was a tasty, protein filled alternative to rice. Sweet potato fries are some of the best around, sliced fairly thin and seasoned perfectly with garlic, salt and parsley. So good.
Manhattan Fish Grill also offers a $5.00, fish-phobic menu for kiddies under 12, as well as gluten free Lava Cake or Vegan Brownies if you're the kind that needs justification for dessert. They're making healthy eating easy for the busy masses, and that's something worth catching on to. For hours, info or to place an order, visit www.manhattanfishgrill.com or call 802-2993.