Haute Spot: It's All in the Details – Blue Fin Sushi & Roll
I miss the tradition of old school sushi.  Fresh fish, artfully and artistically prepared by artisans as serious about serving the very best seafood money can buy as they are about perfecting the knife skills to give it due justice.  There's simply a reverence about good sushi; a respect that's all too often lost when establishments jump on the All-You-Can-Eat, porno roll  bandwagon.  Herein lies the beauty of Blue Fin Sushi & Roll restaurant located at 3980 E. Sunset, Suite 102. Yes…they have AYCE sushi, I mean who doesn't these days?  And sure, there are a few rolls the names of which may make you blush.  But make no mistake; Blue Fin is not your average sushi joint.  Not by a long shot.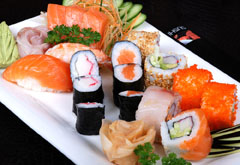 Deceptively small, the restaurant has a mere ten to twelve tables and nine stools at the sushi bar, with pleasant decor, especially when the lights are dimmed at dusk.  What they may be lacking in size (and that's not necessarily a negative) is more than made up for by the quality and artful presentation of the cuisine.  It's quite evident that owner/Sushi Chef Jin Chang has classic skills and takes great pride in what he serves to his customers. He simply would never put out sushi or rolls that suffer from what I call the sloppy toppy:  fish that's incorrectly cut too thick and plopped atop rice that's not appropriately sticky, resulting in more sushi landing on your lap than in your mouth.   It happens in more restaurants than not, and it's a result of untrained staff and a lack of sushi soul.
What Chef Chang does deliver is near perfection.  Case in point: thinly sliced tuna belly, delicately adorned with razor thin grapes that have been macerated in balsamic vinegar and oil.  It truly looked like a painting on the plate, with the flavors of the buttery tuna laced with the sweet, yet savory fruit solidifying this dish as a thing of beauty.  Fresh Yellowtail Sashimi with Jalapeño and Spicy Ponzu Sauce was equally stunning; the melt-in-your-mouth tender fish serving as a testament to the freshness and expertise in the way it was sliced. A vivid Ahi Poki Salad made for a complex combination of color and textures, the bright green crunch of seaweed and vegetables presenting the perfect base for the sesame marinated tuna.  I would have liked a bit more of the tuna in the ratio of things, but I've been known to be greedy when it comes to tuna poki.
Picture perfect cuisine certainly didn't stop with the appetizers, with the rolls and cooked options at Blue Fin presenting both striking appearance and flavorful prowess.  A variety of creative rolls are offered, with deep fried and baked versions, as well as a number of shrimp tempura selections.  Being a bit of a traditionalist, I stuck to something void of cream cheese and anything cooked, settling on the Red Dragon Roll. And, while it may not have been the hautest of choices, it proved to be simple perfection. Delicately chopped tuna and jalapeño provided a spicy pop of flavor to the mellow, rice wine scented sticky rice, the roll finished with a crown of impossibly thin tuna that held it all together. Curls of shaved jalapeño added a visual elegance and freshness to the roll–a tiny detail that speaks volumes to just how good this place really is. Caramelized Sea Scallop and Garden Vegetables would be a great choice for the sushi phobe, although I will say the scallops were not remotely caramelized.  Still, they were cooked nicely, served with crunchy broccoli, bell pepper and baby corn in a sweet and spicy sauce with ginger and chilies.  Japanese comfort food done well.
Blue Fin Sushi & Roll may be small, but this place has heart.  It's old school meets modern, and it's some of the best sushi in town. For information or takeout orders, call them at 898-0090.
1 Comment